Alexandria Ocasio-Cortez Condemns Pelosi's Move to Pass Senate Border Funding Bill Without Changes: 'Hell No'
Democratic Representative Alexandria Ocasio-Cortez spoke out against Speaker of the House Nancy Pelosi Thursday for deciding that the House should approve a Senate-passed border funding bill without first trying to make changes.
"Under no circumstances should the House vote for a McConnell-only bill w/ no negotiation with Democrats. Hell no," the 29-year-old congresswoman tweeted about the Senate version of the bill, which will provide $4.6 billion in funding for operations at the southern border but without aspects many House Democrats had hoped to include. "That's an abdication of power we should refuse to accept. They will keep hurting kids if we do."
In an earlier tweet, Ocasio-Cortez noted that the bill was not negotiated with the House despite Democrats offering "crucial amendments to protect children and families."
"None are even being considered," she added.
Newsweek subscription offers >
The freshman Democrat went on to urge Democrats to delay the vote. "We have time. We can stay in town," she tweeted. "We can at LEAST add some amendments to this Senate bill. But to pass it completely unamended with no House input? That seems a bridge too far."
Shortly before the House voted on the bill, the congresswoman from New York appeared on CNN where she explained her opposition to the legislation.
"We passed a House version of this bill which had far more humanitarian aid provisions and accountability for the facilities that are abusing kids at our border," Ocasio-Cortez told CNN's Jake Tapper. "Mitch McConnell immediately smacked it down to pass and ram through a Senate bill that has an enormous amount of funding for military as well as no guardrails and no accountability for facilities that are abusing our kids."
Ocasio-Cortez was not alone in arguing against the quick passage of the unchanged Senate bill. The 38-member Congressional Hispanic Caucus also called for a "No" vote on the legislation.
Newsweek subscription offers >
"The Republicans cannot force us to accept this bill, which does not provide necessary guardrails and allows the Trump Admin to continue denying kids basic, humane care and endangering their lives," tweeted the caucus.
In the end, the opposition could not muster sufficient votes to stop the House from adopting the Senate version of the bill on a 305-102 vote, with 95 Democrats voting against it.
Ocasio-Cortez's comments come after Pelosi announced earlier on Thursday that the House will "reluctantly" move to approve the bill. Although Pelosi had previously demanded further safeguards for migrant children to be added to the legislation, House leaders eventually caved to mounting pressures by moderate Democrats to approve the Senate-passed bill, which had sailed through the upper chamber in a largely bipartisan move with only eight senators voting against it.
"The children come first. At the end of the day, we have to make sure that the resources needed to protect the children are available," Pelosi wrote in a letter to her fellow Democrats. "Therefore, we will not engage in the same disrespectful behavior that the Senate did in ignoring our priorities. In order to get resources to the children fastest, we will reluctantly pass the Senate bill."
The decision marks a reversal of Pelosi's stance on Wednesday, when she sharply said "no" after being asked whether House Democrats should back the Senate version of the bill to tackle the humanitarian crisis at the southern U.S.-Mexico border.
A senior Democratic aide said Pelosi's announcement on Thursday came after she held a nearly hour-long phone conversation with Vice President Mike Pence, according to CNN.
Pelosi did not immediately respond to Newsweek's request for comment.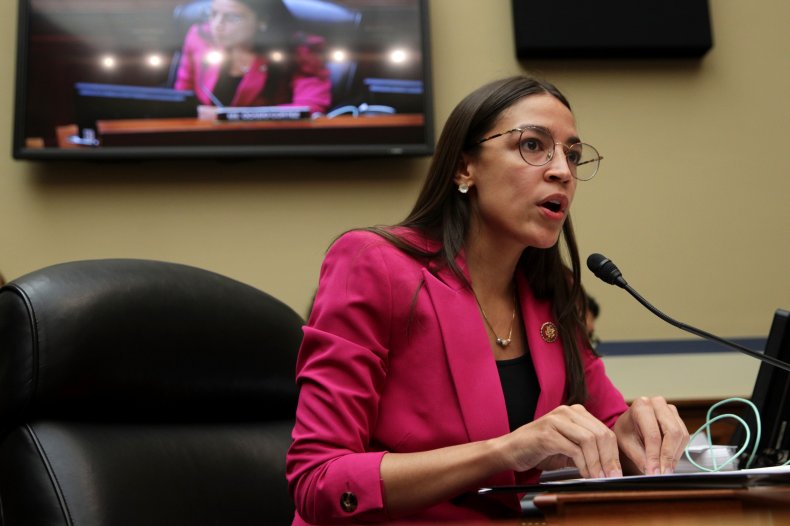 Alexandria Ocasio-Cortez Condemns Pelosi's Move to Pass Senate Border Funding Bill Without Changes: 'Hell No' | Politics