Alexandria Ocasio-Cortez Criticizes Donald Trump, Government Shutdown in First House Speech: "This Shutdown Is About The Erosion Of American Democracy"
Alexandria Ocasio-Cortez's first speech on the floor of the House of Representatives was delivered Wednesday and included a rebuke of President Donald Trump and the ongoing government shutdown.
"It is actually not about a wall, it is not about the border, and it is certainly not about the well-being of everyday Americans. The truth is, this shutdown is about the erosion of American democracy and the subversion of our most basic governmental norms," the New York Democrat said in her three-minute speech, using the story of Yahi Abed, one of her constituents to highlight the stress of the shutdown and the impact it has on federal workers.
Abed, an air traffic controller at John F. Kennedy International Airport in New York City, immigrated to the United States when he was eight years old and always dreamed of becoming a pilot. Abed accomplished that dream and has been employed with the federal government for 14 years, Ocasio-Cortez said.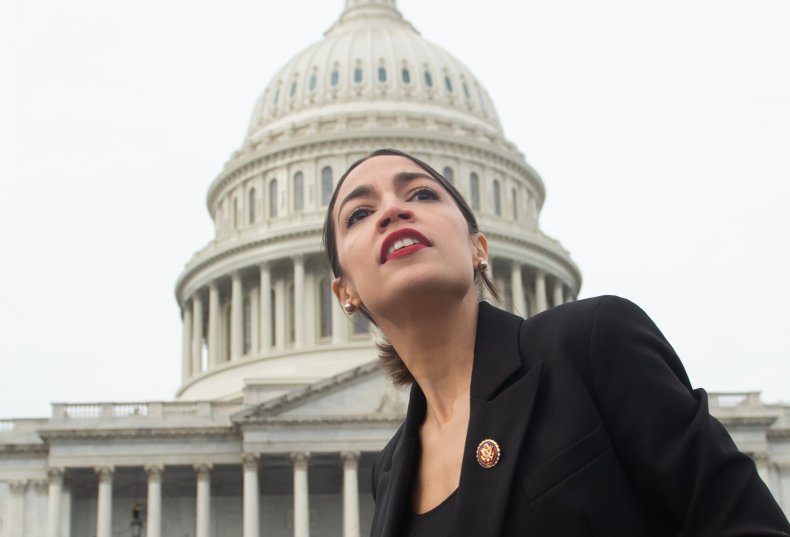 "(Abed) was telling me about how stressful his job is. Every single day air traffic controllers have thousands of people's lives in their hands," Ocasio-Cortez said. "With weather changes, flight delays, staffing complexities, and a myriad of other issues, their days almost never go exactly to plan."
"It is terrifying to think that almost every single air traffic controller in the United States is currently distracted at work because they don't know when their next paycheck is coming," Ocasio Cortez continued.
The Congresswoman went on to outline that a federal worker's job was stressful enough without the added issues surrounding a lack of pay. Ocasio-Cortez also highlighted the cost of living in New York City, Abed's "several thousand dollar a month mortgage" and stated that Abed's family could not be reunited due to the Trump administration's Muslim ban and that those issues were "stressful enough."
"It is not normal to hold 800,000 workers' paychecks hostage. It is not normal to shut down the government when we don't get what we want," Ocasio-Cortez said. "It is not normal for public servants to run away and hide from the public that they serve, and it is certainly not normal to starve the people we serve for a proposal that is wildly unpopular among the American people."
"Each and every member of this body has a responsibility to this nation and to everyone in the United States of America whether they voted for us or not, and this president shares in that responsibility as well, which means he has a responsibility to my constituent, Mr. Abed."
Ocasio-Cortez went on to say that Trump has a responsibility to federal workers to "maintain the basic functioning of the United States government."
The partial government shutdown is now the longest in U.S. history, approaching its 27th day. Earlier in the day, Ocasio-Cortez and other House freshman spent time on Capitol Hill attempting to locate Senate Majority Leader Mitch McConnell in order to deliver a letter encouraging the Senate to pass bipartisan bills to reopen the government.