Alexandria Ocasio-Cortez Defends Ilhan Omar, Asks Where Resolutions Are Condemning Homophobia, Racism, Xenophobia
Alexandria Ocasio-Cortez has come to the defense of fellow freshman congresswoman Ilhan Omar, who is facing backlash for her comments about Israel—many of which have been deemed anti-Semitic by Republicans and Democrats alike.
"It's not my position to tell people how to feel, or that their hurt is invalid," Ocasio-Cortez tweeted on Tuesday morning. "But incidents like these do beg the question: where are the resolutions against homophobic statements? For anti-blackness? For xenophobia? For a member saying he'll 'send Obama home to Kenya?'"
In an earlier social media post on Tuesday, Ocasio-Cortez wrote that "one of the things that is hurtful about the extent to which reprimand is sought of Ilhan is that no one seeks this level of reprimand when members make statements about Latinx + other communities."
She then pointed to Republican Jason Smith's comment on the House floor during the government shutdown, where he shouted "go back to Puerto Rico" while Representative Tony Cárdenas waited to speak. Smith later called Cárdenas to apologize for the remark.
Omar has been accused of using anti-Semitic language in recent comments questioning U.S. support of Israel. At a bookstore forum in Washington, D.C., last week, Omar sparked fury when she said that pro-Israel advocates are pushing for "allegiance to a foreign country."
The Muslim congresswoman has also come under fire for a 2012 tweet, in which she wrote: "Israel has hypnotized the world, may Allah awaken the people and help them see the evil doings of Israel. #Gaza #Palestine #Israel." The tweet has since been deleted.
In response to Omar's comments, House Democrats have drafted a resolution condemning anti-Semitism. The resolution, which details the history and recent rise of anti-Semitism in the United States, does not name Omar specifically. The measure will come to a vote on the House floor on Wednesday.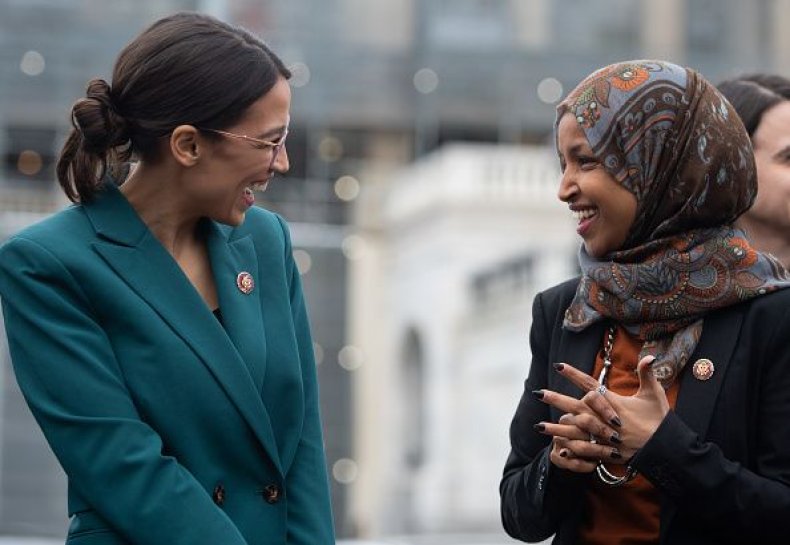 Ocasio-Cortez also came to Omar's defense after a fellow Democratic Rep. Juan Vargas wrote on Twitter that it was "unacceptable" to question the country's relationship with Israel. Vargas also wrote that "it is disturbing that Rep. Omar continues to perpetuate hurtful anti-Semitic stereotypes that misrepresent our Jewish community."
Ocasio-Cortez fired back, saying she was curious if Vargas "will further explain his stance here that it's unacceptable to even *question* US foreign policy. Plenty of Dem members have asserted that discussion + debate on this issue is fair and merited. Is this stance a departure from that?"
Omar has repeatedly defended her questioning of the U.S.-Israel relationship. The congresswoman wrote on Twitter that "our democracy is built on debate." She then added: "I have not mischaracterized our relationship with Israel, I have questioned it and that has been clear from my end."
On Tuesday, President Trump tweeted that Omar's remarks about Israel mark a "dark day" for Israel.