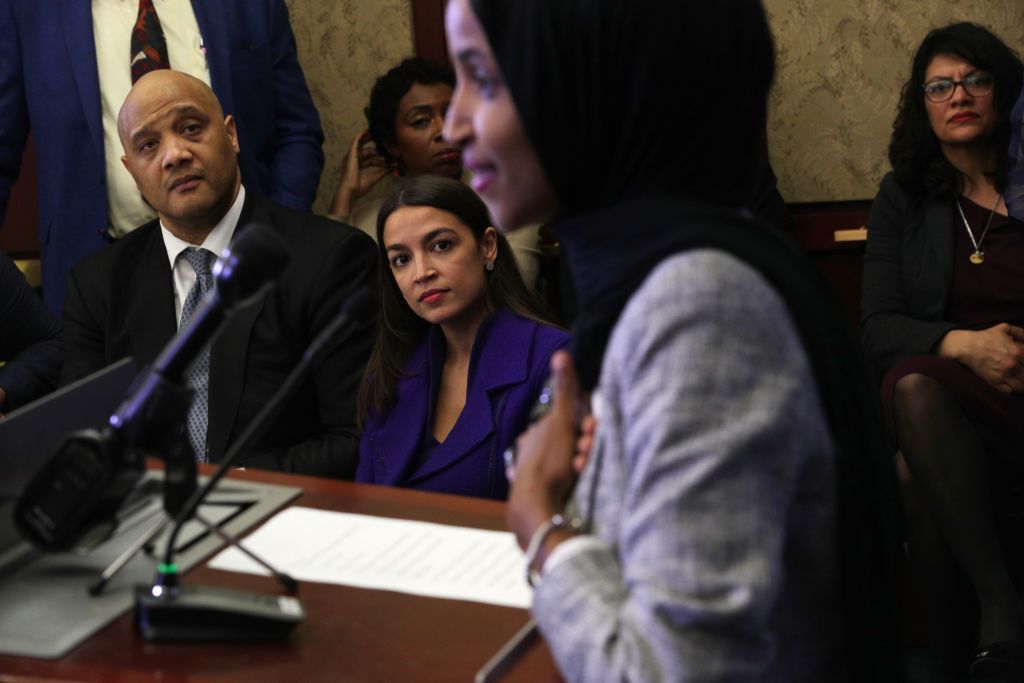 Representative Alexandria Ocasio-Cortez of New York defended her colleague, Representative Ilhan Omar of Minnesota, as the two ate during the first ever Ramadan fast-breaking feast on Capitol Hill.
Ocasio-Cortez condemned the targeting of Omar, one of the first two female Muslim members of Congress, by the GOP and conservative commentators. Earlier, hundreds of Jewish protesters had demonstrated against Omar in Times Square.
Further protests against the freshman Somali-American congresswoman, who, with Ocasio-Cortez, had spoken out against the conflict in the Middle East and the power of the pro-Israel lobby, were planned in Israel today.
"We know these divisions are a distraction, and they are rooted in the subjugation of all the communities involved that are being pitted against one another," Ocasio-Cortez said according to The Guardian.
Muslim congressional staff members, government officials and other members of the Muslim community gathered at the Iftar, the Arabic term for the meal that breaks the Ramadan fast at the setting of the sun. Rashida Tlaib and André Carson, two other Muslim members of Congress criticized by the GOP, also attended. Senate Minority Whip Dick Durbin and House Majority Leader Steny Hoyer spoke at the religious celebration.
"It doesn't matter what you do or what you say—if you're a Muslim, it's going to get exaggerated," Carson told those assembled. Omar recounted a meeting with House Speaker Nancy Pelosi that led to a congressional rules change, enacted in January, that for the first time in 181 years, allowed head coverings on the House floor.
While the Iftar allowed the House's Muslim politicos a relatively rare opportunity to celebrate their faith in public, only a day earlier hundreds of Jewish protesters had gathered in New York at a rally demanding Omar's removal from office. As reported by The Jewish Voice, the organizers criticized the congresswoman's "gross anti-Semitism" and "cavalier dismissal" of the victims of 9/11.
Earlier this April Omar was pilloried by conservative commentators and politicians after videos edited out of context were shared online, appearing to show her underplaying the severity of the 9/11 attacks.
President Donald Trump also tweeted edited footage of the speech Omar made at the Council on American-Islamic Relations (CAIR), interspersed with footage of the 9/11 attacks.
Many Democrats, however, have rallied to Omar's defense. Also on Monday in Times Square, a counter-demonstration was held in support of the congresswoman, who has sought to recalibrate the debate on the role Israel plays in U.S. politics coming into the 2020 election.