Alexandria Ocasio-Cortez Slams 'Splinter' Democrats Who Voted to Expand ICE's Powers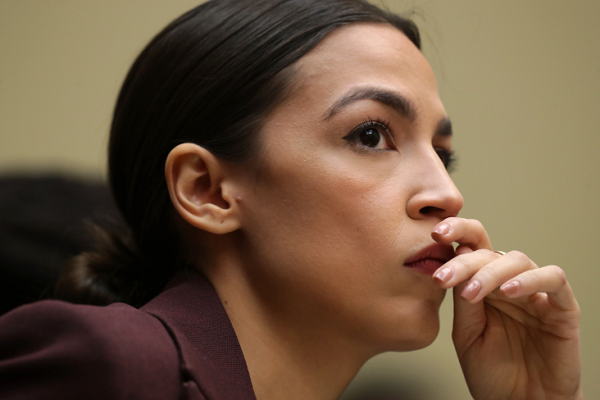 Representative Alexandria Ocasio-Cortez shot back at "splinter" Democrats who accused her of threatening to put some of her colleagues on a list of primary election targets. Democrats in a Washington Post report released Friday claimed Ocasio-Cortez was disgruntled by a last-minute provision included in a Republican gun bill that would allow reporting of undocumented immigrants attempting to purchase guns to Immigrations and Customs Enforcement (ICE).
Representative Josh Gottheimer, a New Jersey Democrat and co-chairman of the bipartisan Problem Solvers Caucus, told The Washington Post on Friday that he has notified House leaders of such threats, including similar intimidation from the Justice Democrats, a progressive group that supported Ocasio-Cortez in the 2018 primary.
"Being unified means ensuring that Democrats aren't primary-ing other sitting Democrats," Gottheimer said. "Since when is it okay to put you on a Nixonian list? We need to have a big tent in our party or we won't keep the House or win the White House."
Ocasio-Cortez refuted the claims in a series of tweets on Saturday, claiming she "didn't threaten a primary."
"I was upset that 26 Dems forced the other 200+ to vote for a pro-ICE provision at the last min without warning," she wrote. "Because I think an agency that pins children down + forcibly injects them w/ antipsychotic drugs shouldn't be given more power."
Republicans managed to get approval for a bill amendment aimed to heighten requirements for gun purchases that included language requiring ICE to be notified of any instances of undocumented immigrants trying to buy guns. The bill was passed 220 to 209 Wednesday with 26 Democrats supporting.
Ocasio-Cortez, who has strongly advocated for the abolishment of ICE, disapproved of the strengthened ICE reporting, which she claimed was inserted in the bill at the last minute. "What I DID say was that I had to go back to my district & share the MTR vote to explain why a pro-ICE amendment was slipped into a gun safety law," she wrote on Twitter. "Maybe they're mad bc I don't believe pro-ICE expansion votes should be cast in the dark, and people deserve to know what happened."
The New York politician added: "If you're mad that I think people SHOULD KNOW when Dems vote to expand ICE powers, then be mad. ICE is a dangerous agency with 0 accountability, widespread reporting of rape, abuse of power, + children dying in DHS custody. Having a D next to your name doesn't make that right."
Ocasio-Cortez also noted some of the Democrats accusing her of threatening a primary were some of the same people who tried to block House Speaker Nancy Pelosi from winning being elected House speaker in addition to supporting to President Donald Trump's funding request for a wall along the U.S.-Mexico border.
"Mind you, the same small splinter group of Dems that tried to deny Pelosi the speakership, fund the wall during the shutdown when the public didn't want it, & are now voting in surprise ICE amendments to gun safety legislation are being called the 'moderate wing' of the party," Ocasio-Cortez wrote.
"We can have ideological differences and that's fine," she added. "But these tactics allow a small group to force the other 200+ members into actions that the majority disagree with. I don't think that's right, and said as much in a closed door meeting."
Pelosi also reportedly called out moderate Democrats for siding with Republicans on the bill. In a separate Washington Post report released Friday, two anonymous sources included in Pelosi's closed-door meeting following the vote claimed she reprimanded about two dozen moderates for buckling on the bill. " We are either a team or we're not, and we have to make that decision," Pelosi reportedly said.