AOC Dismisses CEOs Criticizing Her and Bernie Sanders: 'Saving This Comment for the Next Time Wall Street Asks for a $700 Billion Bailout'
Representative Alexandria Ocasio-Cortez dismissed criticism from CEOs attacking policies championed by her and Democratic presidential candidate Bernie Sanders in a series of Thursday tweets.
Bob Dudley, the outgoing CEO of BP, specifically mentioned Ocasio-Cortez, a New York Democrat, and Sanders, a Vermont independent, in an interview with CNBC on Thursday. He called their proposed Green New Deal to combat climate change "completely unrealistic."
Similarly, JPMorgan CEO Jaimie Dimon took aim at socialist policies in a separate interview with CNBC. He argued that socialism would lead to an "eroding society," arguing that lawmakers pushing such an agenda don't really understand how it works. Ocasio-Cortez and Sanders are two of the most prominent self-described Democratic Socialists in the U.S.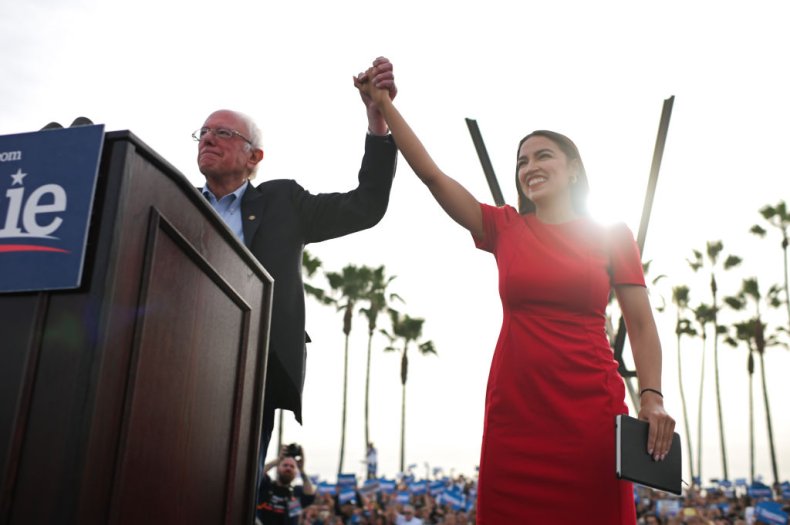 Ocasio-Cortez took the criticism in stride, sharing the article links with her own commentary in response.
"Right, because everyone knows the 'realistic' thing to do is allow the CEO of The British Petroleum Company to dictate our carbon emissions policy," she tweeted, responding to Dudley's comments. British Petroleum was formerly the official name of Dudley's company, which is now just called BP.
Responding to Dimon, the congresswoman pointed to the billions JPMorgan and other companies had received in federal bailout money during the economic crisis of 2008.
"Saving this comment for the next time Wall Street asks for a $700 billion bailout from the federal government," Ocasio-Cortez quipped, tweeting the article with Dimon's remarks about socialism.
Sanders lobbed similar criticism at Dimon for the comments on Wednesday. "That's funny. Jamie Dimon seemed fine with corporate socialism when his bank got a $416 billion bailout from American taxpayers," he tweeted, also sharing the link to the CNBC article.
Ocasio-Cortez formally endorsed Sanders for the Democratic Party's presidential nomination in October, and has been actively campaigning for him since then. The congresswoman and senator, who has surged in recent Democratic primary polls, advocate for social policies including: universal healthcare (known as Medicare-for-all); free university tuition; student loan forgiveness; a significantly higher minimum wage; and a Green New Deal, which would create jobs and improve infrastructure while addressing the dire reality of a warming planet.
Critics have attempted to discredit their ideas as unrealistic and bad for the country, often pointing to the rampant corruption and major economic crisis in Venezuela, which is socialist. But Sanders regularly points to the vibrant social democracies of northern Europe, such as Norway, Denmark, Sweden and others. He and his supporters note that these countries provide universal health care, while spending less on health care costs per capita overall. At the same time, they have better health outcomes and a higher standard of living than the U.S.