Alexandria Ocasio-Cortez Would Give Donald Trump Close Election Battle in 2020 If She Could Run, President's Favorite Poll Indicates
It seems quite unlikely U.S. Representative Alexandria Ocasio-Cortez would run for president in 2020. There's a few complicating factors. One: She was just elected to the House of Representatives in 2018 and may want to rack up some experience before trying for the White House. And two: She's just 29, and you've got to be at least 35 to be president.
But if—somehow, some way—Ocasio-Cortez were to run against President Donald Trump, she would apparently put up a good fight, according to a new poll this week. The survey from Rasmussen Reports—a company, often touted by Trump, that tends to peg his level of support well above other public polls—found 43 percent of voters would vote for Trump in the hypothetical face-off, while 40 percent would vote for Ocasio-Cortez.
"Though just one-in-three voters have a favorable opinion of freshman Representative Alexandria Ocasio-Cortez, if she were old enough to run for president in 2020, she'd give President Trump a run for his money," Rasmussen noted.
The poll surveyed 1,000 likely voters from January 10 through January 13 and had a margin of error of plus or minus 3 percentage points.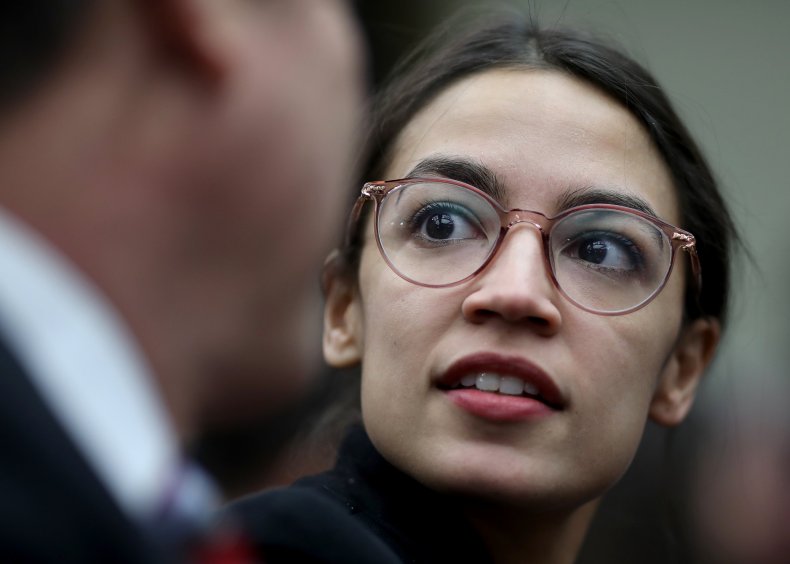 Trump is apparently pretty fond of Rasmussen, often touting its results on Twitter.
"Without the phony Russia Witch Hunt, and with all that we have accomplished in the last almost two years (Tax & Regulation Cuts, Judge's, Military, Vets, etc.) my approval rating would be at 75% rather than the 50% just reported by Rasmussen," he tweeted last month, for instance. "It's called Presidential Harassment!"
The president has often questioned the validity of other pollsters while pushing the results from Rasmussen.
In April, he posted: "Rasmussen just came out at 51% Approval despite the Fake News Media. They were one of the three most accurate on Election Day. Just about the most inaccurate were CNN and ABC News/Washington Post, and they haven't changed (get new pollsters). Much of the media is a Scam!"
But as Trump's approval rating has dipped across the board amid the longest government shutdown in U.S. history. Even Rasmussen has found his popularity has declined. The pollster had his approval rating pegged at 43 percent, which marked his lowest such rating in almost a year.