Alexandria Ocasio-Cortez: Trump 'Willing to Break the Law to Win Reelection,' Impeachment Pressure Grows Daily
New York Democrat Alexandria Ocasio-Cortez said Sunday that pressure is growing for Congress to pursue impeachment proceedings against President Donald Trump, and argued House lawmakers should be guided by the rule of law and not polls or partisan politics.
Ocasio-Cortez said Trump's comments last week that he was open to accepting foreign government help in exchange for "dirt" on 2020 Democratic rivals showed that members of Congress have a "duty" to at least open an inquiry into evidence that the president may have committed several crimes.
The first-term congresswoman from New York City told ABC News' This Week that progressives in the Democratic Party have a very real frustration with lawmakers from both parties not holding the president to account.
Ocasio-Cortez later added that progressives and the liberal base of the party need a 2020 candidate who will "go all the way" for working class voters. She declined to endorse any Democratic candidates until after debates and said Bernie Sanders had not asked for her endorsement.
"I think every day that passes, the pressure to impeach grows and I think that it's justifiable, I think the evidence continues to come in and I believe that with the president now saying that he is willing to break the law to win reelection that transcends partisanship, that transcends party lines and this is now about the rule of law in the United States of America," Ocasio-Cortez told This Week host Jonathan Karl.
Ocasio-Cortez repeatedly pushed back on Karl suggesting impeachment tactics could be a political "win" or "favor" to Trump should they be unsuccessful in finding evidence or failing to get enough votes in the Republican-held U.S. Senate, where removing the president would require a two-thirds majority; a virtual impossibility at the moment.
"I think that impeachment is incredibly serious and this is about the evidence the president may have committed a crime, in this case, more than one," she continued. "Our decision on impeachment should be based in our constitutional responsibilities and duties and not in elections or polling."
She added it was "probably" a mistake for Democrats to have given former President Bill Clinton a pass over his treatment of women in the 1990s.
"If we're talking about what's going to be a victory for Trump and what's not going to be a victory for Trump, then we are politicizing and we are tainting this process," she added. Ocasio-Cortez went on to note Senate Majority Leader Mitch McConnell has blocked several election security bills in recent weeks.
"The Senate has their entire responsibility — Mitch McConnell has over a hundred bills, he hasn't brought election security to his feet and let's not forget he's involved in this mess, too," Ocasio-Cortez continued. "His wife, Transportation Secretary Elaine Chao, just was revealed by The New York Times for having a whole web of potential conflicts of interest as it relates to bringing projects to Kentucky as well there's a whole separate set of issues in the Senate but we need to be concerned with our job in the House."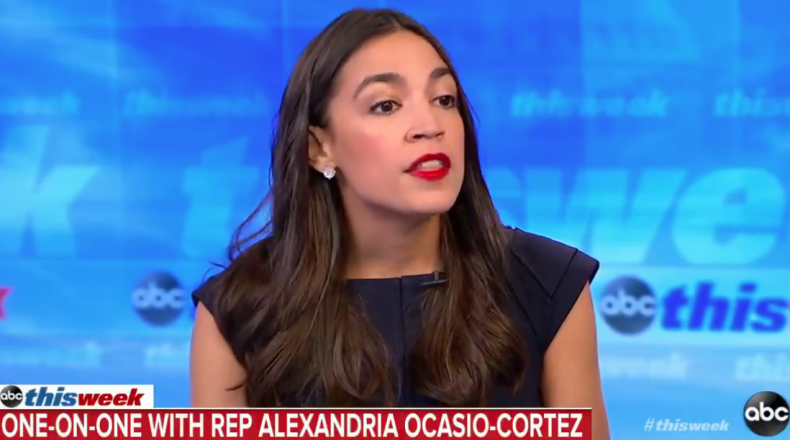 Ocasio-Cortez said Americans are increasingly aware of "the depth and severity of the misconduct coming out of the White House and a demand to protect our institutions and to protect the rule of law."
She reiterated it's not just progressives or more liberal members of the Democratic Party who realize "this is about the rule of law... holding this president to account is holding all of government to account."
Karl switched the conversation over to the 2020 presidential election, asking Ocasio-Cortez if a true progressive Democratic candidate will be needed to defeat Trump.
"I think that we have a very real risk of losing the presidency to Donald Trump if we do not have a presidential candidate that is fighting for true transformational change in the lives of working people in the United States," she told Karl Sunday.
"If we elect a president on half-measures, the American people don't quite understand the agenda of a president, a president that says we're fighting for higher wages, but 'We don't want a $15 minimum wage.' Who says we're fighting for education but 'We don't want to make colleges tuition free,' fighting for women's rights but 'We don't want to go all the way with that.' Then I think we have a very real risk of losing the presidency."
In a lighter portion of the interview, Ocasio-Cortez addressed several recent Twitter offers from Texas Republican Senator Ted Cruz to work alongside the New York Democrat to find bipartisan solutions, particularly in regards to over-the-counter birth control.
"We haven't met in person yet, but I do know that we have an ongoing working relationship and I'm extraordinarily excited in seeing what we can accomplish," she said, before adding with a chuckle, "Never thought I'd say it."