AOC Says Donald Trump Sounds Like 'Silver Spoon' Kid Who Is 'Never Held Accountable' After 'Perfect Phone Call' Tweet
Democratic Representative Alexandria Ocasio-Cortez has compared President Donald Trump to a "silver spoon" kid who was "never held accountable for anything" after he complained about being impeached for a "perfect phone call."
The freshman congresswoman tweeted that the president exhibited "mom, yell at my teacher" energy by posting a complaint about his impeachment on Thursday, following a House vote to send articles of impeachment to the Senate for a trial of the commander-in-chief.
Ocasio-Cortez voted in favor of both articles of impeachment in December, when President Trump became only the third commander-in-chief in American history to be impeached.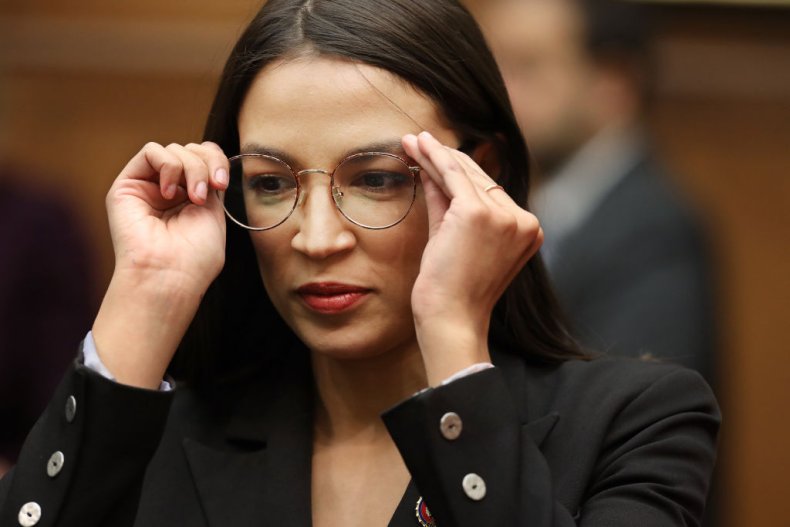 She was also among the 228 House Reps. who voted in favor of sending the abuse of power and obstruction of Congress charges to the upper chamber on Wednesday.
"I JUST GOT IMPEACHED FOR MAKING A PERFECT PHONE CALL!" President Trump tweeted the following day, referring to a July phone call between himself and Ukrainian President Volodymyr Zelenskiy.
Responding to the president's post yesterday, Rep. Ocasio-Cortez tweeted: "This is what silver spoon kids that are never held accountable for anything sound like.
"AKA very strong 'Mom, yell at my teacher to bump my grade up' energy."
The freshman congresswoman's tweet had been liked by more than 129,000 users and shared by a further 18,000 at the time of writing.
Newsweek has contacted the White House for comment and will update this article with any response.
The phone call between presidents Trump and Zelenskiy on July 25, repeatedly described as "perfect" by the U.S. commander-in-chief, was at the center of the House impeachment inquiry.
During the infamous conversation, President Trump urged Zelenskiy to open investigations into his political rival Joe Biden, as well as his son, Hunter Biden. He also nodded toward U.S. aid provided to the country, saying America does "a lot for Ukraine."
Federal watchdog the Government Accountability Office said on Thursday that the Trump administration broke the law by withholding roughly $400 million in foreign aid to Ukraine.
The GOA said in its decision: "Faithful execution of the law does not permit the President to substitute his own policy priorities for those that Congress has enacted into law."
"[Office of Management and Budget] withheld funds for a policy reason, which is not permitted under the Impoundment Control Act (ICA)," it added. "The withholding was not a programmatic delay. Therefore, we conclude that OMB violated the ICA."
The non-partisan watchdog's ruling arrived on the same day senators were sworn-in ahead of an impeachment trial due to begin in full on Tuesday.