Alexandria Ocasio-Cortez Explains Tax Plan: 'Isn't $10 Million Enough? Like, When Does it Stop'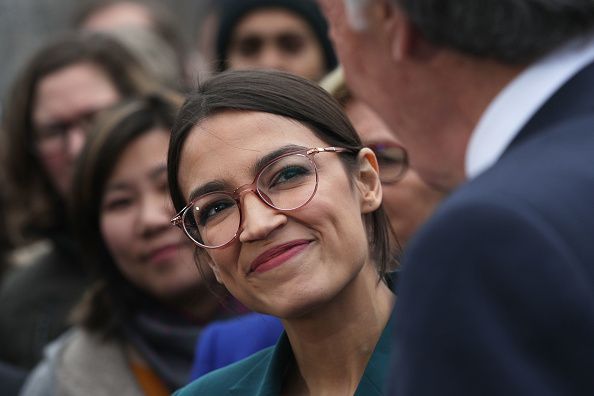 Alexandria Ocasio-Cortez hammered home her much-scrutinized tax plan during an appearance on Showtime's premiere of Desus and Mero, asking the hosts: "Isn't $10 million enough? Like, when does it stop?"
The freshman congresswoman was introduced by hosts Desus Nice and The Kid Mero as "The Notorious AOC." She was greeted with chants of "AOC!" from the audience as she arrived on camera during the late-night show's premiere on Thursday night, according to a report by the Daily Beast.
Unsurprisingly, the trio discussed Ocasio-Cortez's much-debated proposal for a 70 percent marginal tax rate.
"Please look straight into the camera and explain that the tax shit for the dumb motherf***ers who keep saying, 'If I make a million dollars, she's going to take 70 million dollars away from me!'" Mero asked the congresswoman.
"If you make more than $10 million in one year, which is a pretty good year, your 10 millionth and one dollar gets taxed at 70 percent," Ocasio-Cortez responded. She also added that "we used to have marginal tax rates under Republican presidents of 90 percent," claiming those were some of the best economic times in our country.
Still the hosts prompted Ocasio-Cortez to go even further.
"Isn't $10 million enough? Like, when does it stop? At what point is it immoral that we're building Jeff Bezos a helipad when we have the most amount of homeless people in New York City?" she said.
Ocasio-Cortez was referring to Amazon's recently abandoned plan to build another headquarters location in Long Island City, New York. The deal had been made between state officials and the company, which included about $3 billion in government incentives. But after opposition from progressive lawmakers and some residents, Amazon abruptly pulled out of the project, which cost New Yorkers about $25,000 jobs.
After discussing her tax plan, the show cut to previously-taped footage of Ocasio-Cortez in her Washington D.C. office.
"This is bigger than my apartment," she told Desus and Mero. Then she brought in her colleagues, fellow freshmen congresswomen Rashida Tlaib and Ilhan Omar.
The trio hashed out the "double-standard' in politics between men and women, discussing Tlaib's controversial comment that they were going to impeach "that motherf***er" Donald Trump. Tlaib told the hosts that where she's from in Detroit that word is used as commonly as saying "that guy."
"Keeping it real with people is like this frowned-upon thing," Ocasio-Cortez said. "And so we're just doing it anyway. Because it's too much work for us not to."
The three also joked about memes and discussed harassment on Twitter, which Ocasio-Cortez described as "heavy." But she ultimately concluded that sometimes the hate is validating because "if you're just flying under the radar, just trying to get your check, not rock the boat, then what's the point of being in politics?"