Alexandria Ocasio-Cortez Favorability Rating Tumbles Among Republicans, Independents Since Entering Congress
Alexandria Ocasio-Cortez has become more of a household name since entering Congress in January, but as she got more recognizable her favorability ratings took a hit among Republicans and independents.
Even after Ocasio-Cortez's historic primary win in summer 2018, about half of American adults were not familiar with or had no opinion of the New York Democrat. But after just two months on Capitol Hill, that number had fallen to 29 percent, according to a new survey by Gallup.
The freshman congresswoman has made headlines for taking on Donald Trump and Republicans, whose attempts to mock the political newcomer often go drastically wrong. Her social media presence is unparalleled, with her millions of followers watching as she takes them behind the scenes in Washington, D.C. Just this week, she went viral asking about home decorating advice on Twitter.
But the increased exposure has lowered Ocasio-Cortez's favorability rating among most voting groups.
According to Gallup, she is now viewed negatively by 73 percent of Republicans, while only five percent view her favorably. In September 2018, only 52 percent of Republicans had an unfavorable view of the political newcomer.
Ocasio-Cortez is also unpopular among those who identified as independents, voters who more often than not lean Democrat at the polls. Her net favorability rating among this group currently sits at negative five.
The self-described democratic socialist unsurprisingly polled the best among Democrats, 56 percent of whom viewed her favorably.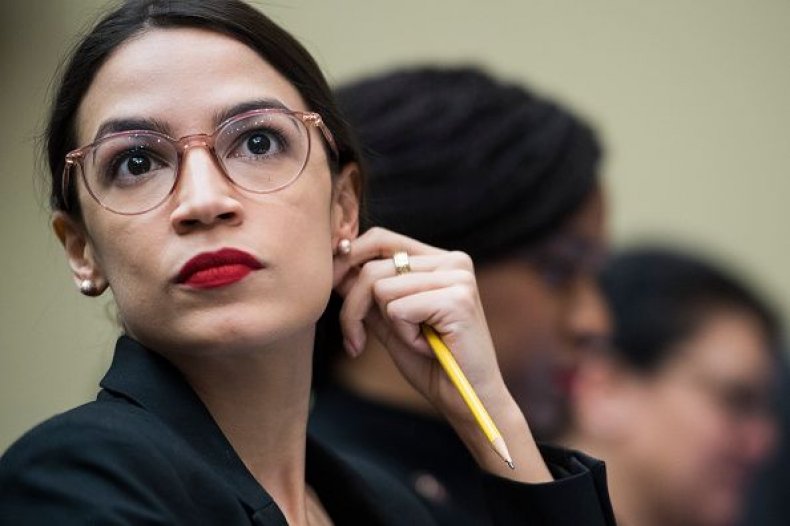 Ocasio-Cortez is viewed most favorably among Democrats, women, nonwhites and young adults - groups that she is a part of herself. Her immense popularity among these demographics have some counting down the days until she is old enough to run for president (calls were made for her to run in 2020, but because she is only 29, she is not allowed to make a run for the White House).
In a recent interview with Vanity Fair, Ocasio-Cortez admitted her newfound fame comes with an "intense amount of pressure."
"At first, it was really, really, really hard. I felt like I was being physically ripped apart in those first two to three months," Ocasio-Cortez said, referring to her catapult to stardom following her take down of 10-term incumbent Joe Crowley in New York's primary election.
"It's really hard to communicate that I'm just a normal person doing her best," she told the magazine. "I'm not a superhero. I'm not a villain. I'm just a person that's trying."