Alexandria Ocasio-Cortez Fires Back at Senator Rand Paul Over Climate Change: GOP Climate Agenda 'As Fictional As Spaceballs'
Senator Rand Paul took aim at Congresswoman Alexandria Ocasio-Cortez on Twitter Wednesday over her oft-stated concern about climate change.
"Climate change is here + we've got a deadline: 12 years left to cut emissions in half," Ocasio-Cortez tweeted in April 2019. "A #GreenNewDeal is our plan for a world and a future worth fighting for."
Paul said Ocasio-Cortez's 12-year timeframe was incorrect.
"No @AOC the world will not end in 12 years but we must, absolutely must do something, over the next 500 million years," Paul tweeted. "Some say we should develop a space shield to protect us from the sun's increased luminosity. I'm not against that but it will only be a temporary respite maybe a few million years."
"I do think we should also begin genetically altering O2 producing organisms to send to Saturn's Titan and possibly the closest planets outside of our solar system," Paul continued. "What say you AOC?"
Ocasio-Cortez responded by comparing the climate policy put forth by Republicans to a comedy film from the 1980s.
"Hey Senator!" Ocasio-Cortez tweeted to Paul. "Would you like me to also take your comments out of context and pose them as your earnest position, as you have chosen to do with me? I assume the answer is yes, especially given that the GOP climate agenda is about as fictional as Spaceballs anyway."
Newsweek reached out to Senator Paul for comment but did not receive a response in time for publication.
In the 1987 Star Wars spoof Spaceballs, the fictional planet Vespa is surrounded by a shield designed to hold its atmosphere in place.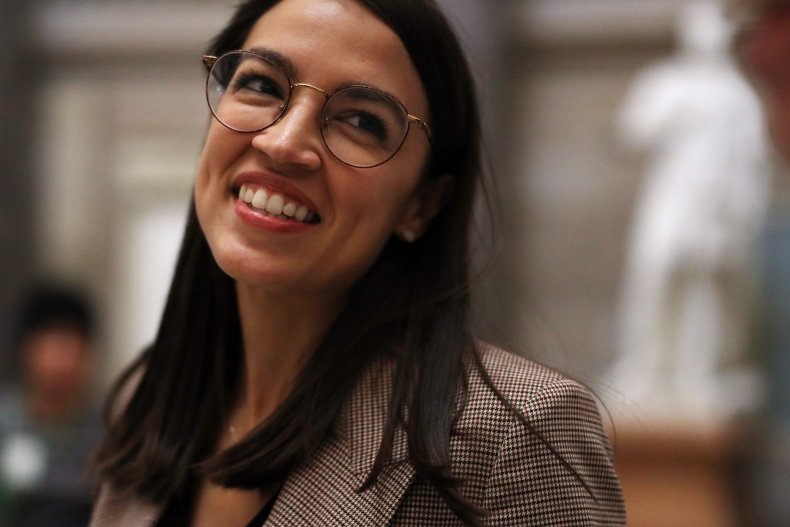 Ocasio-Cortez introduced her Green New Deal in February 2019. That legislation, co-sponsored by Massachusetts Senator Ed Markey, calls for a drastic reduction in carbon emission while creating new jobs and stimulating the economy. Some Democratic presidential candidates, including Senator Bernie Sanders, endorse a Green New Deal.
President Donald Trump's administration has enacted a series of rollbacks on environmental regulations including the loosening of clean water and air quality standards.
The White House has also proposed changing the National Environmental Policy Act which requires environmental assessments to be completed before any infrastructure construction is completed.
Trump's changes would allow for the building of pipelines, roads and mines to be completed without taking the surrounding environment into account.
"We want to build new roads, bridges, tunnels, highways, bigger, better, faster, and we want to build them at less cost," Trump said in January.
"America is a nation of builders," Trump continued. "It took four years to build the Golden Gate Bridge, five years to build the Hoover Dam, and less than one year—can you believe that?—to build the Empire State Building. Yet today, it can take more than 10 years just to get a permit to build a simple road. And usually, you're not even able to get the permit."
"It's big government at its absolute worst, and other countries look at us and they can't believe it," Trump added.