Fox News Anchor Says Alexandria Ocasio-Cortez Owes Apology to 'Every Jew on the Planet'
Fox News anchor Bill Hemmer suggested New York congresswoman Alexandria Ocasio-Cortez owes "every Jew on this planet an apology" after she described Southern border detention facilities as "concentration camps."
The America's Newsroom co-anchor and the vice president of the National Border Patrol Council, Art Del Cueto, responded to Ocasio-Cortez's Monday night Instagram video in which she pleaded with Americans to help her take action against migrants being held at "concentration camps" near the Mexican border. Ocasio-Cortez referenced the "never again" phrase used by families and victims of the Holocaust in her call to live up to those words today.
Hemmer became visibly irate after playing the clip and demanded to know if the Democratic congresswoman had ever been to Auschwitz, Dachau or even the U.S. border itself.
"I tell you, she's not afraid of throwing out these phrases," Hemmer said Tuesday. "I don't know if she's been to the border yet. I don't believe I've seen a report to suggest that... She used the extermination of six million people. She used the phrase, 'Who are concerned enough with humanity to say that never again means something.'"
"Has she ever been to Yad Vashem in Jerusalem? Or Auschwitz-Birkenau in Southern Poland? Or Dachau in Germany? 'Never again' is the phrase that Jews all over the world use to make sure that the extermination between 1939 and 1945 never happens again. And she's using concentration camps to describe what's happening on the Southern border. How in the world is that acceptable? Does she not owe every Jew on this planet an apology?"
Ocasio-Cortez, speaking Monday on her Instagram video, did not mince words describing the border situation for immigrants as similar to the infamous Nazi Germany camps for Jews, gypsies, homosexuals or any other so-called "undesirables" under Adolf Hitler's Third Reich regime.
"The United States is running concentration camps on our southern border. And that is exactly what they are. They are concentration camps. If that doesn't bother you, I don't... I like...," Ocasio-Cortez said, before becoming too appalled at the thought and changing her approach.
"I want to talk to the people that are concerned enough with humanity to say that we should not, that 'never again' means something," she continued. "The fact that concentration camps are now an institutionalized practice in the home of the free is extraordinarily disturbing. And we need to do something about it."
Del Cueto weighed in, labeling her comments "disgusting" and saying he's never seen Ocasio-Cortez at the Arizona border, despite her trip to a detention camp for children in Tornillo, Texas, last year.
"Some of these people need to crack open a history book before they make some comments," he added. The National Border Patrol Council executive said the Holocaust comparison is a "slap in the face" to the families of victims as well as to DHS and ICE employees working at the border.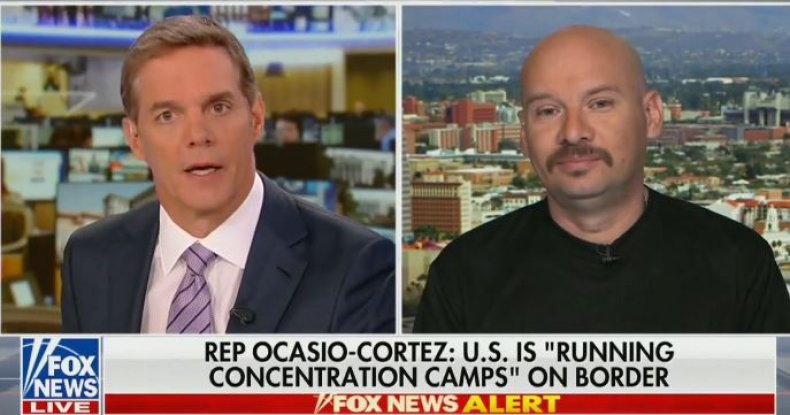 Taking to another social media outlet, Ocasio-Cortez defended her words in a tweet directed at Wyoming Republican congresswoman Liz Cheney, who said her words "demean" the memory of the 6 million Jews murdered by the Nazis.
"Hey Rep. Cheney, since you're so eager to 'educate me,' I'm curious: What do YOU call building mass camps of people being detained without a trial? How would you dress up DHS's mass separation of thousands children at the border from their parents?" Ocasio-Cortez tweeted at Cheney Tuesday.
President Donald Trump was also active on Twitter Monday, detailing his next plans for dealing with the immigration crisis at the border.
"Next week ICE will begin the process of removing the millions of illegal aliens who have illicitly found their way into the United States. They will be removed as fast as they come in. Mexico, using their strong immigration laws, is doing a very good job of stopping people long before they get to our Southern Border. Guatemala is getting ready to sign a Safe-Third Agreement. The only ones who won't do anything are the Democrats in Congress. They must vote to get rid of the loopholes, and fix asylum! If so, Border Crisis will end quickly!" Trump tweeted late Monday.
Fox News Anchor Says Alexandria Ocasio-Cortez Owes Apology to 'Every Jew on the Planet' | U.S.