Alexandria Ocasio-Cortez Accuses Fox News of Incorrectly Saying Her Name to Make It Sound 'More "Stereotypically" Hispanic'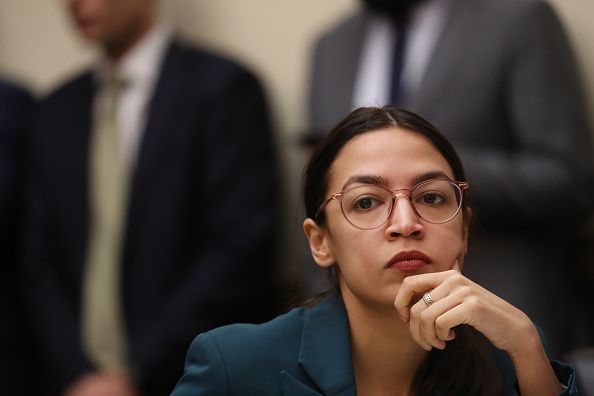 Alexandria Ocasio-Cortez slammed Fox News on Thursday for repeatedly saying her name incorrectly, suggesting that they do it because it "sounds more 'stereotypically' Hispanic" and might stoke more "anxiety."
"By the way: Fox News likes to say my name (incorrectly) as 'Cortez,' which I can only imagine is bc it sounds more 'stereotypically' Hispanic + probably incites more 'anxiety' for them," the freshman congresswoman wrote on Twitter.
"Pro Tip: My last name is not 'Cortez,' just as theirs isn't 'Ingra' or 'Carl' or Hann,'" she added.
In an earlier post, Ocasio-Cortez mocked media pundits for being "outraged" that people of color pronounce their own names correctly.
"'How dare they refuse to say their name in a wrong accent & not mangle their own family name so that I can feel more comfortable instead of look inside myself & examine why something as small as *a person's name* makes me uncomfortable in the first place?? This is an outrage!'" she wrote.
Her comments come just days after Fox News host Laura Ingraham and guest Joe diGenova, a conservative lawyer, mocked the New York Democrat for doing "the Latina thing." They accused Ocasio-Cortez of emphasizing accents when introducing herself, which Ingraham also accused former President Barack Obama of doing.
"She does the Latina thing where she does her, you know, 'Anastasio Ocasio-Cortez,'" diGenova said, saying her name incorrectly and with an exaggerated accent. He also said his own name with a heavy Italian accent, which he guessed Ocasio-Cortez would "love."
Ocasio-Cortez responded to the segment with a firestorm on Twitter, writing that "if by 'the Latina thing,' she means I actually do the work instead of just talk about it, then yeah, I'm doing 'the Latina thing.'"
She continued adding that "unless of course she's talking about being multilingual, which we know isn't a 'Latina thing.' It's a '21st century' thing."
Ocasio-Cortez gained national attention when she defeated incumbent Democrat Joe Crowley in the primary for New York's 14th Congressional District, which includes parts of the Bronx and Queens. The 29-year-old grew up in New York, where her parents moved after emigrating from Puerto Rico.
But since being elected, she has fended off criticism that she misrepresented herself as a girl from the Bronx when she spent a majority of her childhood living in suburban Yorktown, in Westchester County, New York. Last year, she tweeted that the media was not going to "birther" her now, referring to the term used by conspiracy theorists who questioned if former President Barack Obama was born in the United States.
"For the curious, in Latinx culture children take *both* their parents' names," she wrote on Twitter on Thursday. "It's not a 'progressive, new thing.' It's just how some names work."