Alexandria Ocasio-Cortez Mocks Republicans for Getting Duped by the 'GOP-Fox Propaganda Machine'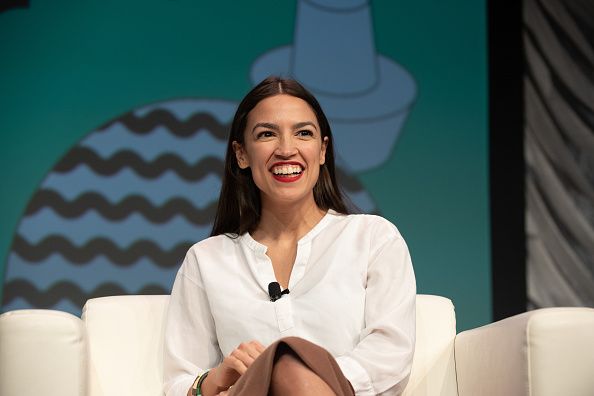 Representative Alexandria Ocasio-Cortez ridiculed Republican members of Congress for believing the "GOP-Fox propaganda machine" after Representative Devin Nunes blamed socialism for California's plastic straw ban.
"The best part about the GOP-Fox propaganda machine is that Republican Congressmen actually believe + consume it uncritically, get duped themselves, which lead them to make statements like this," Ocasio-Cortez wrote on Twitter on Sunday night.
To make her point, the freshman congresswoman pointed to an earlier tweet by Nunes in which the Republican lawmaker described an experience he had while dining at a restaurant. In the post, Nunes criticized the state's recently signed law banning the use of plastic straws unless a customer specifically asked for one.
"At restaurant tonight waitress asks if we want straws. Says she has to ask now in fear of 'THE STRAW POLICE.' Welcome to Socialism in California!" Nunes wrote.
California's plastic straw ban was enacted in September 2018 as an attempt to reduce waste pollution. Though the law does not outlaw straws, as customers can get one on request. The law also does not apply to fast-food chains, coffee shops or other takeout restaurants.
Throughout his time in politics, Nunes has cemented himself as an outspoken climate change denier. As his home state of California experienced one of the worst droughts in history in 2014, Nunes said that the idea of global warming was "nonsense" and that "there was plenty of water," but the real problem was "mathematics and engineering."
Nunes's tweet came as Republicans continue to criticize Ocasio-Cortez and her Green New Deal, a massive policy proposal that would remake the economy with the hope of dramatically reducing carbon emissions.
President Donald Trump said that the plan "sounds like a high school term paper that got a low mark." The comment came while Trump was holding a rally in El Paso, Texas, last month. Ocasio-Cortez shot back at the president on Twitter, writing that "Ah yes, a man who can't even read briefings written in full sentences is providing literary criticism of a House Resolution."
Ivanka Trump also slammed Ocasio-Cortez's proposal in an interview with Fox News, telling the network that "I don't think most Americans, in their heart, want to be given something. I've spent a lot of time traveling around this country over the last four years. People want to work for what they get."
Ocasio-Cortez discussed her Green New Deal and climate change while appearing at SXSW (South by Southwest) this past weekend, and received a surprise appearance from Bill Nye, the "Science Guy" and climate activist.
"AOC gets it. She sees that fear is dividing us. We can address income inequality. We can address climate change, if we get together and get to work," Nye tweeted after the appearance.