Alexandria Ocasio-Cortez Hid in Bathroom During Capitol Riot and Thought She Was Going to Die
Democratic New York Representative Alexandria Ocasio-Cortez revealed during a Monday Instagram live-stream that she thought she was going to die during the January riot at the U.S. Capitol.
In an attempt to disrupt the Congressional certification of President Joe Biden's electoral college win, supporters of former President Donald Trump breached the Capitol building. Some lawmakers were forced to go into hiding or shelter in place. Many observers have blamed Trump's continued baseless claims that the election had been manipulated by Democrats as part of the reason for the riot.
Ocasio-Cortez said that an individual actually entered her office, forcing her to take refuge inside her bathroom after her legislative director Geraldo Bonilla-Chavez told her to "hide, hide, run and hide."
"And so I run back into my office," Ocasio-Cortez said. "I slam my door. There's another kind of like back area to my office, and I open it, and there's a closet and a bathroom. And I jump into my bathroom."
Ocasio-Cortez said was hiding behind the door "and then I just start to hear these yells of, 'Where is she?'"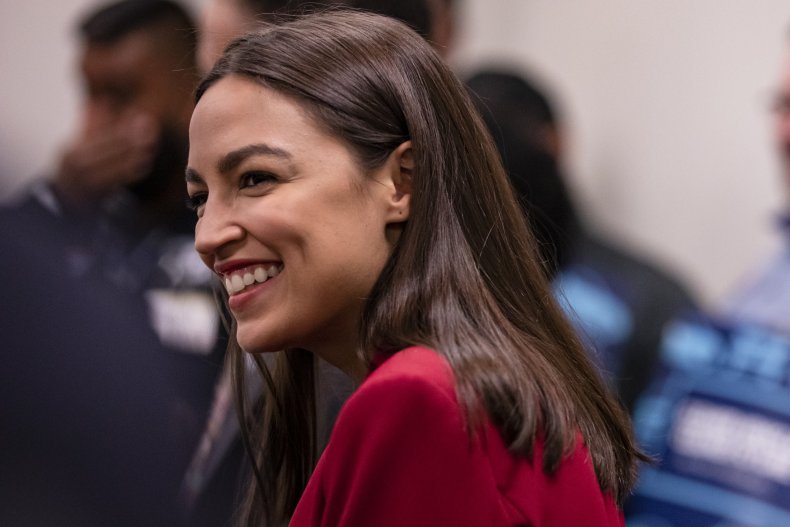 As the individual banged on the door, Ocasio-Cortez believed "this was the moment where I thought everything was over."
"And the weird thing about moments like these is that you lose all sense of time," Ocasio-Cortez continued. "In retrospect, maybe it was 4 seconds. Maybe it was 5 seconds, maybe it was 10 seconds. Maybe it was one second, I don't know. It felt like my brain was able to have so many thoughts."
"In between the screams and the yells," Ocasio-Cortez added, "I mean, I thought I was going to die."
When she exited her hiding place, Ocasio-Cortez said the man inside her office was a Capitol Police officer and that the situation "didn't feel right because he was looking at me with a tremendous amount of anger and hostility." The officer did not identify himself as a member of the Capitol police.
"We couldn't read if this was like a good situation or a bad situation," Ocasio-Cortez said, "and it was like so many other communities in this country like just that presence doesn't necessarily give you a clear signal if you're safe or not."
Six fatalities have been attributed to the January riot, including two Capitol police officers who committed suicide in the days following the assault on the Capitol building.
Ocasio-Cortez said that Capitol police had told members of Congress that plans had been made to deal with potential violence on the day of the riot, but that those plans could not be shared with the lawmakers. According to Ocasio-Cortez, the Capitol police said they did not "want people who are trying to plan harm to know the details of our security plan." Newsweek reached out to the United States Capitol Police for comment.
Trump was impeached by the House in January for "inciting violence against the Government of the United States" for his connection to the riot. Trump's impeachment trial is expected to occur in the Senate in February.
Correction (02/03/2021, 4:08 p.m.): A previous version of this story stated that Ocasio-Cortez's office was entered by rioters. Ocasio-Cortez's office was actually entered by a Capitol police officer that did not identify himself. Newsweek regrets the error.