Alexandria Ocasio-Cortez Joins Hillary Clinton in Mocking Jared Kushner: 'But His WhatsApp'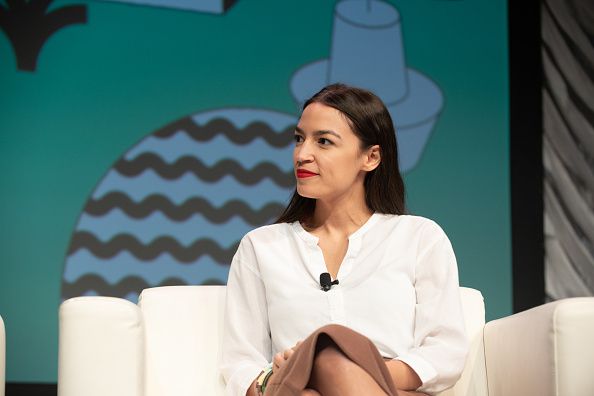 Representative Alexandria Ocasio-Cortez of New York joined Hillary Clinton in mocking Jared Kushner over his alleged use of unofficial online messaging services to conduct White House business.
"But his WhatsApp," Ocasio-Cortez tweeted Friday morning, riffing off President Donald Trump's constant criticism of Clinton's use of a private email server when she served as secretary of state. In fact, the president brought up the charge so often it became a famous meme online.
Clinton responded to Ocasio-Cortez's tweet, writing: "Tell me about it."
Ocasio-Cortez's Twitter post also included a video clip of CNN's Anderson Cooper and Representative Ro Khanna discussing the allegations against the president's son-in-law.
Representative Khanna, who serves on the House Oversight Committee, told Cooper that Kushner's use of the messaging app to conduct state business was "much worse" than Clinton's use of a private email server.
"The irony of this is that the president ran his whole presidential campaign accusing Hillary Clinton of having a private server and having communications, and here you have something that's much worse," he said. "You have communications with foreign leaders on platforms that aren't official U.S. platforms that put sensitive information at risk."
Khanna went on to say that no one was asking Kushner to disclose all the information about his communications with foreign leaders, just that he use official U.S. platforms.
On Thursday, House Oversight Committee Chairman Elijah Cummings sent a letter to White House counsel Pat Cipollone stating that an attorney for Kushner disclosed that the senior adviser "has used—and continues to use—WhatsApp as part of his official duties in the White House" to talk with foreign leaders.
The letter also revealed that Ivanka Trump allegedly conducts White House business through a personal email account and does not keep emails to which she doesn't respond.
Kushner's attorney, Abbe Lowell, denied Cummings's allegations that Kushner and Ivanka Trump used WhatsApp or personal mail servers for official business.
Cybersecurity expert and former FBI special agent Clint Watts said on MSNBC that Kushner's WhatsApp usage was "far more egregious" than Clinton's use of a private email server.
"We heard 'emails, lock her up, emails, lock her up,'" Watts told MSNBC on The 11th Hour. "To me, [Kushner's alleged use of WhatsApp] is far more egregious. This is foreign business interaction, and, by the way, it's being blocked from other parts of the U.S. government. This means foreign leaders have a better understanding about what the White House is communicating than our own intelligence community, our own law enforcement and our own allies."