Alexandria Ocasio-Cortez to Blame for Amazon NYC HQ2 Cancellation, Amazon Spokesperson Says
Amid fallout over Amazon's Thursday announcement it was canceling plans to build a HQ2 campus in New York City, critics have turned their attention on a prominent official: Representative Alexandria Ocasio-Cortez.
On Thursday, Amazon spokesperson Jodi Seth noted the opposition of Ocasio-Cortez and another opponent, New York City Councilman Jimmy Van Bramer, to the company's plan to come to New York.
While speaking with NBC News, Seth said that the deal was canceled because of the "environment" and criticism from elected officials.
"If you talk to Alexandria Ocasio-Cortez, it's, 'Never Amazon,'" Seth said. "If you talk to Van Bramer, it's unions."
The cancellation occurred after Democrats nominated State Senator Michael Gianaris, who vocally opposed the Amazon deal, to a state board that needed to unanimously approve the Amazon deal.
Seth wasn't alone in directing blame at Ocasio-Cortez, who had criticized tax subsidies given to the company and its anti-union stance, among other policies promoted by the business.
Morning Joe contributor Donny Deutsch lashed out at the lawmaker.
"When you have Alexandria Ocasio-Cortez, who I find extremely dangerous at this point, and I hope she doesn't tweet, 'Who are you Donny Deutsch I don't care about you or anything.' Basically she has a Twitter following that's her power base, to basically come out and say what a great thing it is, we can take that money and give it to teachers. It doesn't exist. It's an abatement: $27 billion, we put down 3. That's business. That's what happens," Deutsch said.
He also said that Ocasio-Cortez was going to help Trump be re-elected.
"We are in a dangerous place and if people in the party don't start to speak up against people like Alexandria Ocasio-Cortez, who is young and dynamic, but does not know what she's talking about, and her and her cohorts, some of these new fresh progressive faces are going to hand the presidency back to Donald Trump. I want everybody to understand that," he said.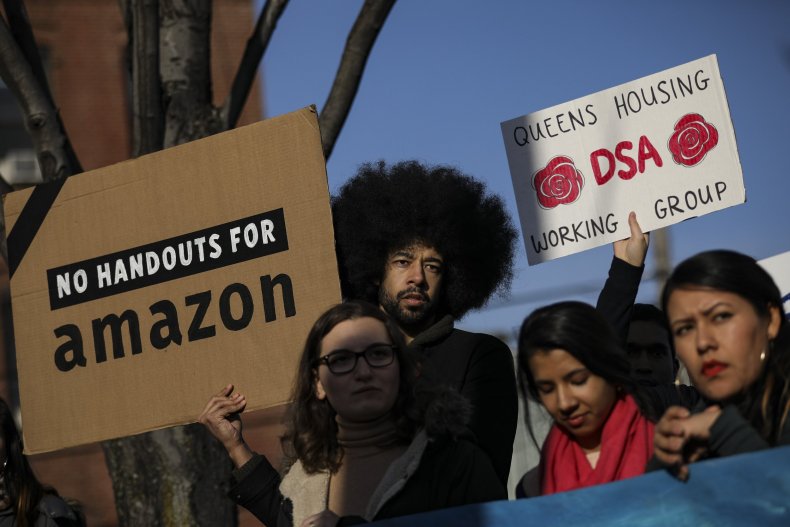 Critics have previously claimed that Ocasio-Cortez, who graduated from Boston University with a degree in economics, doesn't understand the financial policies she is talking about.
While Ocasio-Cortez cheered the decision for Amazon to end its plan for New York headquarters on Thursday, she put attention on community mobilization to oppose the plan.
"Amazon was not coming to my Congressional district, had no concentrated outreach to us that I'm aware of, yet w/ no effort I defeated the richest man in the world? Doesn't add up. Story that's not being told: the local community organized to reject it," she tweeted on Friday.
A Siena College poll released earlier in the month found that 56 percent of New Yorkers supported the deal to bring Amazon to New York City.