Alexandria Ocasio-Cortez Defends Ilhan Omar, Tells Republican to 'Go Do Something About' Right-Wing Terrorism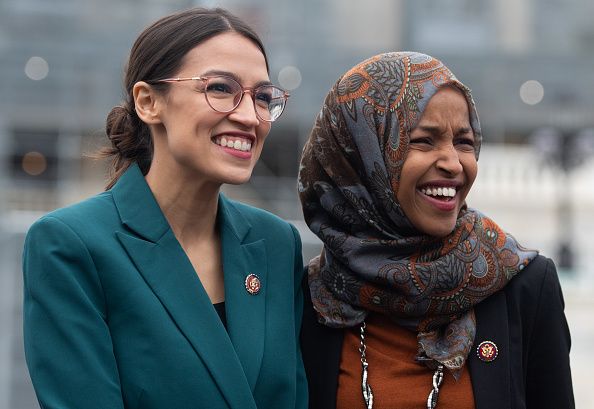 Democrat Alexandria Ocasio-Cortez slammed a Republican colleague as a hypocrite on Thursday while defending fellow freshman Representative Ilhan Omar. The Democrat has been under fire in recent days for her recent comments about 9/11.
"You refuse to cosponsor the 9/11 Victim's Compensation Fund, yet have the audacity to drum resentment towards Ilhan w/completely out-of-context quote," Ocasio-Cortez wrote on Twitter in response to a tweet from Representative Dan Crenshaw. "In 2018, right-wing extremists were behind almost ALL US domestic terrorist killings. Why don't you go do something about that?"
Crenshaw's tweet had chastised Omar's recent comments about the September 11th terrorist attacks that killed nearly three thousand people.
"First Member of Congress to ever describe terrorists who killed thousands of Americans on 9/11 as 'some people who did something,'" Crenshaw tweeted on Thursday morning. "Unbelievable."
Crenshaw is a decorated former U.S. Navy Seal who served in the military for over 10 years, including three tours of duty. He is now serving as the representative for Texas's 2nd congressional district.
His comments follow Omar's speech to the Council on American Islamic Relations (CAIR) in which she railed against the "second-class" treatment of Muslim people after the 9/11 attacks. She also falsely claimed that the organization was founded after 9/11 when it was actually started in 1994.
"CAIR was founded after 9/11, because they recognized that some people did something and that all of us were starting to lose access to our civil liberties," Omar said.
Crenshaw tweeted first about Omar's remarks on Tuesday, sharing a tweet that falsely claimed she had said that she "does not consider" 9/11 "a terrorist attack."
Still, the comment has since incited the rage of conservatives. The New York Post denounced Omar on their cover on Thursday, which featured an image of the Twin Towers ablaze after the planes hit with the words "Here's Your Something."
Donald Trump Jr. posted the Post cover on both Twitter and Instagram, alleging that Omar was an "anti-Semite."
"That she would liken 911 to 'some people did something' tells you all you need to know about her and what she thinks of America. As an American and a New Yorker I couldn't be more offended by this bullshit, but of course Chuck Schumer, Nancy Pelosi and their band of liberal clowns will do nothing, and the media will try to make her some sort of hero to cover her hatred of this great country and it's people. #enough #maga," the president's son wrote.
Omar slammed conservatives for attacking her comments in a Twitter post, in which she called out Fox News and Crenshaw specifically, writing that it is a "dangerous incitement, given the death threats I face. I hope leaders of both parties will join me in condemning it."
She then added that her "love and commitment to our country and that of my colleagues should never be in question. We are ALL Americans!"
Crenshaw responded with a tweet of his own, writing that he never called Omar "un-American" and that he never incited "any violence" against the Democrat.
"You described an act of terrorism on American soil that killed thousands of innocent lives as 'some people did something.' It's still unbelievable, as is your response here," he wrote.