Alexandria Ocasio-Cortez and Ilhan Omar Playing 'Among Us' on Twitch Draws Nearly Half Million Viewers
More than 400,000 people tuned in to watch Congresswomen Alexandria Ocasio-Cortez and Ilhan Omar play Among Us on Twitch to encourage voting on Tuesday night.
The two freshman Democrats joined gamers Pokimane and HasanAbi for a gaming session at 9 p.m. ET on the video live streaming service. Within minutes, the livestream had drawn over 400,000 viewers, becoming the most-watched stream on the platform.
As of around 9:30 p.m. ET, the view count was at 440,000 and still growing.
"Join me, @pokimanelol, @hasanthehun, & more on Twitch TONIGHT as we help folks make a voting plan at http://iwillvote.com and officially declare orange sus on Among Us," Ocasio-Cortez tweeted earlier on Tuesday.
American progressive personalities have been playing Among Us this year to promote voting on YouTube, TikTok and Twitch.
"You've got people's eyes and attention and the game is not too complicated where it'd be distracting to talk about voting. It leaves the viewers visually engaged while you talk about whatever you want," gun violence activist Cameron Kasky said, according to The New York Times.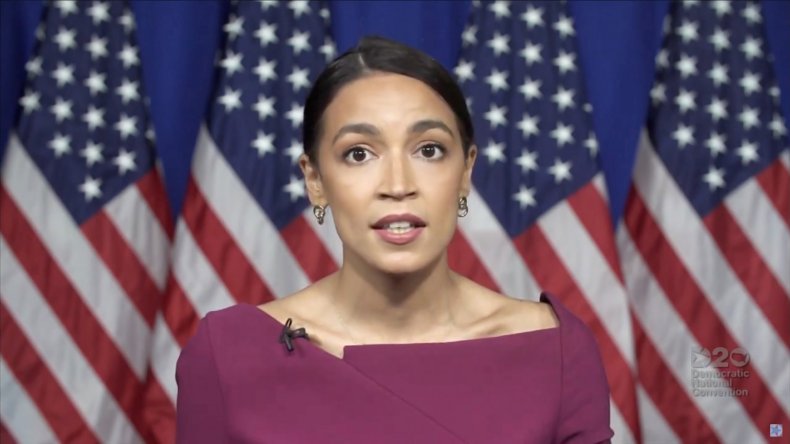 On Monday, Ocasio-Cortez took to Twitter to ask users whether they were interested in playing the game with her on Twitch. After Omar responded with a waving emoji, Ocasio-Cortez set up an official Twitch account and shared a few follow up tweets to promote the online event.
Newsweek reached out to Ocasio-Cortez for comment.
Both Ocasio-Cortez and Omar are members of the so-called "squad," a group of four women elected in the 2018 U.S. House of Representatives election. Congresswoman Rashida Tlaib, another member of the Democratic group, shared an image of her children on Tuesday night watching the Twitch stream.
"My two boys watching @AOC & @IlhanMN on Twitch playing Among Us. They think this is the coolest thing ever & are trying to convince me to get with the program," Tlaib tweeted.
The Gravel Institute, a crowd-funded organization against right-wing disinformation, noted that "AOC's Twitch stream is currently one of the biggest of all time."
Ocasio-Cortez's first foray into Twitch marks her latest effort to encourage young Americans to vote on November 3. Since her inauguration, the congresswoman has amassed a large group of dedicated supporters through her savvy use of social media and quick snap backs at conservatives online.
During the vice presidential debate between Vice President Mike Pence and Senator Kamala Harris, Ocasio-Cortez corrected Pence after he referred to her as "AOC."
"For the record," Ocasio-Cortez tweeted to Pence. "It's Congresswoman Ocasio-Cortez to you."