Alexandria Ocasio-Cortez, Ilhan Omar and Rashida Tlaib Will Reportedly Endorse Bernie Sanders for President
Democratic congresswomen Alexandria Ocasio-Cortez, Ilhan Omar and Rashida Tlaib, three of the most influential voices among young progressive liberals, will all reportedly endorse Senator Bernie Sanders in his 2020 bid for the presidency.
In an article published on Tuesday evening, The Washington Post reported that two unnamed sources with knowledge of the plan said Ocasio-Cortez, 30, will join Sanders, 78, at a campaign rally on Saturday to announce the surprise endorsement. During the fourth Democratic presidential debate on Tuesday, Sanders revealed that a "special guest" would join him in New York. "We're looking forward to Saturday," Corbin Trent, a spokesperson for Ocasio-Cortez, told the Post.
Although Sanders' campaign declined to comment on the report, another person with knowledge of the move also confirmed Ocasio-Cortez's endorsement.
Roughly half an hour after the Post's report was released, CNN politics reporter Greg Krieg revealed that congresswomen Ilhan Omar and Rashida Tlaib will also be endorsing Sanders in New York on Saturday. The "Bernie's Back" Saturday rally will be held in Queens, near Ocasio-Cortez' congressional district and hometown, according to the Post.
"New: Ilhan Omar and Rashida Tlaib will also endorse Sanders, according to source. AOC will, as @daveweigel and @WaPoSean first reported, will [sic] do the same on Saturday in NYC," Krieg tweeted.
Omar confirmed her endorsement for Sanders in a statement issued late on Tuesday evening.
"Bernie is leading a working class movement to defeat Donald Trump that transcends generation, ethnicity, and geography," she said. "That is why he is fighting to cancel all student debt. That is why he is fighting to make all school meals universal. That is why he is fighting for a humane immigration policy that treats immigrants as human beings and not criminals. And it's why Bernie is fighting to end our forever wars and truly prioritize human rights in our foreign policy–no matter who violates them."
Omar added: "And it's why I believe Bernie Sanders is the best candidate to take on Donald Trump in 2020."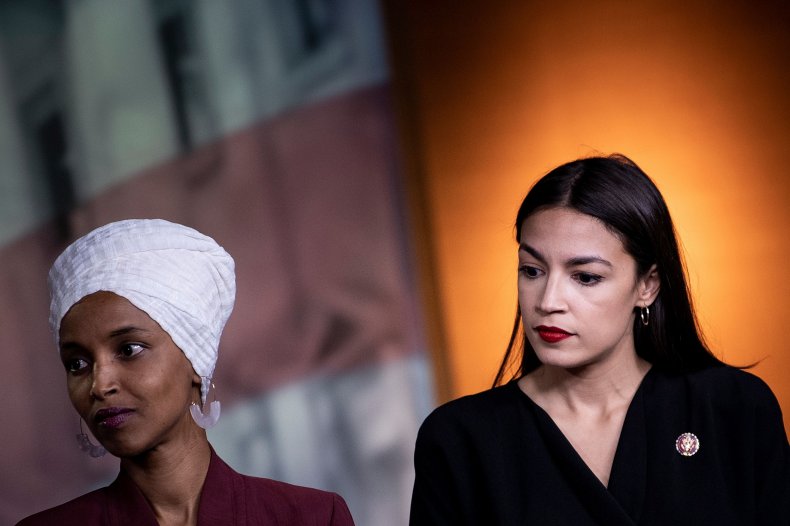 The three young liberal congresswoman are all part of the so-called "Squad," a group of four progressive lawmakers elected in the 2018 United States House of Representatives elections. All four squad members are women of color and under 50 years old. It is unclear whether Ayanna Pressley, the fourth member of the group, will also back Sanders. Her name was not mentioned in any of the reports.
News of the new endorsements comes two weeks after Sanders suffered an unfortunate heart attack, which appeared to disrupt the momentum he has built on the campaign trail. The support from his fellow progressives will likely boost the senator's popularity among young voters at a time when he has experienced some decline in the polls.
Prior to being elected into Congress, Ocasio-Cortez volunteered for Sanders during his 2016 presidential campaign. When the congresswoman was elected last year, Sanders praised her long-shot campaign, saying: "What she did is talk about the real issues."