Progressive Group Behind Alexandria Ocasio-Cortez's Rise Blasts Joe Biden as a 'Centrist' Who'll Divide Democrats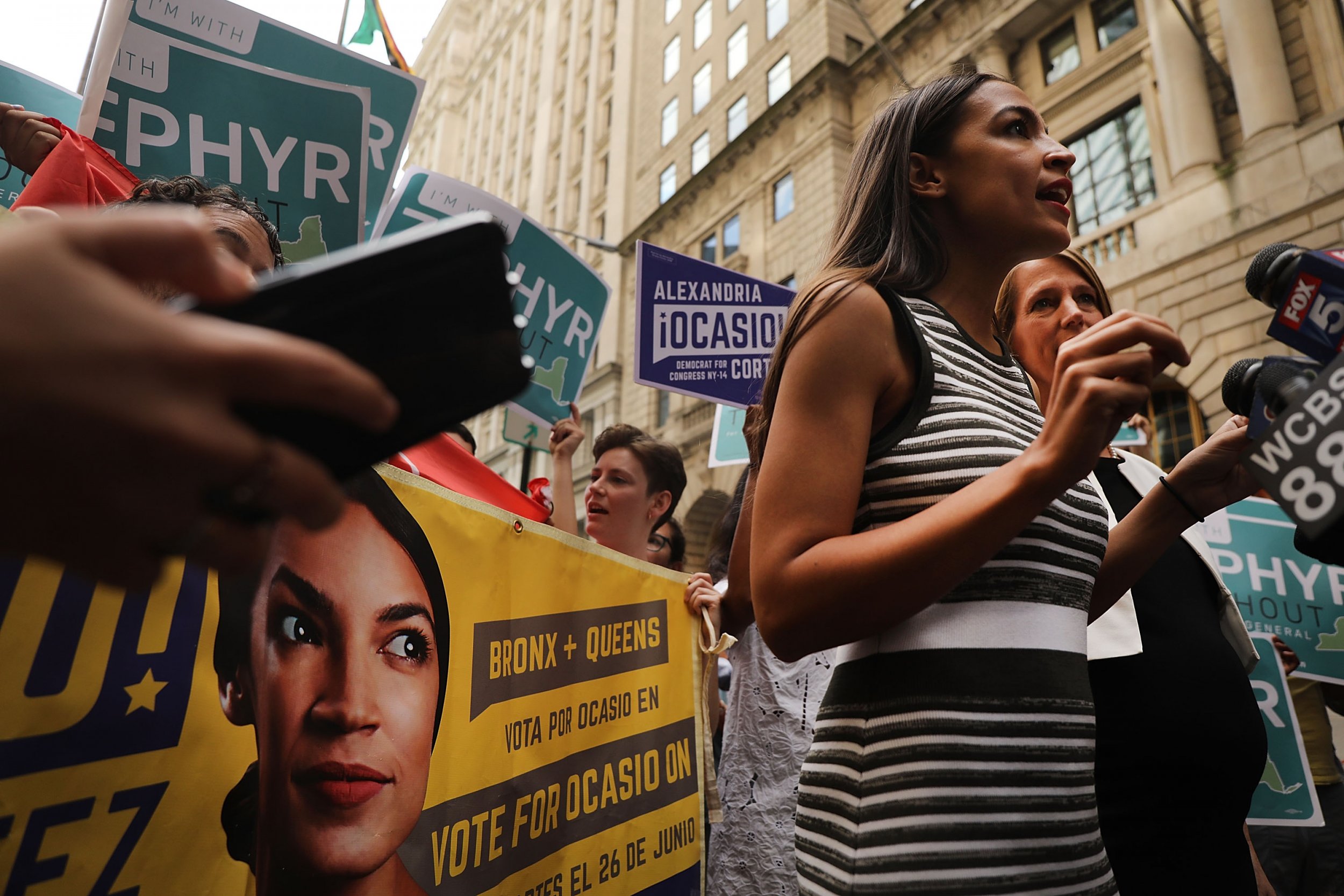 It didn't take long for supporters and critics to file into their respective camps following Joe Biden's Thursday morning announcement that he was running for president.
Justice Democrats, the group that helped Representative Alexandria Ocasio-Cortez become the youngest woman ever elected to Congress and become a prominent voice within the progressive wing of the Democratic Party, immediately labeled the former vice president a "centrist" who poses a threat to the party's agenda.
"While we're going to support the Democratic nominee, we can't let a so-called 'centrist' like Biden divide the Democratic Party and turn it into the party of 'No, we can't,'" said Justice Democrats Executive Director Alexandra Rojas in a statement. "The old guard of the Democratic Party failed to stop Trump, and they can't be counted on to lead the fight against his divide-and-conquer politics today. The party needs new leadership with a bold vision capable of energizing voters in the Democratic base who stayed home in 2016."
The grassroots organization's main quarrels with Biden are his stances on Medicare for All, the Green New Deal, free college tuition and mass incarceration, all topics that more left-leaning candidates have addressed. In large part, Biden has avoided the more liberal talking points to maintain his brand as a longtime centrist capable of appealing to white working-class voters who swung to Trump in 2016. But his silence on certain issues, coupled with his past voting records, has Justice Democrats vehemently opposed.
"Joe Biden stands in near complete opposition to where the center of energy is in the Democratic Party today," Rojas continued in her statement. "Democrats are increasingly uniting around progressive populist policies like Medicare for All, a Green New Deal, free college, rejecting corporate money, and ending mass incarceration and deportation. We don't need someone who voted for the Iraq War, for mass incarceration and for the Bankruptcy Reform Act while voting against gay marriage, reproductive rights and school desegregation."
Ocasio-Cortez, a first-term congresswoman from New York and a self-described democratic-socialist, appears to back the mission of Justice Democrats to challenge more moderate and establishment party members and unseat them in the 2020 primaries.
"If you're a one-term Congress member, so what?" she said in a video for the group in January. "You can make 10 years worth of change in one term if you're not afraid."
But aside from the progressive critics, Biden, who became the 20th Democrat to enter the 2020 race, already has the support of several sitting lawmakers. And he's long been a frontrunner in the polls, despite his not having entered the race until Thursday.
Seven House Democrats from Pennsylvania—Representatives Brendan Boyle, Matt Cartwright, Madeleine Dean, Dwight Evans, Chrissy Houlahan and Mary Gay Scanlon—plan to attend a Philadelphia fundraising event Thursday evening for the candidate. Biden was a U.S. senator from Delware for 36 years before he became President Barack Obama's vice president, and is a native of Scranton, Pennsylvania. Senator Bob Casey of Pennsylvania and Representative Lisa Blunt Rochester of Delaware have both endorsed Biden, and plan to attend the fundraising event. Representative Tom Suozzi of New York, Senator Doug Jones of Alabama and Senators Chris Coons and Tom Carper of Delaware, had also endorsed Biden.
President Donald Trump, meanwhile, issued Biden a "welcome to the race, Sleepy Joe," in a morning tweet.
"I only hope you have the intelligence, long in doubt, to wage a successful primary campaign," Trump said. "It will be nasty - you will be dealing with people who truly have some very sick & demented ideas. But if you make it, I will see you at the Starting Gate!"