Video of AOC Roasting Kevin McCarthy During Speech Viewed Over 300k Times
A video by Alexandria Ocasio-Cortez and Jamie Raskin video criticizing Minority Leader of the House of Representatives Kevin McCarthy has gone viral.
Speaking on Instagram Live, the pair repeatedly attacked McCarthy over the length of his speech that delayed passage of President Biden's spending plan.
The video has been viewed over 390,000 times, with many Twitter comments praising the duo.
Raskin began by arguing McCarthy was more upset about issues surrounding legislation to combat climate change and pre-school care than the actions of Paul Gosar.
Gosar caused controversy earlier this month among Democrats as he tweeted an edited video of popular anime Attack on Titan.
The video depicted the main antagonists, the Titans, as Democrats while the heroes of the anime, depicted as Republicans, kill them.
While speaking about McCarthy, Raskin said: "He is more upset about climate action and universal pre-K and medicare covering hearing than he is about his own guy, Gosar, creating a violent homicidal cartoon.
"A cartoon he put up on the internet and refused to take down for you. They are really upset because we censured him for it yesterday."
Raskin and Ocasio-Cortez went on to mock McCarthy for the length of his speech, which began at 8:38 p.m. and continued for more than six hours.
He continued: "I heard you made a beautiful speech yesterday, AOC. I missed it but I am going to check it out tonight after I hear this, one of the greatest speeches in American history.
"Not since the Gettysburg Address has America witnessed a speech like this."
Ocasio-Cortez replied the difference between the two speeches is that Gettysburg Address was elegant and brief, before criticizing the Republicans sitting alongside McCarthy.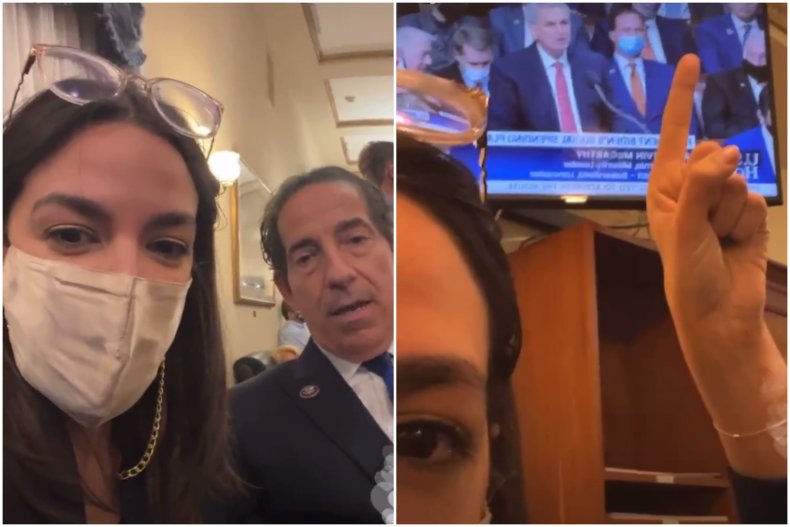 She took issue with the level of diversity as well as Mike Pence's brother, Greg Pence, showing support for McCarthy.
She said: "Let's examine this peanut gallery right over here.
"This right here, Mike Pence's brother, also a member of Congress. I mean, whatever.
"Here we have Representative Clyde who said January 6 was a collection of tourists.
"Meanwhile, I heard he was crying like a little baby on the day that it was happening."
She sarcastically added: "Look at all these people, stunning diversity in the House Republican Conference."
The pair continued to discuss Greg Pence and the Republicans defending the actions of storming the Capitol on January 6.
Raskin said: "Are you moved by the fact that Vice President Pence's brother is sitting next to a group of people who defended the insurrectionists who were chanting hang Mike Pence."
Ocasio-Cortez added: "I mean, you have Ted Cruz, that the President humiliates his family and he goes to bat for him.
"Then you have this man sitting next to people who were encouraging folks who literally wanted to harm his own family, I don't understand it."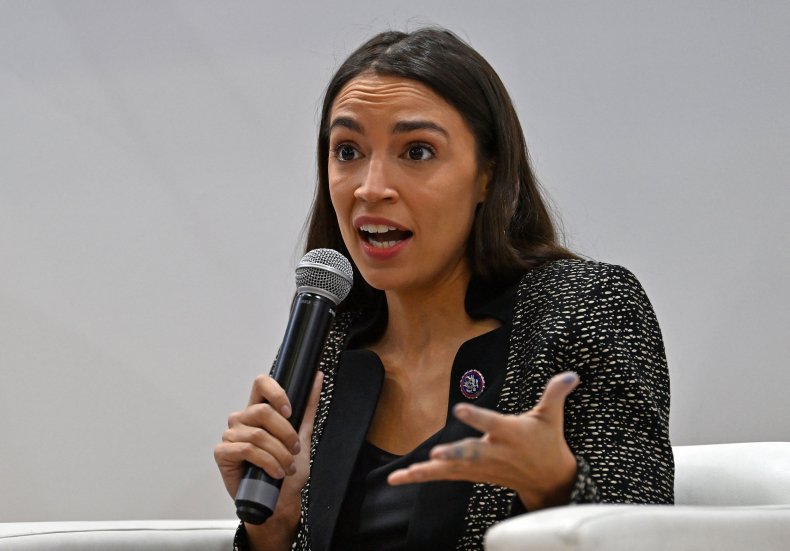 Regarding the actions of Gosar, earlier this week, Ocasio-Cortez criticized McCarthy for failing to condemn the tweets of his fellow Republican.
She said: "What I believe is unprecedented is for a member of House leadership of either party to be unable to condemn insight meant of violence against a member of this body.
"It is sad, it is a sad day in which a member who leads a political party of the USA cannot bring themselves to say issuing a depiction of murdering a member of Congress is wrong."