Alexandria Ocasio-Cortez Laughs As She Apologizes to Donald Trump Jr. 'If He Felt Genuinely Threatened By Me'
In a widely watched interview that aired on 60 Minutes Sunday, new Congresswoman Alexandria Ocasio-Cortez apologized for threatening first son Donald Trump Jr. on Twitter, a gesture that interviewer Anderson Cooper pointed out is uncommon for politicians.
"You got into a Twitter dispute with Donald Trump Jr. You suggested that it wasn't very bright of him to insult a member of body that would soon have subpoena power," Cooper told Ocasio-Cortez in the segment. "Some people have suggested that was a, you know, an abuse of power on your part."
Ocasio-Cortez then offered up her apology.
"Well, if he felt genuinely threatened by me, I apologize. But, I think that frankly, it's legal advice that any person would give him," she said with a laugh.
"Do you know that most politicians don't apologize for anything?" Cooper followed up. "You've broken that rule now too."
"Yeah, I'm breaking all the rules," Ocasio-Cortez said, smiling, "I'm breaking all the rules."
The Twitter dispute occurred in October when Ocasio-Cortez confronted Trump Jr. for his Instagram post mocking her with a meme suggesting that Americans would be eating dogs if they backed her socialist economy ideas.
"Why are you so afraid of a socialist economy?" Trump Jr.'s meme with an image of Ocasio-Cortez stated on top, and below, "Because Americans want to walk their dogs, not eat them." Trump Jr.'s caption on the post was, "It's funny cuz it's true!!!"
"I have noticed that Junior here has a habit of posting nonsense about me whenever the Mueller investigation heats up," Ocasio-Cortez tweeted on December 7. "Please, keep it coming Jr - it's definitely a 'very, very large brain' idea to troll a member of a body that will have subpoena power in a month. Have fun!"
In another tweet that day, Ocasio-Cortez slammed Republicans for characterizing her words to Trump Jr. as a threat.
"For the GOP crying that this is a 'threat' - I don't have power to subpoena anybody," she tweeted. "Congress as a body, GOP included, has the power. No indiv. member can issue a subpoena unless they are a Chair (which, as a freshman, I can assure you I will not be). Also must be under purview."
The dispute came as special counsel Robert Mueller continues his investigation into Russian interference and possible collusion with the Trump campaign in the 2016 presidential election, and looks into President Donald Trump's former associates.
Trump Jr., who was involved in a 2016 Trump Tower meeting with a Russian lawyer who promised damaging information on candidate Hillary Clinton, has reportedly told his friends he expects Mueller to indict him.
The president's eldest son later in December actually sided with Ocasio-Cortez on one matter—bashing the media.
"Welcome to our world..." Trump Jr. wrote and quote tweeted Ocasio-Cortez. "You think that's bad? Imagine what it's like when they actually hate you."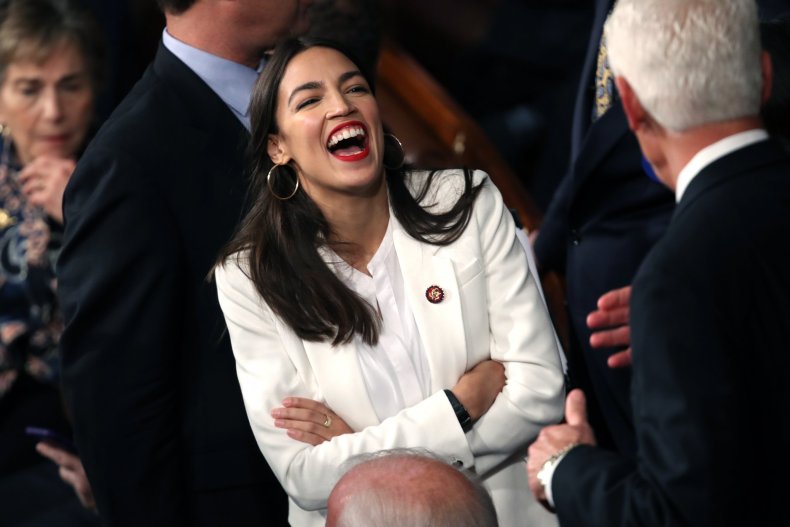 In her interview Sunday, Ocasio-Cortez also said: "People know that if you're going to come after me, you're opening yourself up."