Alexandria Ocasio-Cortez grilled Michael Cohen on Donald Trump's finances on Wednesday, getting the president's former "fixer" to admit that Trump often devalued his assets to avoid paying taxes.
"To your knowledge, was the president interested in reducing his local real estate bills, tax bills?" Ocasio-Cortez asked, to which Cohen replied, "yes." The question was in reference to multiple news reports that Trump had lowballed the value of his golf courses in Jupiter, Florida and Bedminster, New Jersey.
"And how did he do that?" Ocasio-Cortez responded.
"What you do is you deflate the value of the asset and then you put in a request to the tax department for a deduction," Cohen responded.
Ocasio-Cortez continued to press Cohen on the president's finances, asking the former attorney if Trump ever provided "inflated assets" to insurance companies.
"Yes," Cohen replied, adding that Trump Organization executives like Allen Weisselberg, Ron Lieberman and Matthew Calamari could corroborate this information.
Her questioning seemed to be laying the groundwork for the House Oversight Committee to subpoena Trump's long-hidden tax returns. The freshman congresswoman even asked Cohen if securing the president's federal and state tax returns would be helpful to address his financial discrepancies.
Ocasio-Cortez was given a seat on the House Committee on Oversight and Reform along with freshman congresswomen Rashida Tlaib and Ayanna Pressley. The group is the lead investigative body in the House of Representatives to examine political corruption, fraud and waste.
When Cohen pleaded guilty last year to charges of tax fraud and campaign finance violations, Ocasio-Cortez said his confession was just another example of the need for stricter oversight rules at all levels of the government.
"It goes so much beyond the scope of just the president," Ocasio-Cortez told The Hill. "This really speaks to the corrupting force of money in politics in general. And this problem is not going to go away until we tighten the reins on the role of money in politics."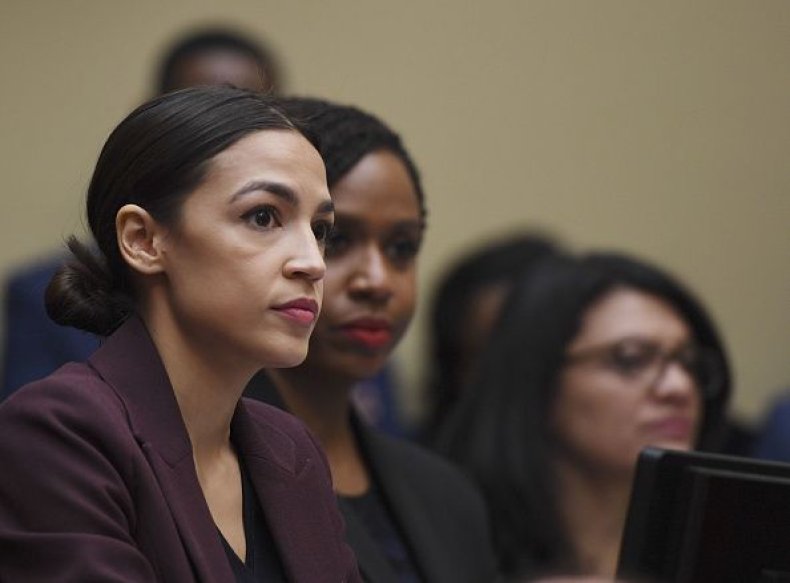 Cohen was ultimately sentenced to three years in prison for the array of crimes he committed while serving as President Trump's personal attorney and "fixer."
But before beginning his sentence in May, Cohen agreed to testify before lawmakers of three different congressional committees. This week, Cohen will appear before the Senate Intelligence Committee, the House Oversight Committee and the House Intelligence Committee.
In his prepared testimony for Wednesday's public hearing, Cohen put his former boss on blast, calling Trump a "racist" and a "conman."
"Never in a million years did I imagine, when I accepted a job in 2007 to work for Donald Trump, that he would one day run for the presidency, to launch a campaign on a platform of hate and intolerance, and actually win. I regret the day I said 'yes' to Mr. Trump. I regret all the help and support I gave him along the way," Cohen told lawmakers.
On Wednesday afternoon, before being given the chance to question Cohen, Ocasio-Cortez told reporters that Democrats were not ruling out moving ahead with impeachment proceedings against Trump.
"Well, we'll see. You know the documents were just provided this so morning so we need to really go through that, but I think there's some very gravely concerning evidence and some new evidence," Ocasio-Cortez said.