Alexandria Ocasio-Cortez Ridicules Sarah Palin for Mocking Her Civics, Says Insults Are Like 'Grandpa Emails' From 2008
Democratic Congresswoman-elect Alexandria Ocasio-Cortez fired back at former Republican Party vice president nominee Sarah Palin on Tuesday for spreading a criticism that she fumbled basic civics.
Palin, a former governor of Alaska who had a failed bid in 2008 under GOP presidential nominee John McCain, on Monday tweeted a story from her website governorpalin.org titled "YIKES: Ocasio-Cortez Fumbles Basic Civics TWICE In 1 Statement."
The story was embedded with a tweet from The Daily Wire reporter Ryan Saavedra Sunday night mocking Ocasio-Cortez for her comments during a video call.
"If we work our butts off to make sure that we take back all three chambers of Congress—Uh, rather, all three chambers of government: the presidency, the Senate, and the House," Ocasio-Cortez said in the clip. "We can't start working in 2020."
Saavedra commented with a correction: "The 3 branches of government: executive, legislative, judicial."
The story on Palin's site also embedded a tweet from Republican Ohio Representative Niraj Antani in which he made fun of her by saying, "What is a chamber of government," along with a couple of curious-looking emojis.
Ocasio-Cortez replied to Antani: "Maybe instead of Republicans drooling over every minute of footage of me in slow-mo, waiting to chop up word slips that I correct in real-tomd (sic), they actually step up enough to make the argument they want to make: that they don't believe people deserve a right to healthcare."
The Democratic socialist who has been outspoken on Twitter and in public appearances responded to Palin by taking a shot at her and another Republican vice presidential candidate who did not win office.
"Now that's *TWO* fallen GOP Vice Pres candidates going after a freshman Congresswoman that's not even sworn in yet. Isn't it a little early to be bringing out the big guns?" Ocasio-Cortez tweeted. "Especially when they look like the FWD:RE:FWD:WATCH THIS grandpa emails from the '08 election they lost."
Ocasio-Cortez shortly after tweeted that the other "fallen GOP Vice Pres" candidate was Joe Lieberman.
Lieberman was defeated s part of the Democratic ticket alongside Al Gore in 2000 but later became an independent and even spoke at the Republican convention in 2008 endorsing John McCain for president. He penned an opinion piece in The Wall Street Journal in July urging New Yorkers in the midterm elections to vote for Joe Crowley, whom Ocasio-Cortez beat in the primary.
"Fortunately, Joe Crowley and the voters in his district can prevent this damage. On Election Day, his name will be on the ballot as the endorsed candidate of the Working Families Party," Lieberman wrote. "But for Mr. Crowley to have a chance at getting re-elected, he will have to decide if he wants to remain an active candidate. I hope he does."
Crowley was running on the Working Families Party ballot line, though after the primary the party backed Ocasio-Cortez and had urged Crowley to remove himself from the party's ballot line, its campaign director Joe Dinkin said.
Lieberman also wrote: "Because the policies Ms. Ocasio-Cortez advocates are so far from the mainstream, her election in November would make it harder for Congress to stop fighting and start fixing problems. Thanks to a small percentage of primary votes, all of the people of New York's 14th Congressional District stand to lose a very effective representative in Washington."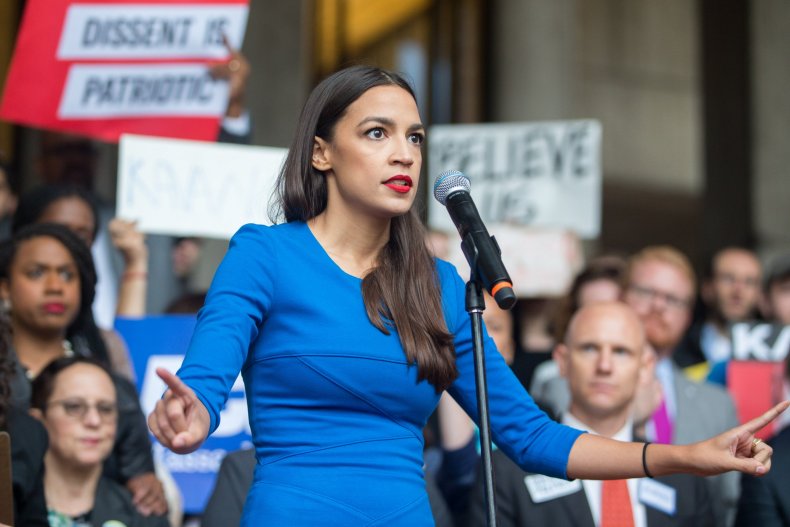 Ocasio-Cortez made history in her midterms win by becoming the youngest woman ever to be elected to Congress, at the age of 29.
This story has been updated with a comment from the Working Families Party.