Alexandria Ocasio-Cortez Says Pelosi Opponents Lack Diversity, Could Make Democrat Leadership More Conservative
Alexandria Ocasio-Cortez expressed concern about the letter released by anti-Nancy Pelosi Democrats, saying that Pelosi opponents are not "reflective of the diversity of the party."
"I mean if anything, I think that what [the letter] does is that it creates a window where we could potentially get more conservative leadership and when you actually look at the signatories, it is not necessarily reflective of the diversity of the party," the congresswoman-elect said during an appearance on MSNBC on Monday.
Sixteen House Democrats signed onto the "Never Pelosi" letter essentially arguing that it is time for new leadership in the chamber. Pelosi served as speaker of the U.S. House of Representatives from 2007 until Republicans regained the majority, in 2011.
"We are thankful to Leader Pelosi for her years of service to our Country and to our Caucus," the letter reads. "However, we also recognize that in this recent election, Democrats ran and won on a message of change." The representatives who signed the letter include 14 men and two women.
Ocasio-Cortez told MSNBC's Chris Hayes that the letter lacked any ideological diversity and noted that "very few" people of color had joined the group opposing Pelosi's leadership.
"When I was reading this letter that was kind of released today, my main concern was that there is no vision, there is no common value, there is no goal that is really articulated in this letter aside from we need to change," she said, adding that she is not "totally bought into the concept."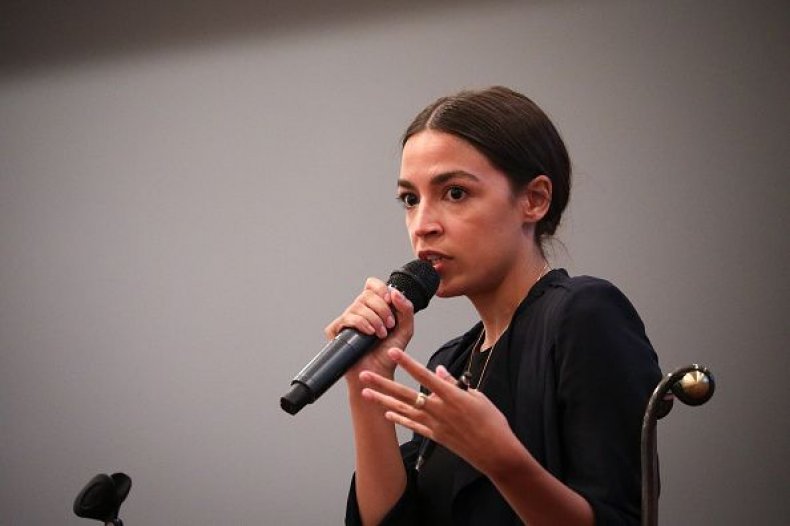 Ocasio-Cortez, who made history during the 2018 midterm elections by becoming the youngest woman ever elected to Congress, has previously hinted that she will be supporting Pelosi in her bid for speaker. On her Instagram Live video feed, the New Yorker said that right now she considers Pelosi to be "the most progressive candidate" in the field.
"My standard in this is: I'm going to support the most progressive candidate that's leading the party and right now that is Nancy Pelosi, in terms of running. I would love to see new, younger leadership, but I don't want new leadership that's more conservative," she added.
Ocasio-Cortez did not make mention of the top name being floated to challenge Pelosi for the position: Marcia Fudge. The African-American Congresswoman from Ohio has served in the House since 2008 and was the previous chair of the Congressional Black Caucus. While Fudge did not sign the letter she had voiced concern over Pelosi's leadership style, calling her an "elitist," and has said she is actively considering running against her for House Speaker.
Fudge told reporters last week that Pelosi does not represent the desires of Democratic voters. "When you look at the people who support this party the most, they are women and African-Americans and especially African-American women. We keep talking about diversity, but there is nothing diverse about the top of our ticket," she added.
Despite some Democratic members of the House opposing her bid, Pelosi "remains confident" that she will get enough votes to become House speaker, her spokesman announced after the release of the letter on Monday.