Alexandria Ocasio-Cortez Offers to Help Supporters Run for Local Office 'Everywhere'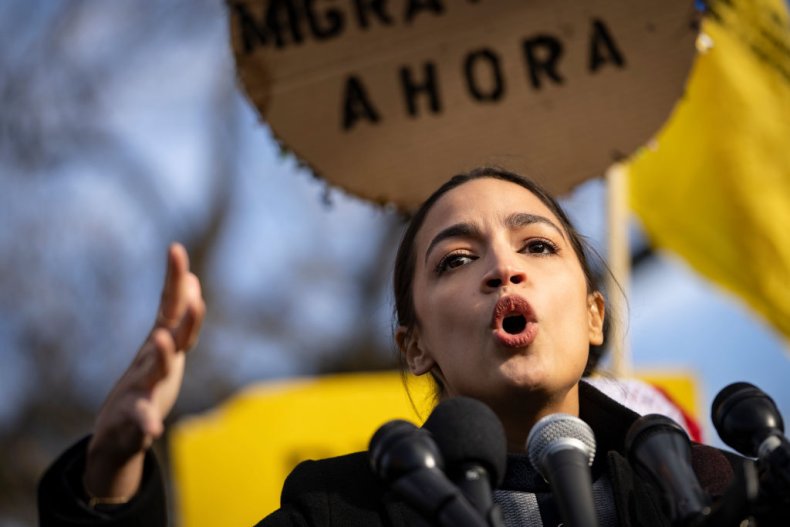 Representative Alexandria Ocasio-Cortez (D-N.Y.) has offered to help those with similar political views run for office in local elections "everywhere."
The progressive congresswoman promoted her Courage to Change PAC in a tweet on Wednesday. Ocasio-Cortez launched the PAC in 2020 and has since used it to promote candidates across the nation, with mixed results. She tweeted about it on Wednesday as part of a push to get potential candidates to fill out a questionnaire before an April 1 deadline.
"Are you running/thinking of running in a local election (ex: council race) to help make things better?" tweeted Ocasio-Cortez. "I want to help - especially in tackling our housing crisis. We need people running everywhere. Check out our @CouragetoChange endorsement page to learn more. Good luck!"
Potential candidates who fill out the questionnaire will need to "commit to policy pledges across eleven different areas" to be accepted by Ocasio-Cortez's PAC. Required commitments include supporting the Green New Deal, "expanding union power everywhere," supporting Medicare for all and "making housing permanently affordable, inclusive, and widely available."
"The Courage to Change Distinction seeks to identify those candidates who are truly committed to social, economic and racial justice – rather than those candidates who would superficially claim the progressive mantle," states the Courage to Change website.
Although Ocasio-Cortez tweeted about an "endorsement page" and the PAC site mentions "endorsees" who "embody the ideals of racial, social, economic, and environmental justice," a disclaimer that says the "Courage to Change Policy Pledge Distinction should not be considered an endorsement from Rep. Ocasio-Cortez when awarded" is also included.
The PAC touts itself as an "answer" to "corporate interests, elite donors, and insular party power structures disincentivizing many potential leaders from running for office." It also says that the distinction is available for candidates running for "local, state and federal" office.
Ocasio-Cortez's focus on recruiting local candidates only is likely by design. Multiple vulnerable Democrats holding national office in swing states declined donations from her PAC early last year over fears that the contributions would be used in attack ads by Republican rivals, according to Politico.
New PAC contributions to Democrats holding national offices that faced credible Republican challengers disappeared in the months after the Politico report, according to The Independent.
Fiery rhetoric from Ocasio-Cortez, as well as her Democratic Socialists of America membership, have helped secure her status as a favored target of Republicans and conservatives.
Ocasio-Cortez, 32, is currently recovering from a bout of COVID-19. She was diagnosed shortly after returning from a trip to Florida, where she was heavily criticized by conservatives for supposed hypocrisy over not wearing a mask outdoors.
Newsweek reached out to the office of Ocasio-Cortez for comment.