Alexandria Ocasio-Cortez Only Democrat to Vote Against Reopening Government Because Bill Would Also Fund ICE
New York Representative Alexandria Ocasio-Cortez stood alone on Wednesday as the only Democrat to vote against two leadership-backed bills to bring the record-breaking partial government shutdown to an end.
Ocasio-Cortez said that she could not support the measures due to concerns over its provision for funding for the Immigration and Customs Enforcement, which oversees the detention and deportation of undocumented immigrants.
"Most of our votes are pretty straightforward, but today was a tough/nuanced call," Ocasio-Cortez wrote in an Instagram story, according to The Hill. "We didn't vote with the party because one of the spending bills included ICE funding and our community felt strongly about not funding that."
As a result, Ocasio-Cortez joined with 183 Republicans in voting against the first measure bill, which sought to provide funding to reopen shuttered parts of the government, including the Department of Homeland Security, under which ICE falls, until February 28, while 223 Democrats and six Republicans voted in support of it.
Ocasio-Cortez voted "no" a second time on a larger appropriations package that would provide funding for agencies through the end of the year. However, that package did not include funding for the DHS, so it is unclear why the New York representative voted against it.
The 29-year-old New York politician represents the Queens and Bronx district, which has a significant immigrant and Latino population, including some who live in fear of being targeted by ICE.
Since the start of her grassroots election campaign, Ocasio-Cortez, a self-described democratic socialist, has made her own stance on ICE clear, making the call for the embattled agency's abolishment a key part of her platform.
Her decision to vote against the funding bill comes after the 29-year-old faced backlash over a vote earlier this month to fund the Department of Homeland Security, ICE included, through until September. Critics branded the lawmaker a hypocrite for supporting a bill that included funding for the DHS and ICE, despite her repeated calls for ICE's abolishment.
Despite support for the bill, Trump rejected it because it did not meet his demand for around $5.7 billion in funding for the construction of his long-promised border wall between the U.S. and Mexico.
Trump triggered the federal shutdown on December 22 after he refused to sign a stop-gap measure to keep the government running through to February because it did not include the border wall funding. The shutdown, which is the longest on record, has dragged on for 34 days as of Thursday, leaving around 800,000 federal workers furloughed or working without pay.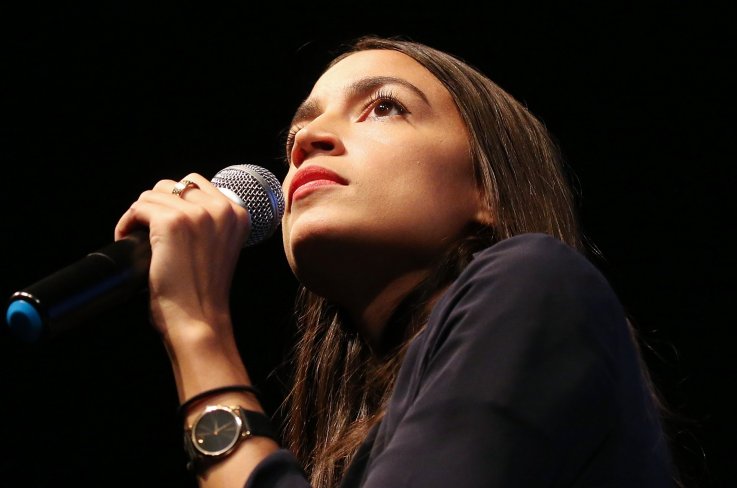 Alexandria Ocasio-Cortez Only Democrat to Vote Against Reopening Government Because Bill Would Also Fund ICE | U.S.