Here's How Alexandria Ocasio-Cortez's Paid Leave Policy Compares to Ivanka Trump–Backed Proposals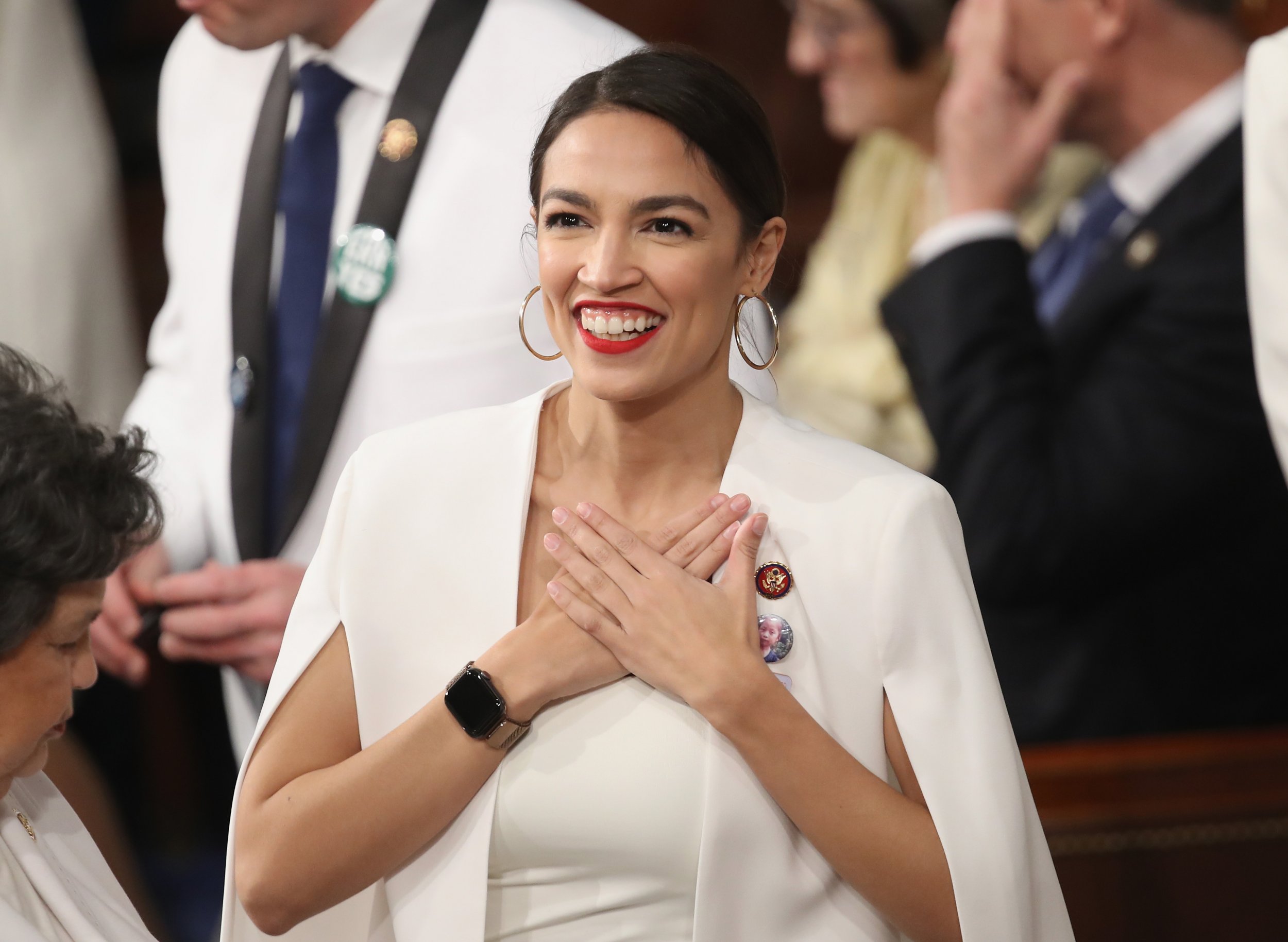 Democratic Representative Alexandria Ocasio-Cortez on Friday unveiled a strong paid family-leave policy, advocates on the issue agreed. The assessment of the progressive freshman's policy stands in contrast to what one advocate called the "much more problematic" proposals backed by White House senior adviser Ivanka Trump, who has made paid family leave one of her signature issues.
In a series of tweets, Ocasio-Cortez said that an "'unusual' (but shouldn't be)" part of her office policy is that new parents working for her get three months of paid leave.
"Paid parental leave applies to ALL new parents, period. Moms, dads, parents; biological or adopted," Ocasio-Cortez tweeted. "If you've got a new child, you get 12 weeks to spend adjusting your family to this huge transition."
The 29-year-old congresswoman reiterated the importance of giving fathers full parental leave as well and said that "I strongly encourage them to take the full time."
"I've heard the 'normal' paternity leave is 2 weeks. That is NOT okay!" she tweeted. "As my partner says: 'What do employers expect those new moms to do? Walk it off?'"
Meanwhile, on Tuesday Trump tweeted a Time story about paid family leave being stalled in Congress and why that was about to change, in which she was quoted.
"We're not looking for a messaging bill, but working in earnest to develop bipartisan #PaidFamilyLeave policy that can garner the votes to be passed into law," Trump said on Twitter. "And we're making real progress towards that goal!"
Trump has backed several proposals that do not represent comprehensive paid family leave, while Ocasio-Cortez supports a plan that satisfies a range of family caregiving needs, said Ellen Bravo, co-director of Family Values @ Work, a national network of coalitions in 27 states.
"We're delighted to see a strong policy from Representative Ocasio-Cortez, and we're also delighted to see her support of the [Family and Medical Insurance Leave Act] because we need good policies for congressional staff extended to everyone in the country," Bravo told Newsweek on Friday.
"The policies that Ivanka Trump has gone to bat for are much more problematic," Bravo continued. "They would take away from important support that people need, like unemployment insurance or Social Security, that's not a sustainable funding source."
Bravo commended Ocasio-Cortez for supporting the Family Act, which would allow workers to take paid family and medical leave for up to 12 weeks and would be funded through small payroll tax increases split between employers and employees. Democrats, including presidential candidate Senator Kirsten Gillibrand, reintroduced the Family Act in February, and advocates expect it to continue moving through the legislative process in the House this session.
By contrast, Trump has advocated for a paid family leave inclusion in President Donald Trump's budget that would provide only six weeks of paid leave for new parents, as well as other proposals that do not give them enough time to recover, Bravo said.
Sarah Fleisch Fink, general counsel and director of workplace policy for the nonprofit National Partnership for Women & Families, told Newsweek "we absolutely support" Ocasio-Cortez's tweets and support for the Family Act.
Fink said of Ivanka Trump's tweet, "It sounds like she was advocating for paid family leave, and to me paid family leave is broader than just parental leave."
Any paid family leave plan still faces an uphill challenge in getting bipartisan support in Congress, something the Ocasio-Cortez and Ivanka Trump–backed proposals have not yet accomplished.
Fink said the first daughter's weighing in on paid family leave helps more than hurts efforts by advocates.
"It's helpful anytime that anybody who has an audience, and has people who are paying attention to what they say, talks about why people in this country need paid family leave, so we welcome Ivanka Trump's voice," Fink said.
Ivanka Trump told Time, "It's exciting to see momentum on paid family leave as bipartisan proposals are taking shape."
"Much progress has been made to advance this important policy over the past two years," the first daughter said, "And I believe that paid family leave can finally be passed into law if we work across the aisle and encourage honest debate in pursuit of a bipartisan path forward."