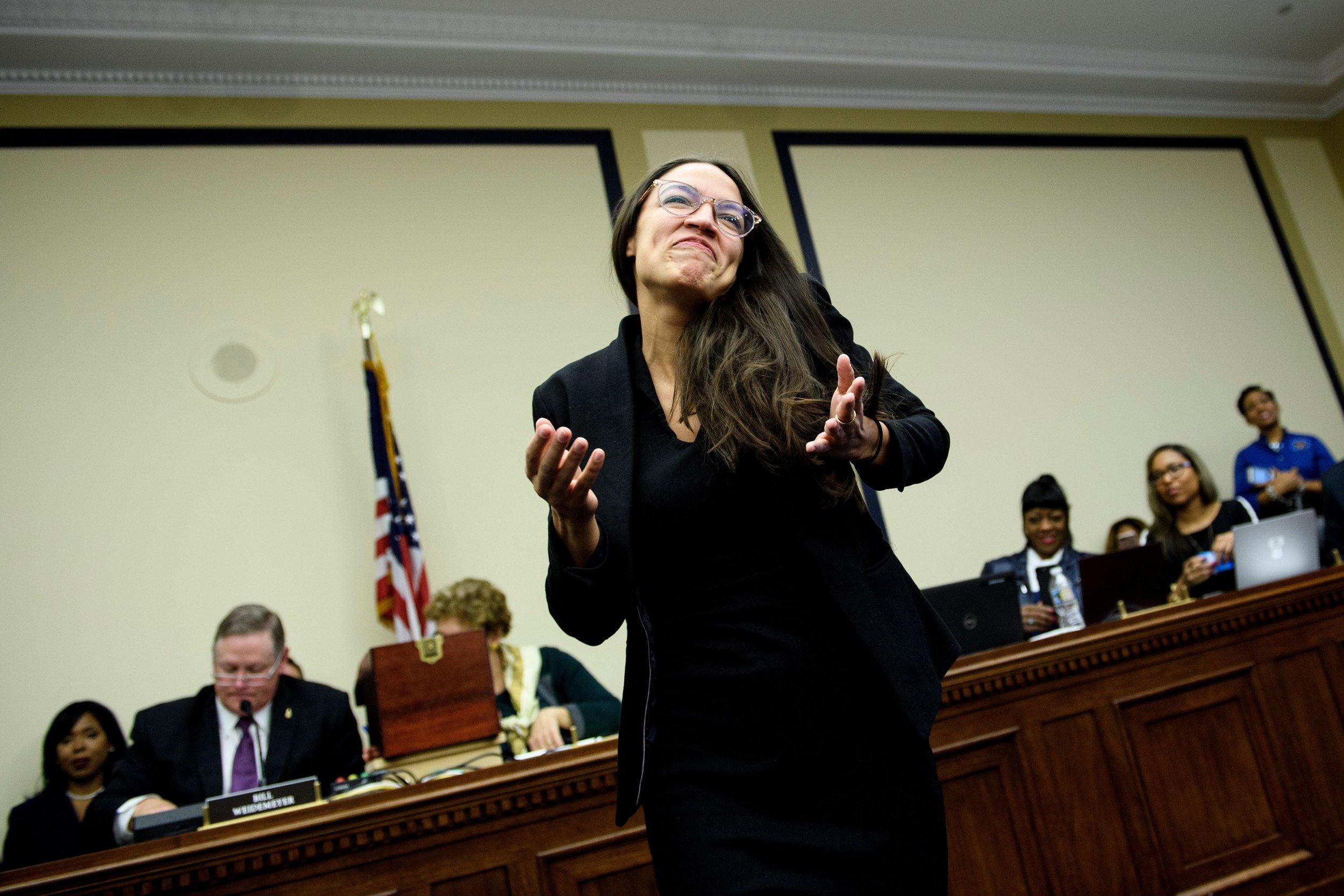 Alexandria Ocasio-Cortez won't be sworn into office until Thursday. But, along with other progressive House Democrats, the congresswoman-elect is continuing to cause trouble for presumptive incoming Speaker of the House Nancy Pelosi and Democratic House leadership.
Pelosi and the soon-to-be House Rules Committee Chairman Jim McGovern announced on Tuesday that the House will vote on a new rules package for the 116th Congress later this week, something every Congress does.
One of the five key ways the new rules will "modernize Congress," according to Democrats, is the restoration of budgetary rules that are unpopular with some progressive Democrats. Ocasio-Cortez of New York and Congressmen Ro Khanna of California and Tim Ryan of Ohio are among them.
The three Democrats banded together to express their frustrations Wednesday, with two of them publicly saying they planned to break from Democratic ranks and vote against Pelosi's rules change replacing a Republican budget rule called Cut-as-You-Go (CUTGO) with Pay-as-You-Go (PAYGO).
CUTGO required mandatory spending increases created by new legislation be funded by mandatory spending cuts elsewhere and did not allow them to be offset with tax increases. CUTGO's intended purpose was, according to past GOP House leaderships, to "stop growth in the size and scope of the Federal Government and prioritize spending cuts over revenue increases."
PAYGO will require new mandatory spending increases to be funded either by cuts in mandatory spending or increases in revenue, which could be done through taxes. Progressives have argued PAYGO could hinder Democrats' agenda and new bills regarding entitlement programs that could be costly.
"I will be voting NO on the Rules package with #PayGo. It is terrible economics," Khanna said on Twitter. "The austerians were wrong about the Great Recession and Great Depression. At some point, politicians need to learn from mistakes and read economic history."
Ocasio-Cortez echoed the congressman's remarks, saying she will also vote no.
"PAYGO isn't only bad economics, as Ro Khanna explains; it's also a dark political maneuver designed to hamstring progress on healthcare [and] other [legislation]," the she tweeted. "We shouldn't hinder ourselves from the start."
Michael Zetts, the communications director for Ryan, told Newsweek the congressman had not yet decided how he'd vote on the rules package, but that he did oppose the PAYGO proposition. In a statement, Ryan classified it as a "no-go for me."
"We must not handcuff our New Democratic majority, so PAYGO is a no-go for me," Ryan said. "Critical investments in education, infrastructure, and health care should not be held hostage to budgetary constraints that Republicans have never respected anyhow."
Drew Hammill, Pelosi's deputy chief of staff, fired back at the Democrats' tweets, saying Congress must replace CUTGO to, "allow Democrats to designate appropriate offsets (including revenue increases)." He added that voting, "AGAINST the Democratic Rules package is a vote to let Mick Mulvaney make across-the-board cuts, unilaterally reversing Democratic initiatives and funding increases."
Newly elected progressive House Democrats, especially Ocasio-Cortez, have already proved themselves to be powerful rebels against Pelosi. Sixteen current and incoming House Democrats signed a letter in November saying they believed, "more strongly than ever that the time has come for new leadership." Ocasio-Cortez was not one of them. The threat to derail Pelosi's bid to retake the speaker's gavel forced her to strike a deal with rebel Democrats in December to limit her speakership to three terms, pledging to bow out in 2022.
Eighteen Democrats will have to vote against the rules package in order to defeat it.
House leadership defended its choice to replace CUTGO with PAYGO, saying it was, "eliminating the sham budgetary process of CUTGO that pretends tax cuts pay for themselves; streamlining budget rules by eliminating dynamic scoring requirements; reinstating and modernizing the Gephardt Rule to protect our nation's credit rating; and ending the policy that allows Federal lands to be given away for free without acknowledging the budgetary impact."
The Gephardt Rule would automatically raise the debt ceiling when a budget is passed.