Alexandria Ocasio-Cortez and Rashida Tlaib Break into Tears While Describing Migrant Detention Camp Conditions
Representatives Alexandria Ocasio-Cortez and Rashida Tlaib both cried openly during impassioned speeches recalling their visits to detention camps along the southern border of the United States Friday morning.
Ocasio-Cortez and Tlaib, who had organized a trip to the border facilities together, were asked to testify about what they witnessed during Friday's House Committee on Oversight and Reform hearing on the Trump administration's child separation policy.
Ocasio-Cortez, who voluntarily swore-in so her testimony would be under oath, told Chairman Elijah Cummings that she met with a group of women while visiting the Clint migrant facility in Southwest Texas. "They were put into a cell and the sink was not working so they were told to drink out of a toilet bowl, I believed them," she said, partially responding to prior claims by Republicans that migrants did not have to drink out of toilet bowls but instead had drinking water fountains installed into the tops of their toilets.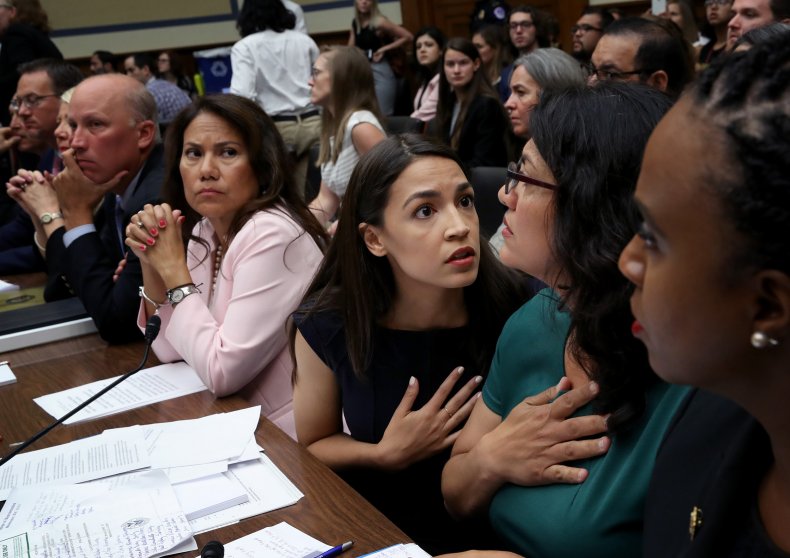 "I believed the canker sores they said were in their mouths because they weren't receiving proper nutrition. I believed them when they said they were sleeping on concrete floors for two months," Ocasio-Cortez continued, beginning to cry. "And what was worse about this was the fact that there were American flags hanging all over these facilities. That children were being separated from their parents in front of an American flag, that women were being called names under an American flag."
Michigan Congresswoman Rashida Tlaib also visited the camps and had a similarly emotional reaction, at one point having to pause because of her tears.
"We do have a crisis at our border, it is one of morality," she said. "We have seen this current strategy unfold, intentionally and cruelly created by the Trump administration who are dead-set on sending a hate-filled message that those seeking refuge are not welcome in our America and that the rule of law, human rights, will not protect them here."
Tlaib then addressed Republicans who have been pointing fingers at Democrats for the crisis, saying the overcrowding and unsanitary in camps is occurring because of a lack of funding. "I spoke to [U.S. Customs and Border Protection] agents," she said. "They said stop sending money because it's not working, another one said 'I am not trained for this, I am not a social worker and I am not a medical care worker. He said he wanted to be at the border.' Another agent said the separation policy wasn't working."
Both Tlaib and Ocasio-Cortez have referred to migrant detention centers as concentration camps, sparking controversy amongst Republicans and Democrats alike who believe their phrasing is over-sensationalizing the situation.