Alexandria Ocasio-Cortez Reportedly Preparing to Take Out Leading Democrat—He Responded With Biggie Smalls Lyrics
Congresswoman-elect Alexandria Ocasio-Cortez is reportedly working to take down fellow New York Representative Hakeem Jeffries, the newly elected House Democratic caucus chairman and number-five liberal in the House, in the 2020 primary. Jeffries' response? Biggie Smalls lyrics.
Ocasio-Cortez has recruited an African-American woman to run against Jeffries, who is also African-American and considered to be a potential future speaker of the House, a source close to Ocasio-Cortez told Politico in a report published Tuesday. Jeffries is Ocasio-Cortez's "highest priority" target in the upcoming primary, the person said.
The congresswoman-elect, who unseated House Democratic Caucus Chairman Joe Crowley in the primary earlier this year, is apparently working with the group Justice Democrats to oust Jeffries. Another person familiar with the matter told Politico that Justice Democrats are "excited" to oppose Jeffries, whom they believe takes too many funds from corporate interests.
Jeffries responded by quoting the late East Coast rapper Notorious B.I.G., also known as Biggie Smalls or Biggie.
"Spread love; it's the Brooklyn way," Jeffries said. Jeffries also saluted the rapper last year on the House floor.
When asked by Politico about the potential challenge, Jeffries replied, "It's a free country and democracy is a beautiful thing."
Ocasio-Cortez's team did not immediately respond to a request for comment from Newsweek on Tuesday.
Her spokesman Corbin Trent denied to Politico that she has recruited a candidate to challenge Jeffries.
"We're not looking at recruiting people to run campaigns, we're looking at building a congressional staff," said Trent, but added that Ocasio-Cortez and allies were let down with Jeffries.
"We're disappointed in the way that the leadership elections went down, specifically that leadership election," Trent said. "We would have liked to have seen that be a more fair fight with less pressure."
Jeffries, a member of the Congressional Progressive Caucus and former corporate lawyer for CBS and Viacom, has more than $1 million after his 2019 campaign, according to OpenSecrets. Unlike Ocasio-Cortez's low-turnout primary, the 2020 primary is expected to have high turnout, because it is a presidential year.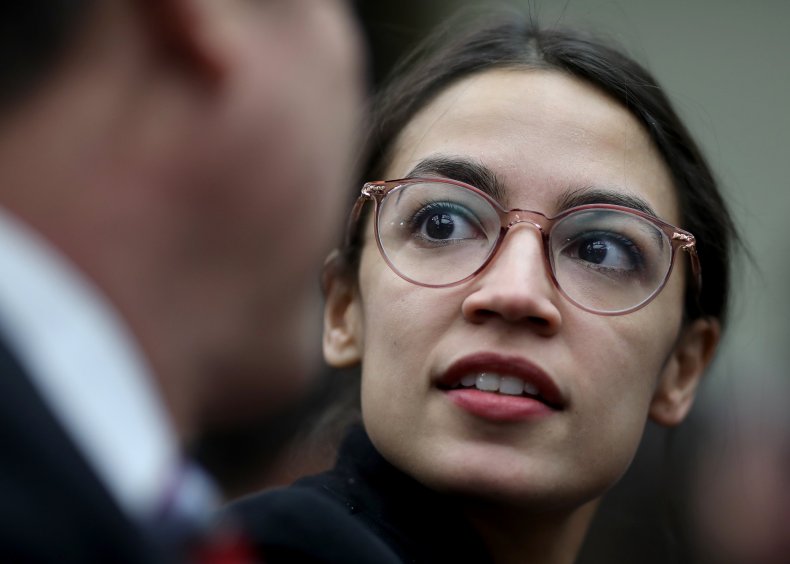 Accordign to Politico, Ocasio-Cortez has a personal dislike for Jeffries because a campaign donation she received from Democratic Representative Barbara Lee was allegedly used in a "whisper campaign" against Lee, a progressive. Lee subsequently lost a close race against Jeffries for the Democratic caucus chair.
After beating Crowley, Ocasio-Cortez made history by winning her November midterm elections race and becoming the youngest woman elected to Congress at the age of 29.