Alexandria Ocasio-Cortez Responds to Republican's 'Whatever She Is' Insult: 'I'm a Puerto Rican Woman'
Ron Desantis, a Republican in the House of Representatives and a candidate for Governor of Florida took aim at political newcomer and rising progressive star Alexandria Ocasio-Cortez at a campaign event Saturday.
"You look at this girl Ocasio-Cortez, or whatever she is, I mean, she's in a totally different universe," he said during the event in Orange Park, as first reported by the Huffington Post. "It's basically socialism wrapped in ignorance."
Ocasio-Cortez responded to Desantis's comments on Twitter Monday with the statement: "Rep DeSantis, it seems you're confused as to 'whatever I am.' I am a Puerto Rican woman. It's strange you don't know what that is, given that ~75,000 Puerto Ricans have relocated to Florida in the 10 mos since Maria," she said.
"But I'm sure these new FL voters appreciate your comments!"
Ocasio- Cortez, a self-described democratic socialist from New York, rocketed into the national political scene last month after she beat high-ranking Congressman Joe Crowley in a Democratic primary win that saw her progressive message resonate with constituents.
"The only time we create any kind of substantive change is when we reach out to a disaffected electorate and inspire and motivate them to vote," Ocasio Cortez told In These Times, a progressive magazine last month. "That is how Obama won and got re-elected, and that's how Bernie Sanders did so well."
Desantis'z criticism of Ocasio-Cortez centered around an interview she did with PBS News earlier this month in which she described Israel's presence in the West Bank as an "occupation."
"There's never been a Palestinian state. You're just repeating these canned, left-wing talking points, and you're somehow the savior of the Democratic Party? Good lord," Desantis said. "She has no clue what she's talking about."
Desantis did not immediately respond to Newsweek's request for comment on his statements.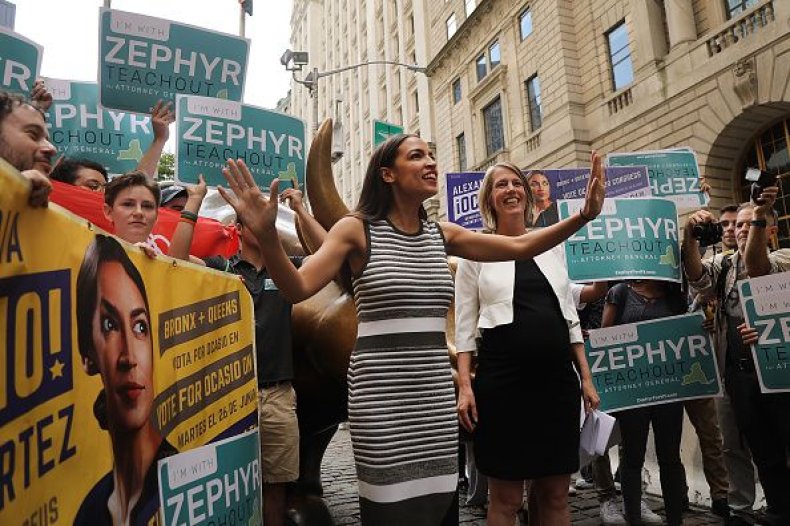 DeSantis' website describes him as a politician who has "helped drain the swamp." He leads the Republican race for governor by a 12 point margin over Florida Agriculture Commissioner Adam Putnam, according to a Politico poll.
In June, Trump endorsed Densantis on Twitter and said he would make a "great governor."
"Congressman Ron DeSantis, a top student at Yale and Harvard Law School, is running for Governor of the Great State of Florida. Ron is strong on Borders, tough on Crime & big on Cutting Taxes- Loves our Military & our Vets," he said. "He will be a Great Governor & has my full Endorsement!"