Alexandria Ocasio-Cortez didn't back down on Monday after President Donald Trump referred to her Green New Deal resolution as a "high school term paper" during his El Paso, Texas rally.
"Too many Democrats are focused on tearing down their opposition instead of building up our country," Trump said during his lengthy speech. "They're trying to impose some of the most extreme measures and policies ever put forward by our Congress. And by the way, I don't think anybody in this room wants to be 70, 80, 90 and 95 percent tax, does anybody want to pay a 90 percent tax?"
Trump stepped away from podium as the crowd responded with boos to the question, returning to add, "You know, you look at what we've done with jobs, what we've done with the economy, how low your taxes are — the lowest they've been almost from the beginning — who the hell wants to change what we are doing now? We are a hot, hot country."
Trump went on to say that Democrats introduced "a massive government takeover that would destroy the incredible economic gains," referring to Ocasio-Cortez's Green New Deal resolution.
"It sounds like a high school term paper that got a low mark," Trump said.
"Ah yes, a man who can't even read briefings written in full sentences is providing literary criticism of a House Resolution," Ocasio-Cortez said on Twitter after retweeting the quote from Breitbart News' White House correspondent Charlie Spiering.
The New York Democrat also included a quote from a Washington Post story that highlighted how Trump skips reading written intelligence reports and instead has them given orally.
Calling Ocasio-Cortez's resolution a high school term paper wasn't the only issue the president took with the Green New Deal during his speech. Trump also said that the deal would shut down American energy, eliminate air travel and send companies and factories to China and other countries.
"It would shut down American energy, which I don't think the people of Texas are gonna be happy with that. It would shut down a little thing called air travel," Trump said.
Trump continued to say that the resolution would take away cars, reduce the value of homes and "put millions of Americans out of work." The president also criticized the cost of the deal and that no other country would be involved in the change.
"No other country except us is gonna do it," Trump said. "That's a little problem, too. While the world's real polluters like China would get many of our companies and factories, they'd just move into China, move into other parts of the world. That's the way the system works. Not gonna happen, folks. Don't worry, it's not gonna happen."
The graphic below, provided by Statista, illustrates the popularity of mass transit options in the U.S.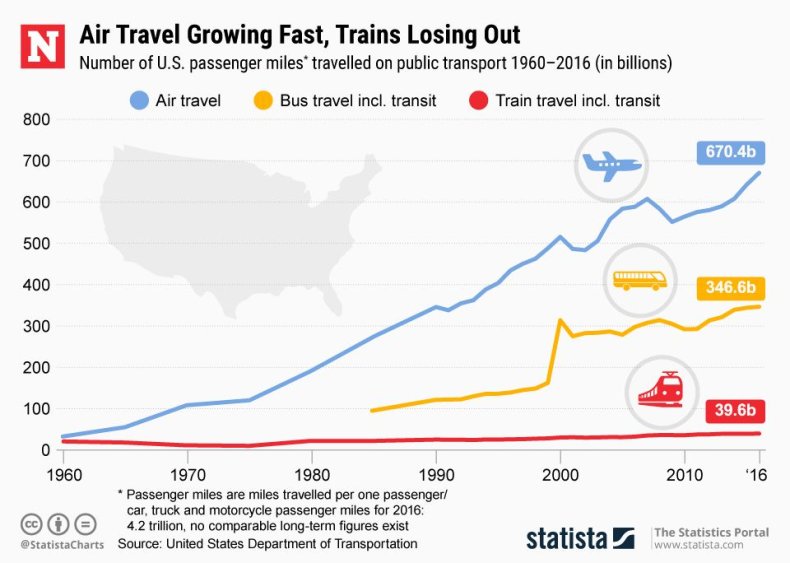 This article was updated to include an infographic.