Alexandria Ocasio-Cortez Responds to Report Trump Nicknamed Her 'Evita' with Quotes from Real Eva Perón
A new book claims that President Donald Trump has likened Representative Alexandria Ocasio-Cortez to historical figure Eva Perón, popularly known as Evita. After news spread of the comparison, the Democratic congresswoman appeared to lean into the nickname, tweeting out famous quotes from the former Argentine first lady.
In 2018, Trump was interviewed for the book American Carnage: On the Front Lines of the Republican Civil War and the Rise of President Trump that will be released on July 16.
According to excerpts obtained by The Guardian, Trump says he first saw Ocasio-Cortez during her 2018 primary race against incumbent New York Congressman Joe Crowley, while watching TV with political advisers. At the time, Ocasio-Cortez was a New York City bartender and community organizer challenging an established Democrat who had not only been in Congress for two decades but had risen to become Chair of the House Democratic Caucus.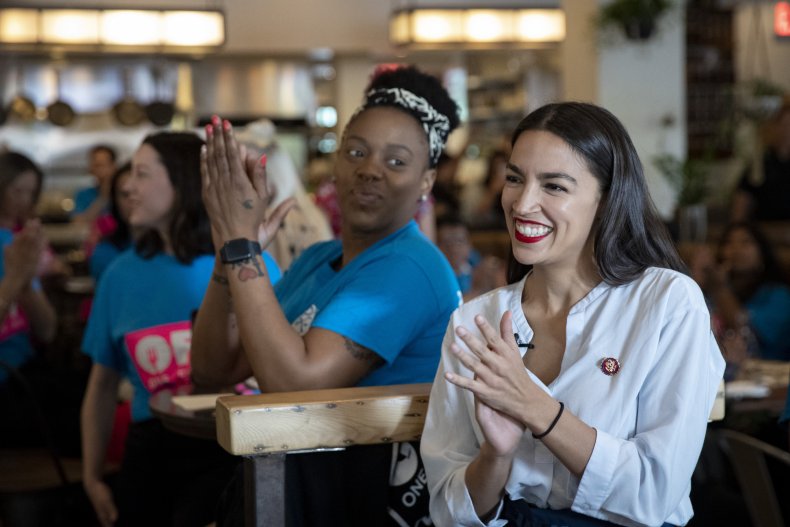 Newsweek subscription offers >
"I see a young woman ranting and raving like a lunatic on a street corner, and I said: 'That's interesting, go back,'" he recounted, according to the book by reporter Tim Alberta.
"She's got talent. Now, that's the good news. The bad news: she doesn't know anything. She's got a good sense, an 'it' factor, which is pretty good, but she knows nothing. But with time, she has real potential​," Trump said about the first-term congresswoman.
​"​I called her Eva Perón," ​the president added. "I said, ​'​That's Eva Perón. That's Evita.​'"
Usually referred to as Eva Perón or Evita, María Eva Duarte de Perón was the wife of Argentine President Juan Perón and first lady of Argentina from 1946 until her death at the age of 33 in 1952.
Newsweek subscription offers >
A former actress, Perón was known for her popular appeal and power in her husband's administration. She became a part of international popular culture, most famously as the subject of the 1976 musical Evita by Tim Rice and Andrew Lloyd Webber. In 1996, the musical was adapted into a feature film starring Madonna.
But Ocasio-Cortez didn't seem to have a problem with the comparison, appearing to tacitly show her support for the nickname by sharing an article on the excerpts from the new book, paired with a quote from Perón herself.
Ocasio-Cortez tweeted: "'I know that, like every woman of the people, I have more strength than I appear to have.' - Evita Perón."
A few minutes later, the congresswoman added another quote in a subsequent tweet, that read: "'I had watched for many years and seen how a few rich families held much of Argentina's wealth and power in their hands. So the government brought in an eight hour working day, sickness pay and fair wages to give poor workers a fair go.' - Evita Perón.'"
At age 29, Ocasio-Cortez became the youngest woman ever to serve in the United States Congress.
Alexandria Ocasio-Cortez Responds to Report Trump Nicknamed Her 'Evita' with Quotes from Real Eva Perón | Politics