Alexandria Ocasio-Cortez Responds To Video Calling Her An 'Enemy Of Freedom': 'Hateful Messages' Inspire 'A Flood Of Death Threats'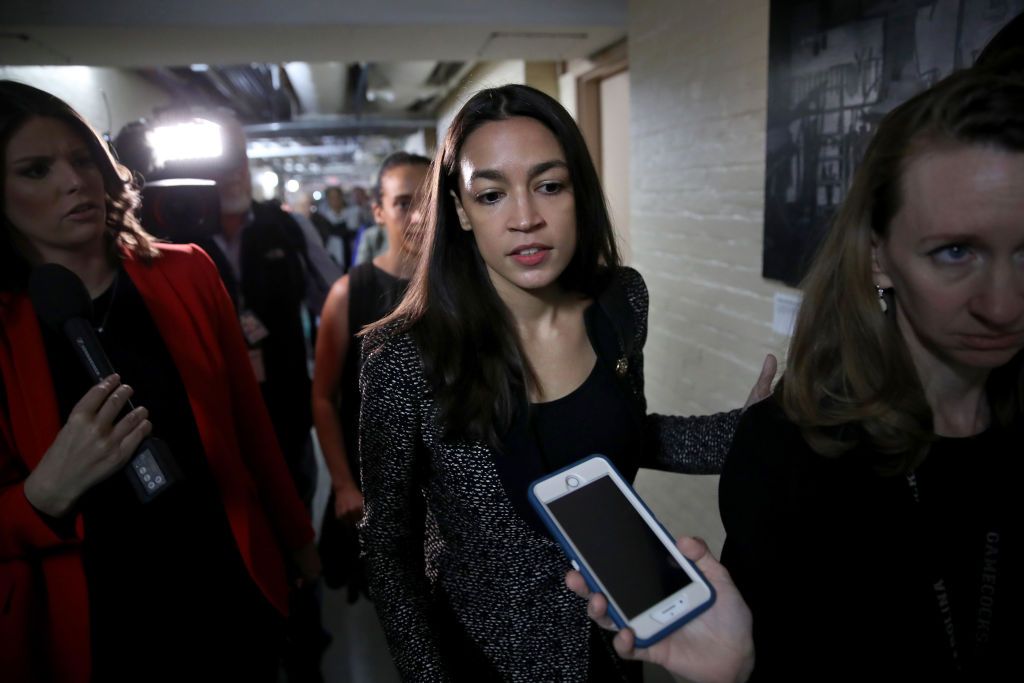 New York Rep. Alexandria Ocasio-Cortez responded Tuesday to news of a video where she was deemed an "enemy of freedom."
The video aired between a double-header for the Fresno Grizzlies baseball team, the Triple-A affiliate for the Washington Nationals, on Memorial Day and quickly drew attention on Twitter when Fresno Bee reporter Carmen George commented on the video and located the clip on YouTube.
"What people don't (maybe do) realize is when orgs air these hateful messages, my life changes because of the flood of death threats they inspire. I've had mornings where I wake up and the first thing I do with my coffee is review photos of the men (it's always men) who want to kill me," Ocasio-Cortez wrote on Twitter. "I don't even get to see all of them. Just the ones that have been flagged as particularly troubling. It happens whenever Fox gets particularly aggressive and hateful, too. Young interns have to constantly hear hateful messages (far beyond disagreement) from people we don't even rep."
"All of this is to say that words matter, and can have consequences for safety. For those who believe in "free speech": whose free speech do you believe in?," the Democrat wrote.
The 3:35 minute video begins with former President Ronald Reagan's 1981 inaugural address with patriotic images of the Statue of Liberty, a bald eagle and an American flag as well as scenes from around the United States including shots of Times Square in New York City, the American Queen steamboat that runs along the Mississippi River and a NASA space shuttle launching from Cape Canaveral, Florida.
The video moves on to include images of people visiting the graves of soldiers at Arlington National Cemetary in Virginia as Reagan talks about "the price that has been paid for our freedom."
"Above all, we must realize that no arsenal or no weapon in the arsenals of the world is so formidable as the will and moral courage of free men and women. It is a weapon our adversaries in today's world do not have. It is a weapon that we as Americans do have. Let that be understood by those who practice terrorism and prey upon their neighbors," Reagan's speech continues, overlaid with images of the U.S. Military.
"As for the enemies of freedom, those who are potential adversaries, they will be reminded that peace is the highest aspiration of the American people," Reagan says, the images of the military giving way to photos of North Korean leader Kim Jong Un, former Cuban leader Fidel Castro, Ocasio-Cortez and Antifa protestors. We will negotiate for it, sacrifice for it; we will not surrender for it, now or ever/ We are Americans."
The Grizzlies issued a statement about the video, saying that the organization did not fully vet the video before airing it at the baseball stadium. "A pre-produced video from outside our front office was selected; unfortunately what was supposed to be a moving tribute ended with some misleading and offensive editing, which made a statement that was not our intent and certainly not our opinion," the statement said in part.
The organization apologized to Ocasio-Cortez, the Fresno community and the team's fans in a separate tweet, saying, "We're embarrassed we allowed this video to play without seeing it in its entirety first. We unconditionally apologize to Rep. Ocasio-Cortez in addition to our fans, community and those we hurt. It was a mistake and we will ensure that nothing like it ever happens again."