Democratic New York Representative Alexandria Ocasio-Cortez has said that Democratic President Joe Biden's $2.25 trillion infrastructure plan doesn't invest nearly enough money to address the pressing needs of public housing and climate change.
Ocasio-Cortez made her comments during a Wednesday night interview with MSNBC political commentator Rachel Maddow.
Biden's current plan allocates $40 billion for public housing nationwide, Ocasio-Cortez noted. But she said that amount seems less effective when one considers that the New York City public housing system needs $40 billion alone, just to get its dwellings up to code.
"If we're looking at ideals and what we think is the actual investment that can create tens of millions of good union jobs in this country, that can shore up our health care our infrastructure, our housing—and doing it in a way that draws down our carbon emissions, to help us get in line with the IPCC standards—we're talking about realistically $10 trillion over 10 years," Ocasio-Cortez told Maddow.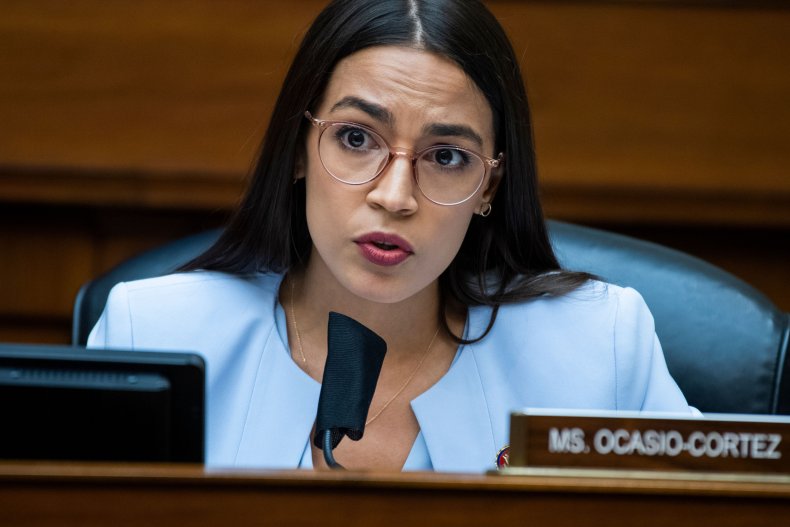 The lawmaker mentioned an increase in the plan's cost might actually find support among the Senate's Democratic caucus' more conservative members.
Specifically, she mentioned West Virginia Senator Joe Manchin's support for a $4 trillion infrastructure plan. Manchin has said that he would support such a plan, provided that it was partially funded by raising the corporate tax rate and repealing "a lot of" tax cuts for the wealthy imposed by former President Donald Trump.
Ocasio-Cortez didn't tell Maddow what increased funding she would want for climate change initiatives. However, Ocasio-Cortez is a co-sponsor of the Green New Deal (GND), a proposed package of laws focused on creating jobs and virtually eliminating U.S. greenhouse gas pollution within a decade.
In June 2019, Ocasio-Cortez said that the GND would cost $10 trillion.
The American Action Forum, a conservative-leaning think tank, estimated a much higher cost for the GND between $51 trillion and $93 trillion. But the GND's costs could be offset by savings from improved public health outcomes, cheaper energy and the benefits of a sustainable climate, James Goodwin, a senior policy analyst with the Center for Progressive Reform, told the NPR financial program Marketplace.
Ocasio-Cortez's call for increased infrastructure funding has also been echoed by the American Society of Civil Engineers (ASCE).
At the beginning of March, the ASCE gave the nation's infrastructure an overall "report card" grade of a C-minus. While the grade was a slight improvement from the D-plus the ASCE gave U.S. infrastructure in 2017, the group said that the U.S. should invest at least $5.9 trillion into its improvement.
The group suggested investing the amount over the next decade in order to get the country's bridges, transportation, water systems and roads back into good working conditions.
Newsweek contacted Ocasio-Cortez's office for comment.