Alexandria Ocasio-Cortez Says Ahmaud Arbery Was Murdered For Being Black, Demands Justice for Family
Representative Alexandria Ocasio-Cortez, a progressive Democrat from New York, demanded justice for slain jogger Ahmaud Arbery in a Thursday morning tweet, saying he was lynched for being black.
Arbery, a 25-year-old black man, was shot and killed in Brunswick, Georgia while going for what neighbors have said was a routine jog on February 23. Gregory and Travis McMichael, a father and son, have claimed that they shot Arbery in self-defense, but video was released publicly this week showing Arbery being shot multiple times as he tried to run away.
"Ahmaud Arbery was murdered for being Black," Ocasio-Cortez wrote. "His White assailants were allowed to roam free *for months* after lynching him. They faced no charges, no arrests. Police had video of Ahmaud's murder the day it happened," she added. "His family deserves justice. Our country deserves answers."
The video of the incident released Wednesday was shot by an unidentified individual in a car. In the clip, Arbery can be seen running in the direction of a white truck parked next to the road. One man can be seen standing next to the truck while the other is in the bed of the truck.
The first shot can be heard and then Arbery disappears off-camera as he swerves around the truck. A second shot can be heard, and Arbery can be seen struggling back into the frame. Then another shot is heard and Arbery falls to the ground. By the time the police arrived, he was dead.
The McMichaels have previously claimed that there was a struggle and that the shooting was in self-defense. They've pointed to Georgia's controversial "stand your ground" law to justify their actions. But the newly released video shows a very different version of the story. Additionally, a police report says that the father and son jumped in their truck with weapons to chase Arbery down after they saw him jog by.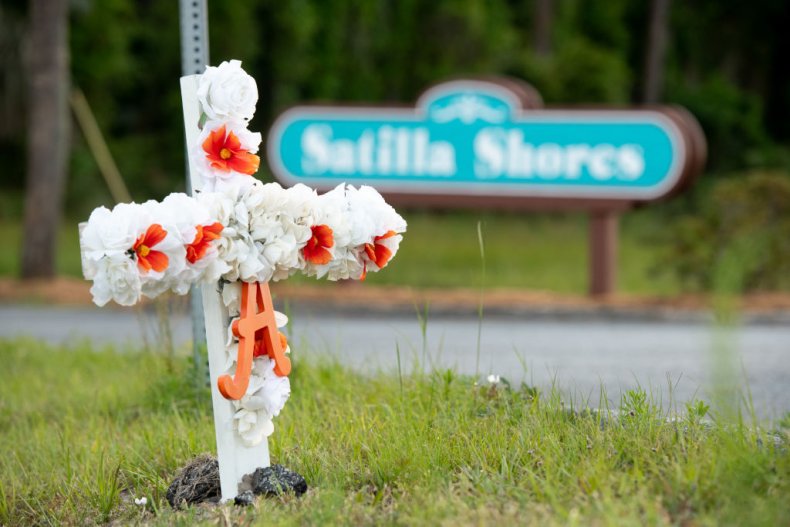 Neither man has been arrested or criminally charged. But Tom Durden, an outside prosecutor assigned to examine the case, said this week that he plans to have a grand jury examine the evidence.
"I am of the opinion that the case should be presented to the grand jury of Glynn County for consideration of criminal charges against those involved in the death of Mr. Arbery," Durden said Tuesday.
Marcus Arbery, the father of the slain 25-year-old, has said he just wants justice for his son.
"All I want to do is get justice for my son," he told the Associated Press. "This is terrible. It could happen to anybody's kid."
Ocasio-Cortez, in a follow-up tweet, reminded her followers that many other black men, women and children have been killed in similar incidents in recent years.
"At some point our country must meaningfully acknowledge that the killings of Ahmaud Arbery, Sean Reed, Sandra Bland, Tamir Rice, Trayvon Martin, Eric Garner, Rekia Boyd, Tanisha Anderson, and countless others are not isolated incidents or 'bad apples,'" the progressive congresswoman wrote. "It is systemic violence."
Ocasio-Cortez has not yet responded to Newsweek's request for comment.