Alexandria Ocasio-Cortez Says America's Two-Party System Can Be 'A Difficult Thing To Navigate,' Okay With 'Four Or Five' Political Parties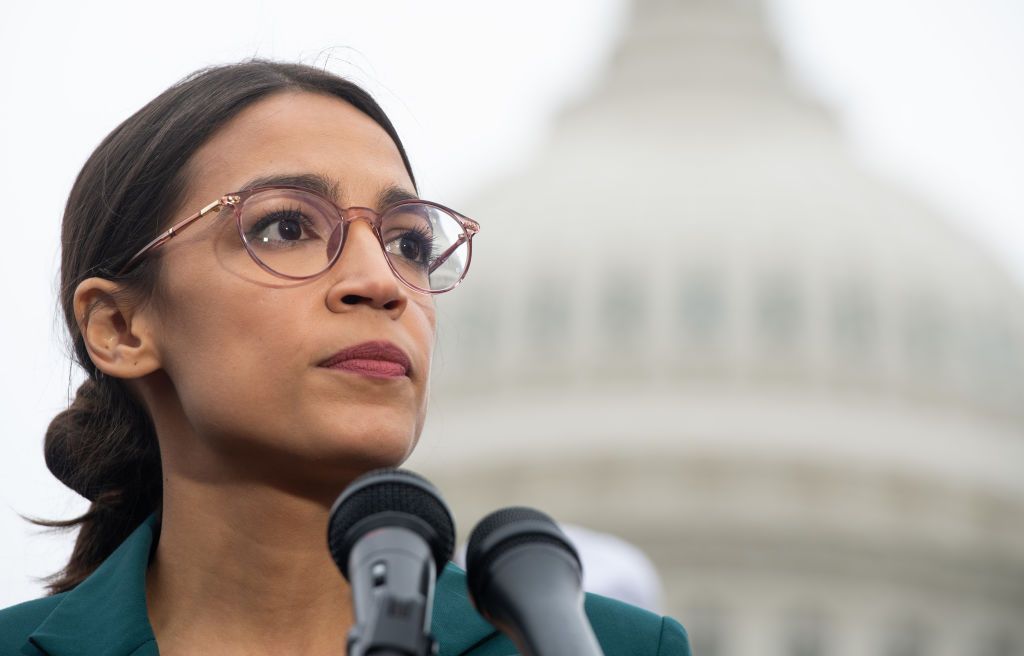 Hours after the announcement of the Green New Deal resolution, New York Rep. Alexandria Ocasio-Cortez sat down with MSNBC's Chuck Todd for a wide-ranging interview that touched on everything from how to handle the political situation in Virginia to whom the freshman Democrat might endorse for the 2020 presidential election.
Towards the end of the interview, Todd asked Ocasio-Cortez, a self-proclaimed Democratic socialist, if her political views could be appealing to individuals outside of a heavily blue district such as hers in New York City.
Ocasio-Cortez pointed towards 2016 presidential candidate Bernie Sanders, who the congresswoman said ran "unapologetically" on a socialist ticket and won every county in West Virginia as well as taking the state of Michigan.
Todd, however, quickly pointed out that those wins were during the Democratic primary. "That's the point," Todd told Ocasio-Cortez. "Among Democrats is one thing but those Independents, right?"
Ocasio-Cortez responded that Sanders also wins among independent voters. "That's the thing. It's because people have this mistaken idea that American politics is on one linear line between left and right," the congresswoman said. "Forty percent of the American public identifies as Independents, and that doesn't mean we're in the middle, that means we hate this thing."
Todd followed up to ask if Ocasio-Cortez would be comfortable with 'four or five' political parties in the United States.
"Four or five, I think that's fine," she said. "I think that it's totally fine to say that a two-party system is, especially in this time of gridlock, is sometimes a difficult thing to navigate," Ocasio-Cortez continued after Todd asked if the two-party system was serving the country well. "It's a normal thing to say after these years and years and decades of gridlock. Saying, maybe something here is structurally wrong. In terms of that as a conversation, I think that is a fine conversation to have. Plenty of other governments do this and, you know, I think a lot of that comes down to states and city municipalities to experiment with."
Earlier in her interview, Ocasio-Cortez responded to Todd's question if she could be both a Democratic socialist and a capitalist.
"I think it depends on your interpretation. So, there are some Democratic socialists that would say 'absolutely not,' there are other people that are Democratic socialists that would say 'I think it's possible.' I think it's possible," Ocasio-Cortez said.