Alexandria Ocasio-Cortez Says Donald Trump Administration Has Been 'Criminal From the Start'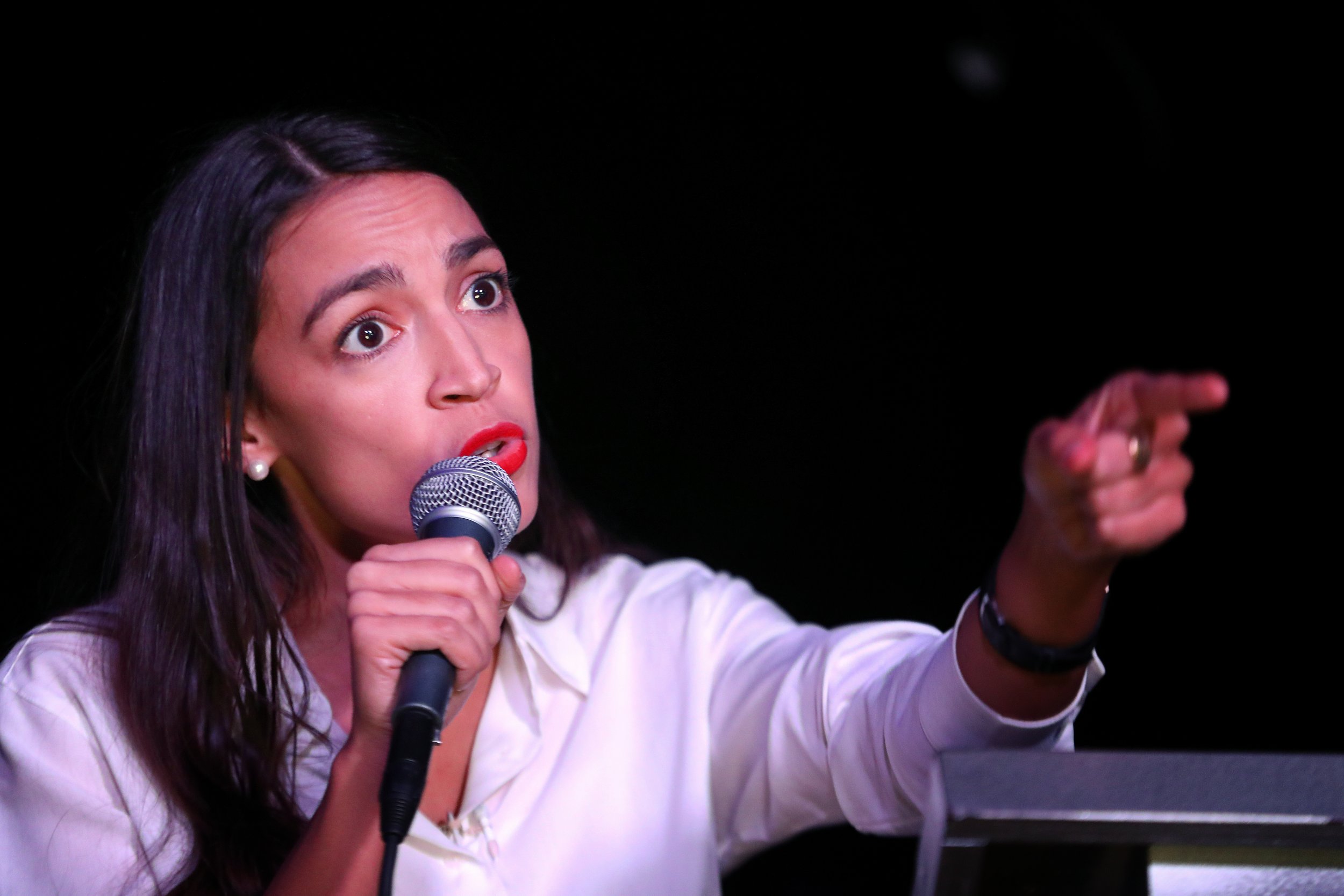 Democratic Congresswoman-elect Alexandria Ocasio-Cortez, who on the campaign trail made her platform about issues rather than directly about President Donald Trump, on Monday tweeted that the Trump administration "has been criminal from the start."
Ocasio-Cortez made the remark while thanking Democratic Representative Pramila Jayapal of Washington State for assisting five asylum seekers in entering the United States.
"Thank you, @RepJayapal. It shouldn't have to take a member of Congress physically showing up herself to get ICE to stop violating international law *as an exception.*" Ocasio-Cortez tweeted. "From jailing children to banning folks based on their religion, this Admin has been criminal from the start."
Ocasio-Cortez quote tweeted Jayapal's Twitter post from Saturday stating, "I was able to successfully assist 5 asylum seekers—2 unaccompanied minors, a mother and her 9 year old child, and a young man with a serious medical condition—into the United States."
The congresswoman-elect has been outspoken against her opponents on Twitter but has not regularly lodged attacks against the Trump administration, which she clearly disagrees with. Ocasio-Cortez has, however, stated her qualms about the administration several times in the past.
One of Ocasio-Cortez's platforms was to abolish U.S. Immigration and Customs Enforcement (ICE).
"As overseen by the Trump administration, ICE operates with virtually no accountability, ripping apart families and holding our friends and neighbors indefinitely in inhumane detention centers scattered across the United States," her campaign website states. "Alex believes that if we are to uphold civic justice, we must abolish ICE and see to it that our undocumented neighbors are treated with the dignity and respect owed to all people, regardless of citizenship status."
Last Monday, Ocasio-Cortez fired back at Republican Senator Lindsey Graham of South Carolina after he suggested that she tour the United States Holocaust Memorial Museum in Washington, D.C., to understand differences between the Holocaust and the migrant caravan in Tijuana.
Ocasio-Cortez replied on Twitter with a hit on the Trump administration.
"@LindseyGrahamSC, the point of such a treasured museum is to bring its lessons to present day. This administration has jailed children and violated human rights," she tweeted. "Perhaps we should stop pretending that authoritarianism + violence is a historical event instead of a growing force."
Earlier in November, Ocasio-Cortez attacked the Trump administration on another front, with respect to a New York Times investigative report alleging that Trump helped his parents dodge taxes.
"While we're discussing personal finances: Trump's tax dodges represent millions of dollars taken from schoolchildren, teachers, firehouses, senior centers & more," she tweeted. "Strange that my normal, working class checking account attracts more (attention) than public theft."
Ocasio-Cortez, who is the youngest woman to be elected to Congress at age 29, in June visited a child detention center in Tornillo, Texas.