Alexandria Ocasio-Cortez Says Her 'No' to Infrastructure Jolted 'Build Back Better' Vote
Democratic New York Representative Alexandria Ocasio-Cortez has said that her and other progressives' "no" votes on the $1.2 trillion bipartisan infrastructure plan earlier this month helped accelerate the vote on the $1.75 trillion Build Back Better (BBB) Act for human infrastructure.
A House vote on the BBB Act is expected to occur Thursday evening, according to Democratic House Speaker Nancy Pelosi. But Pelosi had initially promised progressives that the act and the bipartisan bill would be voted on simultaneously.
Because Pelosi broke this promise, Ocasio-Cortez was one of six progressive Democrats who voted against the bipartisan bill on November 5, she explained in a virtual town hall held on Thursday evening.
"The reason why we were saying that these two bills ... [need] to be passed at once is because there is a very high political risk in terms of keeping our caucus together and being able to preserve the votes," Ocasio-Cortez explained.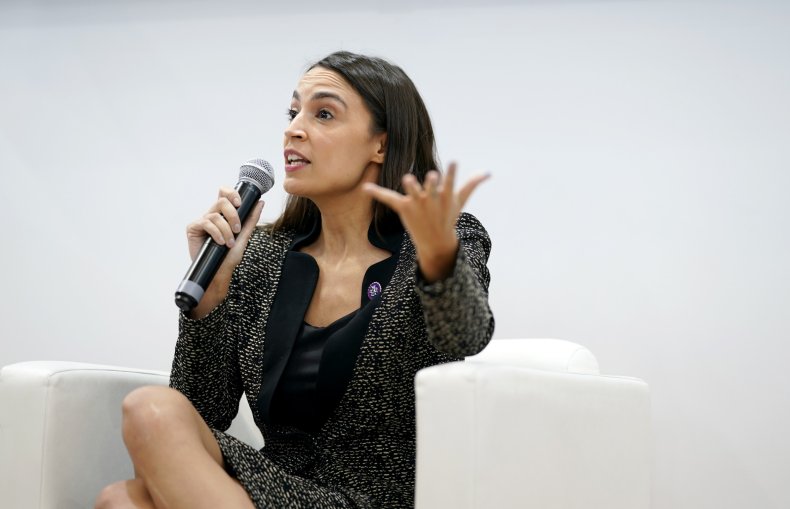 The votes remained particularly contentious because the Democrats' progressive and moderate factions disagreed over what should be included in the BBB Act.
While the bipartisan bill provided funding for infrastructure repairs and improvements on roads, bridges and public transportation, BBB seeks investments in "human infrastructure," including healthcare, childcare and initiatives to fight climate change.
Ocasio-Cortez said that some progressive Democrats worried that if the two bills weren't voted on in tandem, that "certain conservative Democrats"—like West Virginia Senator Joe Manchin—would oppose the aforementioned "human infrastructure" funding that progressives seek.
Indeed, Manchin and Arizona Senator Kyrsten Sinema opposed BBB's overall cost. They then began demanding that it exclude provisions to expand Medicare and its proposed $150 billion clean energy program.
The disagreement threatened to derail the BBB Act since congressional Republicans had planned on uniformly voting against it. As such, all 50 members of the Senate Democratic caucus would have to vote in favor of the act for it to become law through a maneuver called reconciliation.
However, because Democratic congressional leadership broke its promise to vote on both bills together, Ocasio-Cortez said that she and other progressives voted "no" against the bipartisan bill to hold the leaders accountable. The vote showed that Democratic leaders couldn't assume that progressives would just vote on any bill handed to them, and that they would fight for their preferred funding in the BBB Act, Ocasio-Cortez said.
"I want to say that I believe with confidence, that if we did not put those 'no' votes on the board and raise the stakes to force the party to deliver on all of these IOUs, I don't know if this vote would have happened tonight," Ocasio-Cortez said.
"The stakes were so raised," she continued. "It really accelerated and, I believe, created a lot of tension and the pressure to make sure that both of these bills pass as close in time as possible."