Alexandria Ocasio-Cortez Says She Doesn't 'Think There's A Question' That The U.S. Is Headed Toward Fascism
Freshman Rep. Alexandria Ocasio-Cortez said she thinks the United States is headed to becoming a fascist country after touring facilities where migrants are being kept in the custody of U.S. Customs and Border Protection.
Ocasio-Cortez, along with other Democrats in the House of Representatives, toured border stations in El Paso and Clint, Texas on Monday, many of them posting thoughts about what they experienced on social media afterward.
The self-described Democratic socialist gave an interview to Yahoo News hours after the tour ended, where she referenced fascism.
"Are we headed to fascism? Yes. I don't think there's a question. If you actually take the time to study, and to look at the steps, and to see how government transforms under authoritarian regimes, and look at the political decisions and patterns of this president, the answer is yes," she told Yahoo.
The New York congresswoman recounted some of her experience in Texas on Twitter Monday, sharing a photo taken by Rep. Joaquin Castro of several women in a holding cell and Ocasio-Cortez giving one of them a hug. In the tweet accompanying the photo, Ocasio-Cortez said that the woman told her that CBP agents had separated her from her children and she did not know where they were.
Ocasio-Cortez also detailed how women were being told to drink water from toilets, though CBP disputed the notion in a statement released hours after the congresswoman tweeted about it. California Rep. Judy Chu also mentioned CBP agents telling immigrants in custody to drink toilet water, and Castro explained via Twitter that the holding cell they visited only had one toilet and no running water for drinking or to wash hands.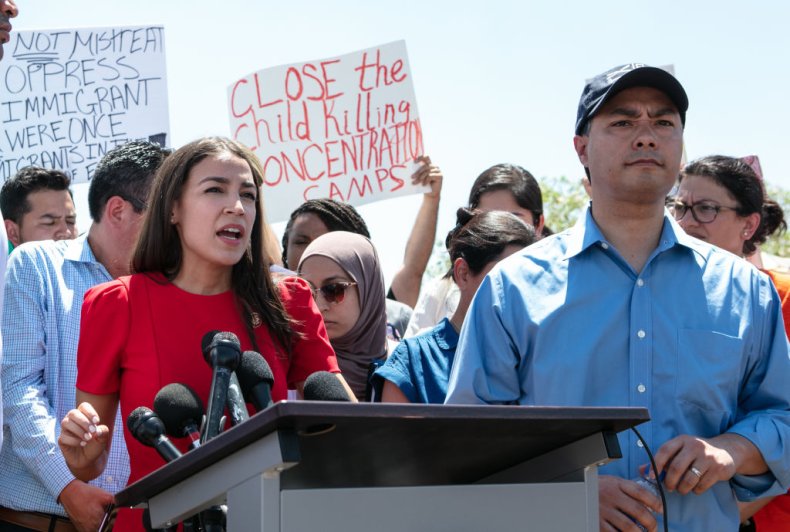 "'No one is drinking toilet water. They're drinking potable water from the sink attached to the toilet. It's what you would find in every municipal jail in the United States," CBP said in its statement about the comments.
Ocasio-Cortez later tweeted to explain that the holding cell she visited had a sink that was not working.
Speaking to Yahoo, Ocasio-Cortez discussed her belief that CBP has "lost control," in part due to her experience while touring the facility. She described one instance where she began counting the number of people in a cell and then a CBP agent tried to take a selfie with her, even though congress members touring the facilities were not allowed to bring cameras.
"I see, like, children, no one has enough room to sleep ... and then all of a sudden there's literally a CBP officer on the other side of that glass ... and she literally starts taking a selfie with me in the background," Ocasio-Cortez said. "She was, like, right there in front of me.""It was like a mocking selfie in a facility that we're told there are no cellphones allowed. She's doing this 2 feet in front of me, in front of all the other members, in front of all her management, in front of all the superiors, like it's a joke."
Though congress members were not allowed to take their phones inside, Castro smuggled one in to take photos of the cells, some of which were later shared on social media.
The New York Rep. also slammed President Donald Trump for engineering the situation at the border saying that policies promoted by Trump and his administration have contributed to poverty and economic instability and violence in parts of Central America. The majority of immigrants traveling to the U.S.-Mexico border are from Honduras, Guatemala and El Salvador.
"We withdrew U.S. aid to those areas that was intended to stabilize those areas. It deepened and exacerbated all of the crises that are already happening, causing a flood of people to try to escape these horrifying conditions. So we are contributing to the surge in the first place. We're engineering it, so that's coming to our border," Ocasio-Cortez said.
She also spoke against "horrible Democrats" who recently voted for a bill that provides $4.5 billion in funding for CBP and Immigrations and Customs Enforcement (ICE).
"They pushed through with the help of the Democrats in the Problem Solvers Caucus a completely lacking of accountability $5 billion to a system and to a culture of people that we know is rotted at its core," she said.