Alexandria Ocasio-Cortez Says She Feared Some Capitol Police Were Aligned With 1/6 Rioters
Representative Alexandria Ocasio-Cortez has revealed that she did not stay in a suggested "secure location" following the breach of the U.S. Capitol over fears that law enforcement officers were aligned with the rioters.
Capitol Police recently announced that six officers were facing disciplinary actions for their behavior during January 6. At least one officer disclosed the location that lawmakers were evacuated to during a conversation with a friend a week later, according to documents obtained by McClatchy. The friend then told authorities about the conversation and expressed concerns that the officer was a supporter of former President Donald Trump's false claims of massive election fraud. Ocasio-Cortez said on Wednesday that the report was in line with her earlier suspicions that some police were working with rioters.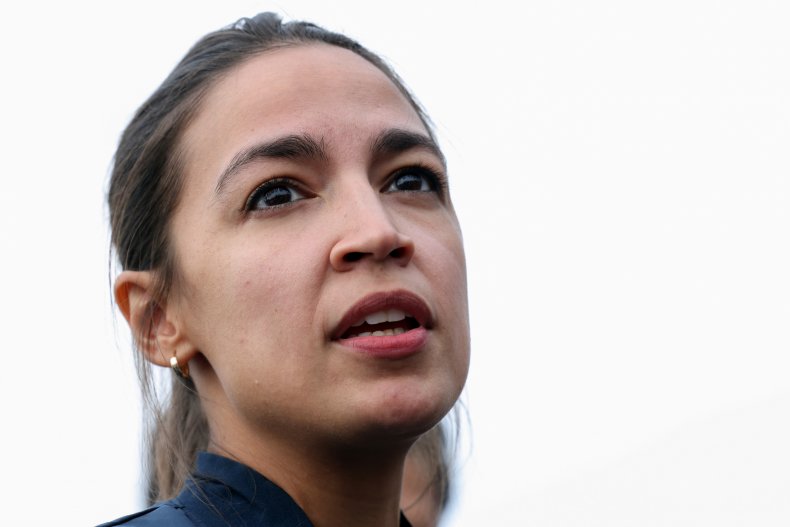 "There were several reasons I refused to stay in the 'secure location' on the 6th," Ocasio-Cortez, a New York Democrat, tweeted in response to a Miami Herald article citing the McClatchy report. "This was one of them. Few people want to discuss the reality and implications of this because it's politically difficult, fraught, and unpopular, but it's right there. And we need to talk about it."
Ocasio-Cortez previously described a fearful January 6 encounter with an unidentified officer while she and a staffer were in her office, located in a building adjacent to the Capitol. The congresswoman said that a man who she later discovered was a Capitol Police officer loudly banged on her office door and demanded to know where she was, prompting fears that she would be sexually assaulted and killed by pro-Trump rioters. The officer told Ocasio-Cortez and her staffer to go to a different building in the Capitol complex, where she eventually sought shelter in the office of Representative Katie Porter, a California Democrat.
Ocasio-Cortez also retweeted a Wednesday Twitter comment on the Herald article from lawyer and journalist Imani Gandy, who wrote that an apology was owed to the congresswoman from those who "mocked" her for saying that "one of the capitol officers directing her to a safe location had anger and hostility in his eyes" and had caused her to wonder "whether he was trying to put her in a vulnerable situation."
Shortly after the riot took place, Ocasio-Cortez was the subject of scorn from a number of conservatives who dismissed her concerns about being in danger on January 6. Some also falsely claimed that she had said her office was located in the dome of the Capitol and that it was broken into by rioters while she was inside—despite the congresswoman having made it clear that her office, like most of her colleagues in Congress, was located inside a different building in the Capitol complex.
Newsweek reached out to the Capitol Police for comment.