Alexandria Ocasio-Cortez Says There Is 'No Question' That Donald Trump Is Racist During '60 Minutes' Interview
New York Rep. Alexandria Ocasio-Cortez left no illusions as to her stance regarding President Donald Trump during an interview with 60 Minutes.
Asked if Trump was racist, Ocasio-Cortez responded, "yeah, yeah, no question."
"When you look at the words that he uses, which are historic dog whistles of white supremacy. When you look at how he reacted to the Charlottesville incident, where neo-Nazis murdered a woman, versus how he manufactures crises like immigrants seeking legal refuge on our borders, it's night and day," she said.
Journalist Anderson Cooper, who interviewed the Democrat, asked why Ocasio-Cortez did not talk about Trump very much.
"Because I think he's a symptom of a problem," Ocasio-Cortez said. "The president certainly didn't invent racism, but he's certainly given a voice to it and expanded it and created a platform for those things."
In response to Ocasio-Cortez's comments, 60 Minutes reached out to the White House, who said: "Cong. Ocasio-Cortez's sheer ignorance on the matter can't cover up the fact that President Trump supported and passed historic criminal justice reform and has repeatedly condemned racism and bigotry in all forms."
In the 14-minute segment, Ocasio-Cortez said that she hoped people continue to underestimate her.
Cooper also asked Ocasio-Cortez about the Green New Deal, a project that the congresswoman has been very passionate about. Under the deal, Ocasio-Cortez calls for the United States to achieve zero carbon emissions in 12 years.
"(Getting to zero carbon emissions) is going to require a lot of rapid change that we don't even conceive as possible right now," Ocasio-Cortez said. "What is the problem with trying to push our technological capacities to the furthermost extent possible?"
Ocasio-Cortez's solution for paying for those technological advances made headlines on Friday when a clip of the interview was released, with the congresswoman calling for a return to tax brackets from the 1960s and 1970s where wealthy Americans — those making $10 million or more per year — would pay between 60 and 70 percent.
"I think that it only has ever been radicals that changed this country," Ocasio-Cortez said. "Abraham Lincoln made the radical decision to sign the emancipation proclamation, Franklin Delano Roosevelt made the radical decision to embark on establishing social security...."
"Do you call yourself a radical," Cooper asked.
"Yeah. You know, if that's what radical means, call me a radical."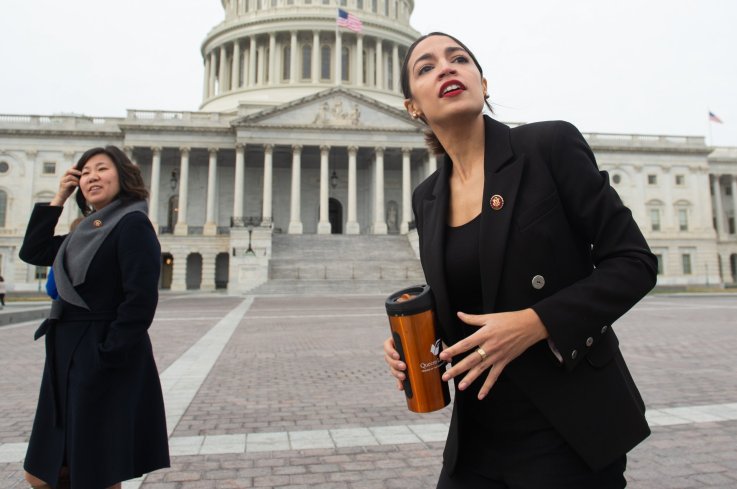 Alexandria Ocasio-Cortez Says There Is 'No Question' That Donald Trump Is Racist During '60 Minutes' Interview | U.S.