Alexandria Ocasio-Cortez Says 'Trampling' of Indigenous Rights, Racial Justice Are Causes of Climate Change
Representative Alexandria Ocasio-Cortez called on lawmakers Tuesday to address the systemic cause of climate change as she reintroduced a resolution in support of a Green New Deal.
"The climate crisis is a crisis born of injustice, and it is a crisis born of the pursuit of profit at any and all human and ecological cost," the New York Democrat said at a press conference in front of the U.S. Capitol.
She continued, "We must recognize in legislation that the trampling of indigenous rights is a cause of climate change, that the trampling of racial justice is a cause of climate change, because...we are allowing folks to deny ourselves human rights and deny people the right to health care, the right to housing and education."
Ocasio-Cortez was joined by Senator Ed Markey (D-Mass.), Representative Cori Bush (D-Mo.), Representative Earl Blumenauer (D-Ore.) and several advocates as she relaunched the resolution and related climate measures.
The resolution, which is not a law but a symbol of congressional sentiment, says that the federal government has a responsibility to create a Green New Deal that can be achieved through a 10-year mobilization effort. Initially introduced in 2019, the proposal seeks to significantly curb U.S. greenhouse gas emissions and transition the economy away from fossil fuels.
"We're going to transition to a 100 percent carbon-free economy that is more unionized, more just, more dignified and guarantees more health care and housing than we ever [had] before," Ocasio-Cortez said on Tuesday.
She added that it will be an "all hands on deck approach, and we refuse to leave any community behind in the process."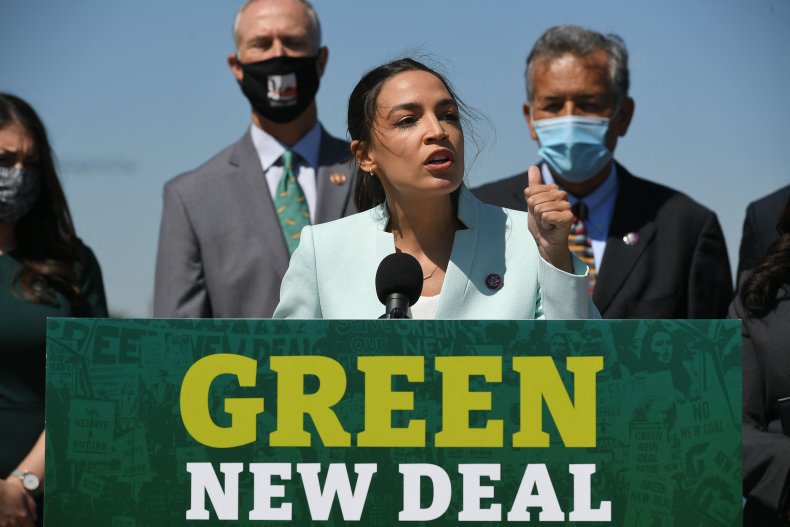 The Green New Deal resolution currently has 103 sponsors in the House, Ocasio-Cortez said.
But the climate change agenda still faces an uphill battle in Congress, even with a Democratic majority in both chambers. While the party has the slimmest advantage in the 50-50 split Senate—with Vice President Kamala Harris acting as a tiebreaker—Democrats will need 10 Republicans to sign on to the plan without getting rid of the 60-vote filibuster.
Ocasio-Cortez and Markey also introduced on Tuesday the Civilian Climate Corps for Jobs and Justice Act. The legislation will establish a group of 1.5 million Americans to complete over the course of five years federally funded projects that help communities respond to climate change and transition to a clean economy.
"We are going to be calling for the highest aspirations that our country can reach," Markey said during the press conference. "We want to lift the gaze to the constellation of possibilities for our country and for the world."
Newsweek reached out to Ocasio-Cortez's office for additional comment on the measures introduced Tuesday but did not receive a response before publication.