Sebastian Gorka Accuses Alexandria Ocasio-Cortez of Intimidating CBP Officers: 'Screaming Like a Harridan, Like a Witch'
Former White House aide Sebastian Gorka has accused Alexandria Ocasio-Cortez of screaming "like a witch" and acting aggressively towards Customs and Border Protection (CBP) agents in a video filmed months before she was elected to Congress.
Speaking on his America First with Sebastian Gorka radio show, the host suggested the clip of the New York democrat outside a detention center in Tornillo, Texas, filmed in June 2018, is proof that she cannot be trusted about the claims she made about her tour of CBP facilities in Texas with the Congressional Hispanic Caucus on Monday.
Ocasio-Cortez said that some CBP officers were "physically and sexually threatening" towards her and officers told women being detained at the facility to drink water out of toilets.
During the clip from 2018, Ocasio-Cortez can be heard yelling at agents, "There is no reason for this…these are human rights abuses. I cannot sleep at night knowing these children are here."
The clip was filmed during a protest against the Trump administration's "zero tolerance" immigration policy which saw thousands of children separated from their families at the border.
Gorka discussed the video after it was posted on Twitter by Jack Posobiec, the right-wing figurehead who helped spread the debunked "Pizzagate" conspiracy theory.
"Jack has really good sources, you may not agree with everything Jack Posobiec does, but his sources are often very good," Gorka said, via Media Matters. "He's found the video, he's found the video of AOC staging the whole thing, and her screaming back then, before she was a congresswoman, at CBP officers—which tells you what she said yesterday is a lie.
"She wasn't being intimidated, it's as we now hear from people who are on the scene, she went in there to intimidate. She arrived screaming like a harridan, like a witch at those CBP officers, because she had an agenda and she was there to provoke."
Gorka expresses amazement at how Posobiec was able to get hold of the footage, despite Posobiec tweeting that Ocasio-Cortez posted the video herself from her own account last year.
According to unnamed witnesses, cited by the Washington Examiner, Ocasio-Cortez was seen "crying, screaming, and yelling...in a threatening manner" at agents while touring a Border Patrol facility in El Paso on Monday.
The claim was made after ProPublica revealed details of a secret Facebook group between current and former Border Patrol agents in which they joke about migrants dying and post sexist memes about the congresswoman.
One agent was also found to have offered to set up a fundraising page for anyone "brave enough to throw a…burrito at one of these bitches" while the Congressional Hispanic Caucus toured the facility.
Ocasio-Cortez dismissed the suggestions she was aggressive towards the CBP agents during her visit. "And to these CBP officers saying they felt 'threatened' by me—they were literally discussing making a GoFundMe for an officer who attacked [me] on my tour," Ocasio-Cortez tweeted. "They confiscated my phone, and they were all armed. I'm 5'4. They're just upset I exposed their inhumane behavior."
Gorka also suggested that the video is evidence Ocasio-Cortez made up claims about detained women drinking out of toilets. Pictures have been shared on social media of the facilities inside a detention center in Tuscon, Arizona, showing a toilet with a wash basin attached, which critics say disproves what she said.
Speaking to Mother Jones, Ocasio-Cortez said the facilities she saw were similar, except the sinks had no running water.
"So they were told they could drink out of the toilet bowl, and then CBP officers were like, 'Oh, no, we have water out here, outside the cell, and if they need water they can tell us,'" Ocasio-Cortez added.
"But I'll tell you, I was in that cell. I did not see one cup. I did not see one bottle of water. I didn't see anything that told me that these women had water to drink. Some of the women said that they were able to drink water not from the toilet. But other women told me that they had drunk from the toilet."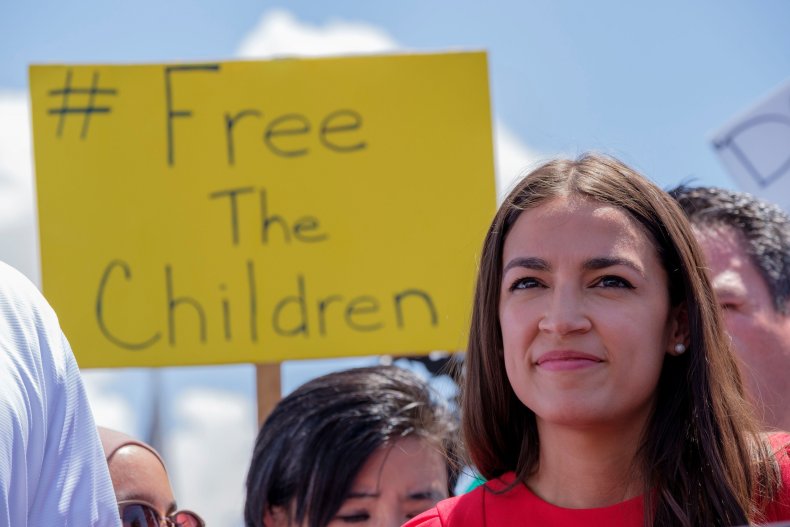 Sebastian Gorka Accuses Alexandria Ocasio-Cortez of Intimidating CBP Officers: 'Screaming Like a Harridan, Like a Witch' | U.S.