Alexandria Ocasio-Cortez Slams Kellyanne Conway For Failing to Hold Migrant Child Sexual Abusers to Account: Happened 'On Your Watch'
Democratic congresswoman Alexandria Ocasio-Cortez on Tuesday called out Counselor to the President Kellyanne Conway for failing to hold U.S. Border Patrol agents accused of sexually abusing migrant children in detention centers to account.
"@KellyannePolls curious how you're going to defend the child sexual assault that seems to be happening on your watch. Remind me again how sexual assault is a 'funding' problem?'" Ocasio-Cortez tweeted on Tuesday evening, alongside an NBC report alleging that migrant children in detention centers were being sexually abused by border officers.
"Bc last I checked ending this is about holding abusers to account, something you can't seem to do," she continued.
The 29-year-old freshman congresswoman's comments come after Conway blamed Democrats for the poor conditions at the border in an interview with Fox & Friends last week.
"This is all up to the Democrats in Congress. They can solve some of these problems in one simple session, if they would just come to the table," Conway said. "The Democrats have blocked funding 17 times. [The Department of Health and Human Services] is running out of money to pay the people at the border and to meet these humanitarian needs."
Ocasio-Cortez and Conway traded blows over the treatment of migrants in federal custody last week after the Democratic congresswoman and several other lawmakers traveled to the southern U.S.-Mexico border to assess the conditions at Border Patrol facilities where detainees were reportedly being kept in poor conditions.
"Officers were keeping women in cells w/ no water & had told them to drink out of the toilets," the 29-year-old lawmaker tweeted following the trip.
Conway later called the claim "outrageous," and suggested that Ocasio-Cortez was lying.
In response, Ocasio-Cortez accused Conway of defending the "indefensible."
"How many migrant women has Kellyanne Conway touched? Hugged? Sat on a concrete floor with? Actually listened to?," the Democrat tweeted. "The answer is none. Her actions show she doesn't believe all human beings are worthy of basic dignity. That's why she defends & muddies the clear and indefensible."
Conway fired back at Ocasio-Cortez an hour later by pointing out that she voted against a $4.6 billion humanitarian relief bill. "How many migrant women did @AOC help by voting AGAINST the $4.6 billion bipartisan humanitarian aid that is FOR THEM? (She even voted against the Democrat aid package)," the White House aide tweeted. "All talk, no dollars."
Ocasio-Cortez and other progressive Democratic lawmakers in Congress voted against a Senate-passed $4.6 billion border funding bill, citing concerns that the legislation lacked proper protection for detainees. Despite their efforts, the House adopted the Senate's version of the bill on a 305-102 vote, with 92 Democrats voting against it.
"Under no circumstances should the House vote for a McConnell-only bill w/ no negotiation with Democrats. Hell no," the 29-year-old congresswoman tweeted at the time. "That's an abdication of power we should refuse to accept. They will keep hurting kids if we do."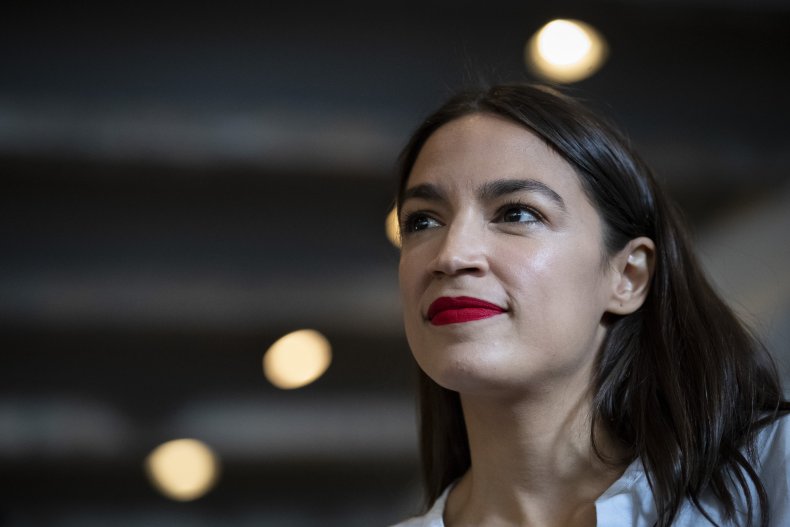 Alexandria Ocasio-Cortez Slams Kellyanne Conway For Failing to Hold Migrant Child Sexual Abusers to Account: Happened 'On Your Watch' | Politics