Alexandria Ocasio-Cortez Calls Out 'Stalkerish' Behavior Of Guy 'Creepily' Taking Pictures Of Her: 'Hi! I'm A Person! This Is Weird!'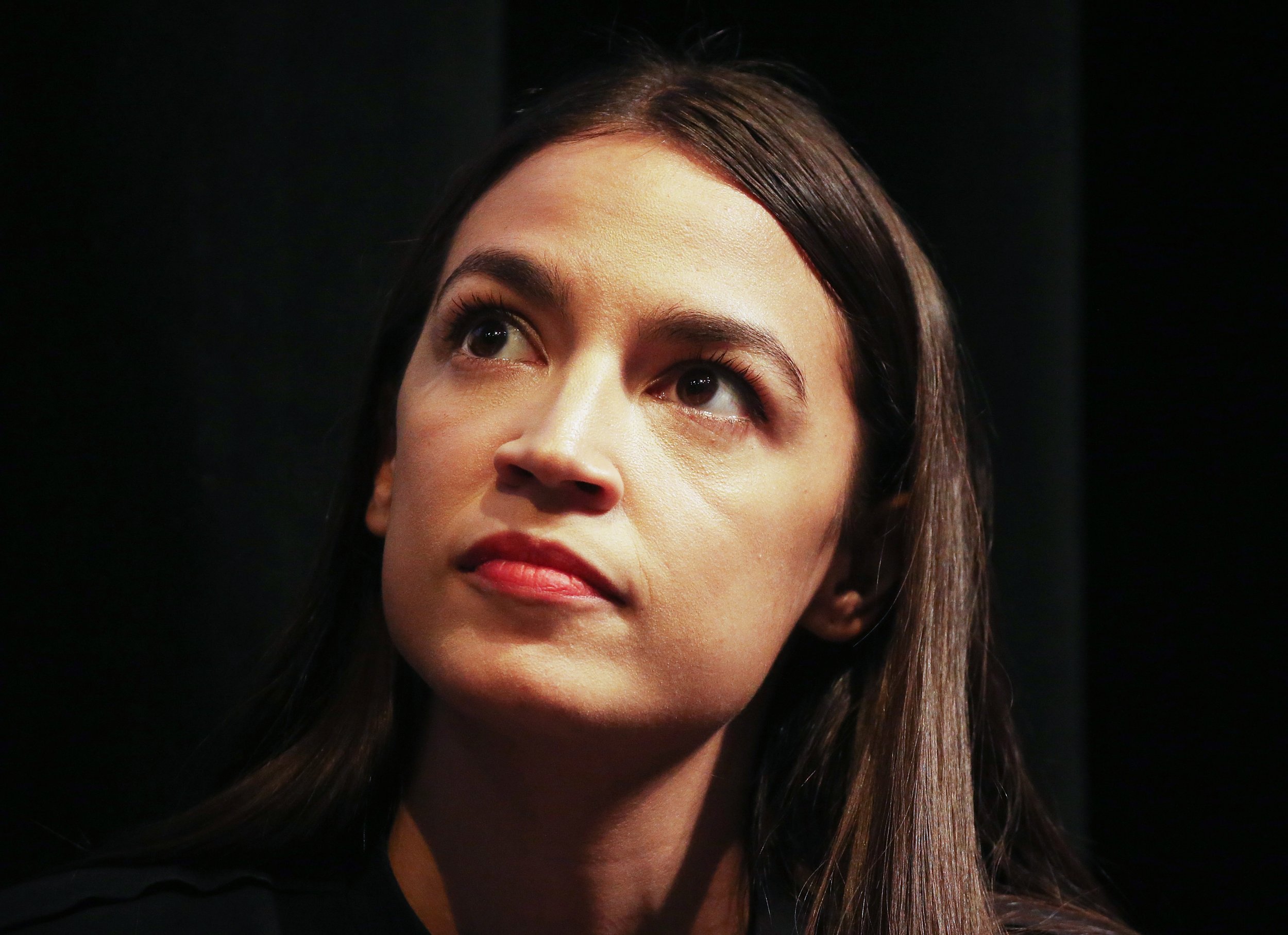 While New York Representative Alexandria Ocasio-Cortez is not afraid to shine under the media spotlight, the Congresswoman has made it clear that does not mean she is okay with being treated like a spectacle in her day-to-day life.
Ocasio-Cortez took to Twitter on Tuesday night to slam "a dude" she spotted "creepily (and obviously) taking a picture of me while pretending he wasn't."
"I had to break his imaginary fourth wall and say, 'Hi! I'm a person! This is weird,'" Ocasio-Cortez wrote.
The New York representative's comments shine a light on how difficult it can be for politicians, as well as celebrities and other public figures, to maintain privacy in their daily lives.
As Ocasio-Cortez pointed out in a separate tweet, the unwanted attention was particularly disturbing for the politician after she was named on an alleged hit list made by a former Coast Guard member and self-described white nationalist who had also amassed a cache of weapons.
Ocasio-Cortez referred to the arrest last week in response to a journalist appearing to make light of her complaint.
Jack Posobiec, host of the One America News Network, had posted a tweet appearing to ridicule photo snappers following Ocasio-Cortez, writing: "When you spot @AOC out for dinner and sneak photos of her to post later on Twitter." It was accompanied by a GIF from the film Spy Kids showing Juni Rocket Racer Rebel Cortez, a character in the film, using zoom spy glasses.
It is unclear whether Ocasio-Cortez misinterpreted Posobiec's tweet as the OANN host taking responsibility for the not-so-covert photo-taking, but she retweeted the post writing: "When you're a guy that's so unaware of his own creepiness that you tweet this from your own account as if it's normal and not stalkerish at all."
The exchange appeared to escalate after Posobiec pointed out: "You do realize I'm making fun of the people stalking you, right?"
"Snapping photos of people while they're eating is just weird, regardless of anyone's politics," he wrote, before inviting Ocasio-Cortez to "come on @OANN anytime [and] we can chat about anything you like."
The New York representative responded by telling the OANN host "a) it would help if it was funny b) a former Coast Guard member literally got arrested plotting to kill me last week and Republican journalists have been paying stakeout photographers to take pictures of me going inside my house, maybe read a room c) the tweet is still creepy!"
"Yeah, this ain't it, chief," Posobiec responded. "I was mocking the dudebro who stalked you," he said, adding a photo shot from behind of Ocasio-Cortez eating dinner at a restaurant.
Ocasio-Cortez slammed the OANN host further over his decision to repost the photo, writing: "By reposting his creepshot. Got it. Being creepy to own the creepers."
Activist Linda Sarsour also weighed in on the exchange, writing: "He's been blocked," appearing to refer to Posobiec.
The OANN host later took to Twitter once again to defend himself, posting a video on the social media site about the back-and-forth.
"So, this is a weird evening," Posobiec said in his video. "I'm sitting at home, doing my Twitter and apparently a sitting Congresswoman, Ocasio-Cortez from New York City, has decided to falsely accuse me of being a person that's at a restaurant earlier tonight."
Posobiec then accused a Twitter user who had shared the photo of being Ocasio-Cortez's "stalker," despite the user in question, Caleb Hull, who serves as the Director of Content at Targeted Victory, a company working with political campaigns and companies to reach right-of-center audiences through viral content on social media, asserting in his own Twitter post that the image was sent to him.
Defending his decision to share the photo, Hull wrote on Twitter that "a picture of a public figure in a public place displaying hypocrisy isn't a 'creepshot.'"
"If you become one of the most outspoken politicians and throw a fit when you're photographed everywhere you go, you're in the wrong profession," he said in a separate tweet.
The social media user said he had shared the image because in the photo, Ocasio-Cortez's Chief of Staff Saikat Chakrabarti appears to be eating a hamburger, a dish the New York representative had recently suggested Americans eat less of during a discussion on her Green New Deal on Showtime's late-night Desus & Mero show.
During the discussion, Ocasio-Cortez said: "In the deal, what we talk about—and it's true—is that we need to take a look at factory farming, you know? Period. It's wild."
"And so it's not to say you get rid of agriculture. It's not to say we're gonna force everybody to go vegan or anything crazy like that," she said. "But it's to say, 'Listen, we gotta address factory farming. Maybe we shouldn't be eating a hamburger for breakfast, lunch, and dinner. Like, let's keep it real."
Drawing a connection between Ocasio-Cortez's comments and his decision to share the photo of the New York representative out eating dinner, Hull wrote: "To be clear, this picture was only taken and sent to me because AOC told the country to eat less hamburgers and her [Chief of Staff] is here eating a hamburger."
"Notice how she wasn't confronted and forced to leave the restaurant like liberals have been doing to the GOP?" he added, referring to a string of incidents in which White House officials and Republican politicians have been confronted by protesters at restaurants, including White House Press Secretary Sarah Sanders and Department of Homeland Security Secretary Kirjsten Nielsen. It is still unclear who took the original photo of Ocasio-Cortez and sent it to Hull.