AOC Slams U.S. Policy on Paid Family Leave, Says Dogs Get More Time With Their Puppies Than Mothers With Newborns
Representative Alexandria Ocasio-Cortez criticized employers in the United States who do not offer paid family leave, asserting that dogs are allowed to spend more time with newborn puppies than mothers are with their babies.
The congresswoman's remarks came Tuesday during a House Oversight and Reform Committee on paid family and medical leave. The United States is one of two nations in the industrialized world that does not provide any federal form of paid leave.
"The market has decided. Eighty percent of families don't have access to paid family leave," Ocasio-Cortez said. According to most estimates, just 20 percent of American workers have access to paid family leave through their employer.
The New York Democrat went on to ask Vicki Shabo, one of the panelists in the hearing, the average length of paid family leave in workplaces that offer it. Shabo, a senior fellow of paid leave policy at New America, a left-leaning policy think tank in Washington, D.C., said it's usually around six to eight weeks.
"Six weeks. Do we know how long puppies are allowed to stay with their mothers after a dog has given birth?" Ocasio-Cortez asked. The congresswoman answered her own question, informing those in the hearing that it is professionally recommended that dogs be allowed to stay with their puppies for eight weeks before they're re-homed.
"So the market has decided that women and people who give birth deserve less time with their children than a dog," Ocasio-Cortez said. "I think that that, at its core, has shown that the market has failed to treat people with dignity and basic respect. So when that happens, I think it's our job as the public to redefine the rules of society and to treat people who give birth with the dignity they deserve."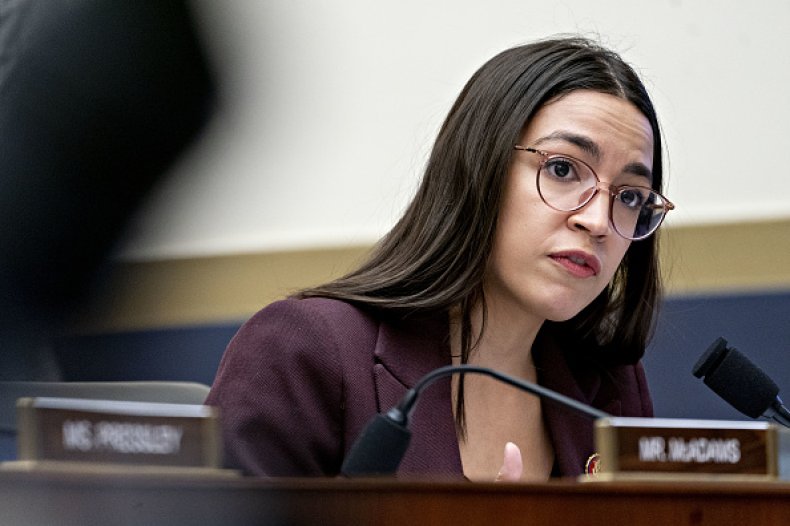 Shortly before the House Oversight hearing, Congress reached a tentative agreement on paid parental leave for federal employees. In exchange for new parental-leave benefits, Congress said it would allow for the creation of the Space Force as the sixth branch of the military.
"Including paid family leave is a victory for all workers because it will help push more employers in the right direction and ensure more workers get paid family leave," Republican Sen. Jack Reed said in a statement. "Expanding access to paid family leave helps the health and economic well-being of individuals who have it and strengthens the ability of employers to retain their workers."
The measure, which still needs to be passed by both chambers of Congress, would give more than 2 million workers 12 weeks of paid leave in order to care for a newborn child or an adopted child.
Ivanka Trump commented in a tweet that the measure will "mark a huge step forward towards making paid leave a reality for all Americans."